Celebrity Bodyguards – The People that Keep Our Favorite Stars Safe
There are a couple of advantages when it comes to being famous. After all, celebrities are the center stage in all things entertainment. From fashion icons to music icons, fans can't get enough of their favorite stars. However, all good things always have extreme opposites, and in this case, the lines of privacy are blurred. Celebrities are hoarded by paparazzi, and their overzealous fans can be a bit too pushy.
As such, hiring the best security team is one of the best investments stars have at their disposal. In most cases, these bodyguards are their last line of defense, which is why we see celebrities being escorted every time they go out in public. Sometimes, these bodyguards even get their fair share of the limelight, especially those badass bodyguards with good looks that are impossible to go unnoticed.
Here is a list of celebrities with their trusted bodyguards:
50 Cent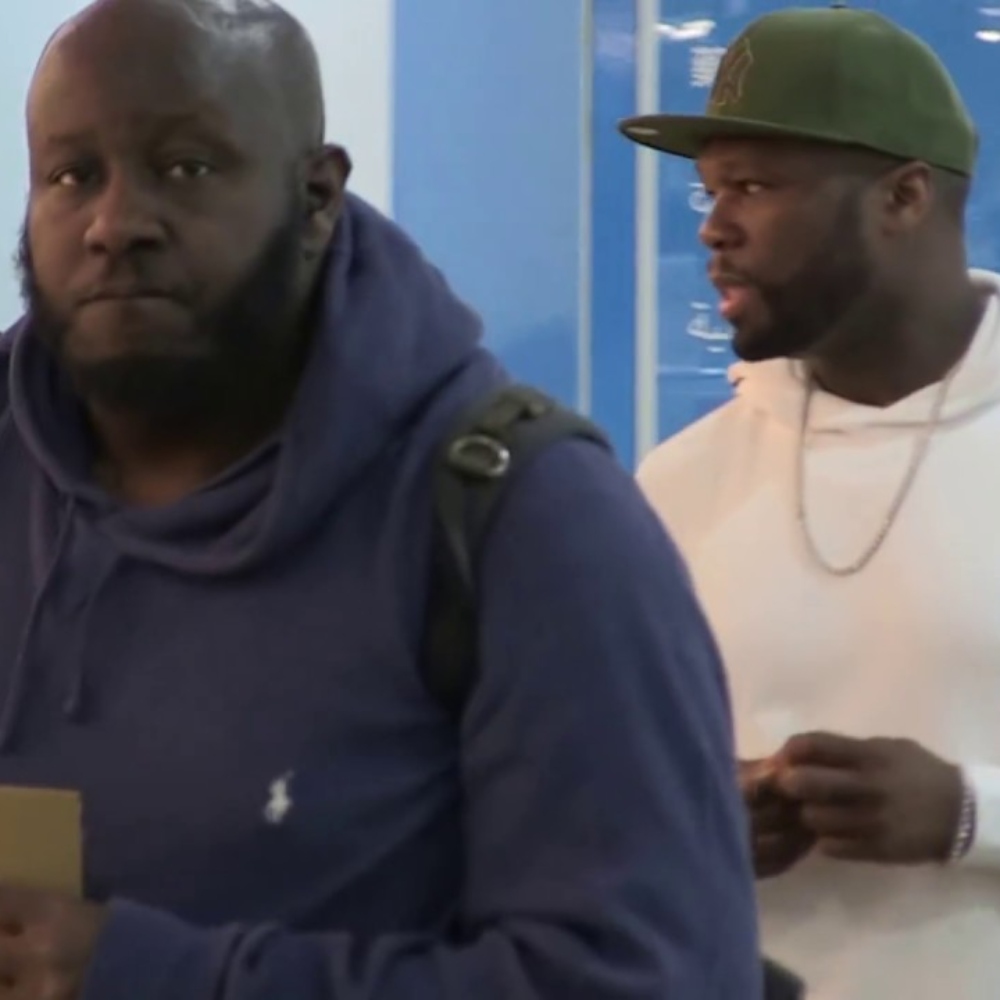 Rappers have this stigma of living a life surrounded by controversies. Well, sometimes it's hard to argue with it considering that there is a sub-genre of hip-hop devoted to rapping about gangs and the dark side of growing up in the ghettos. 50 Cent is one of those rappers. He lived a difficult life before his success as a rapper and a businessman. In 2000, the rapper was reportedly shot nine times- on both legs, arm, hip, hand, chest, and face.
50 Cent has written songs about this incident and is very open about his experience. He shares that the shooting was caused by his Ghetto Q'uran, where he referenced in detail about the dealings of a low-level peddler. Now that he's rich and famous, having strict bodyguards around him is surely one of his best investments. With tight security, no one would dare hurt him.
Adele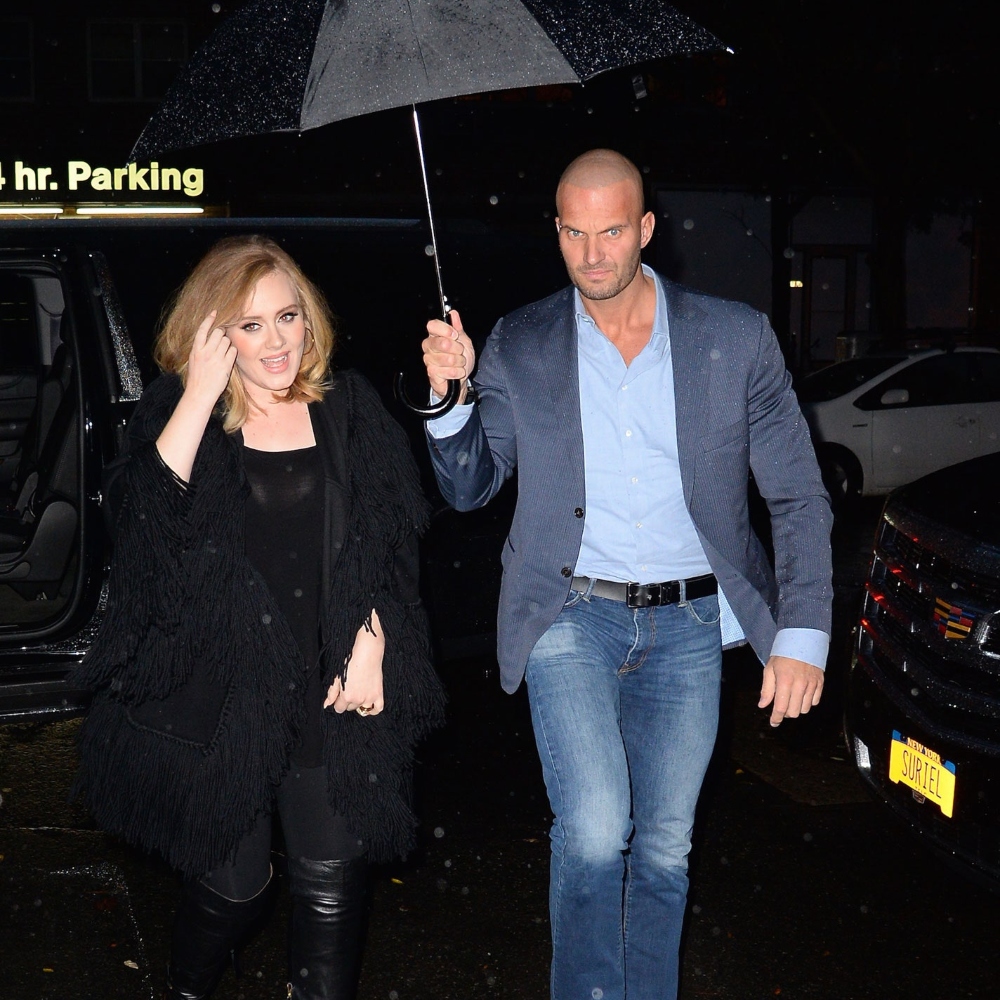 Adele stormed the music scene over the recent decade. Her songs have brought the love and attention of millions of fans from across the world. She has sold millions of records globally and is one of today's most popular stars. The British pop star is known to tour around the world. For any traveling celebrity, a dependable security detail is a must. Surely, you wouldn't want a singer of Adele's stature to be left unguarded when a flash mob of crazed fans suddenly appears.
In 2015, when the Rolling in the Deep singer was doing her press tour for her third album 25, fans were shocked for an unexpected reason. They quickly recognized Adele's bodyguard, who is Peter Van der Veen. Van der Veen is also credited for guarding Lady Gaga. The internet is crazy over this man and has even garnered popularity amongst women.
Angelina Jolie and Brad Pitt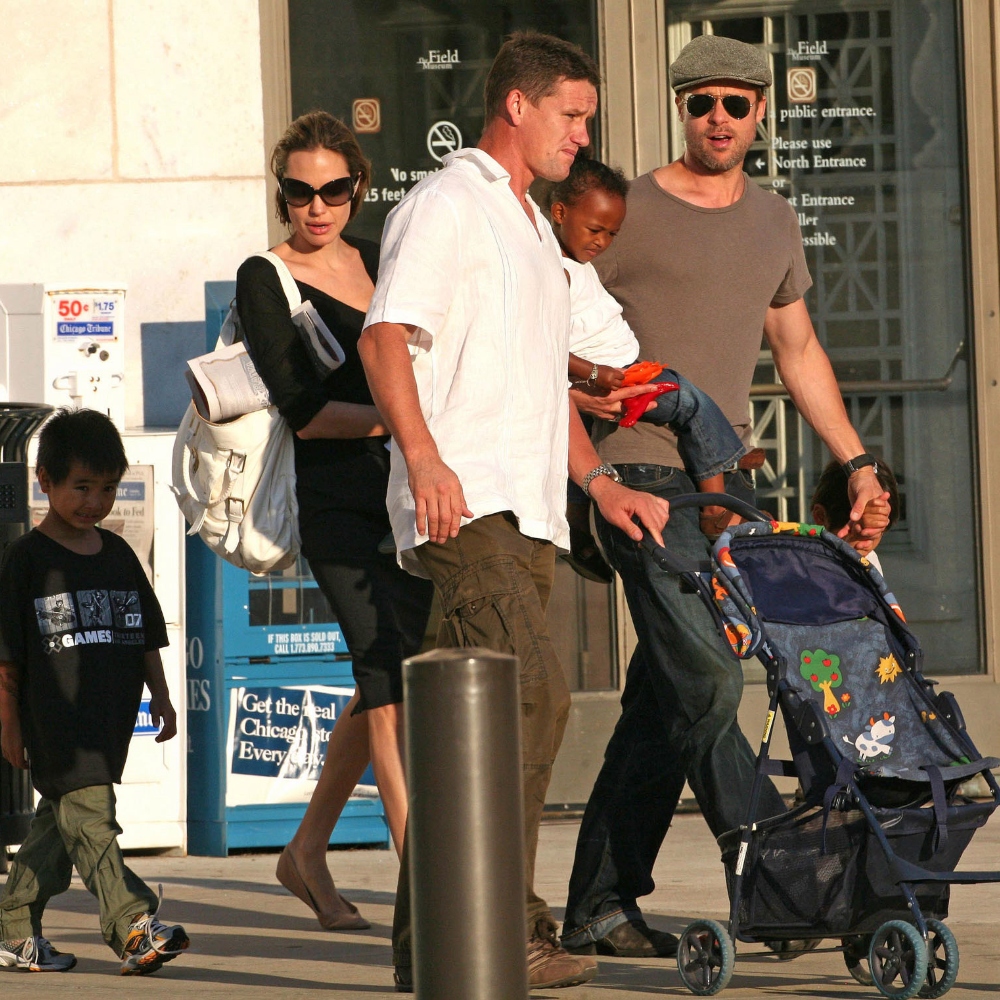 Angelina Jolie is undoubtedly one of the biggest stars of Hollywood. She is also one of the highest-paid actresses. So, when you make proper investments like her, you would only want the best security detail available. After all, she is a mother of six, and you can't really blame her for putting her family's security at utmost importance.
When the A-list actress was still together with her ex-husband, Brad Pitt, sources say that they hired former sniper and SWAT officer Mark "Billy" Billingham as their head of security. He had fingerprint scanning locks installed at the couple's home and assigned a cybersecurity detail to know the whereabouts of the six children at all times. Billingham is also known to have worked for the likes of Tom Cruise, Russell Crowe, Kate Moss, Michael Caine, and Hulk Hogan. He also appeared in the UK reality show SAS: Who Dares Wins.
Amy Adams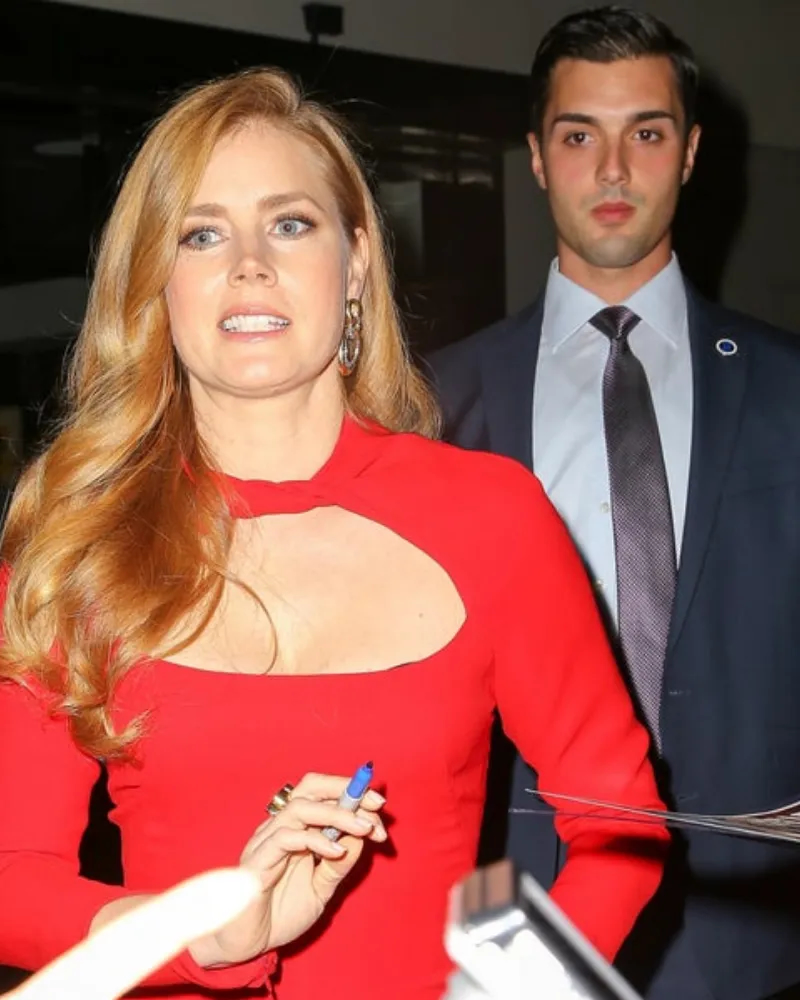 Amy Adams is one of Tinseltown's highest-paid actresses. She has the beauty and the talents to go along with it. As such, she has been credited with several industry accolades, such as two Golden Globes, seven British Academy Awards, and six Academy Award nominations.
Adams has appeared in several blockbusters throughout her career. Part of the obligations of movie stars is press tours and the much-anticipated red carpet premieres. While all these are essential to making any movie a commercial success, there are security issues that go along with them. Who knows when a hardcore fan might decide to be overzealous and pushy? This is why stars like Adams are escorted by a bodyguard in these events. One time, the internet didn't fail to notice her attractive escort. The unnamed guard was even listed in Yahoo's Celebrities with Super Hot Bodyguards.
Bella Hadid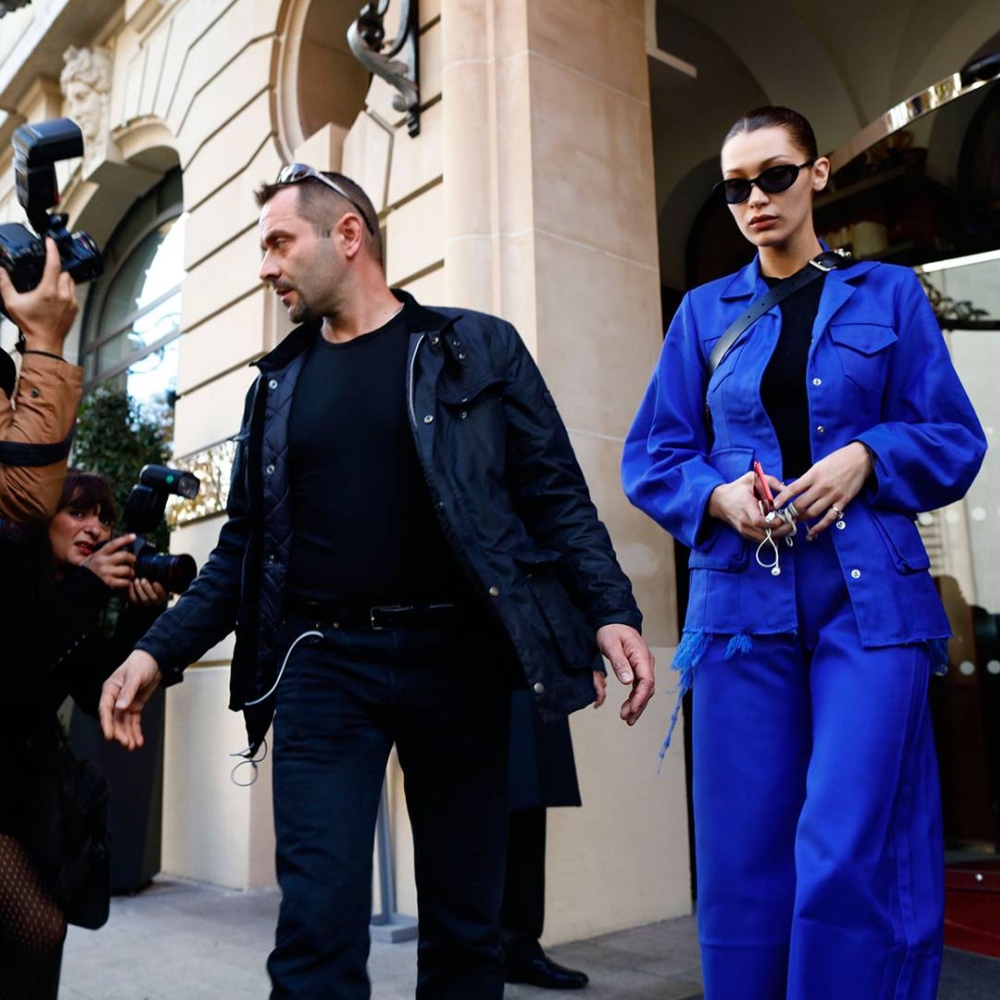 Bella Hadid is a top model. She was even credited by Models.com for being Model of the Year in 2016. As we know, she isn't the only Hadid in the fashion industry. She and her sister Gigi are socialites and trendsetters in today's pop culture. Bella is often mobbed by the paparazzi and fans alike in any public events she goes to. There was even an instance where her sister was picked up by a strange man during Fashion Week in Milan. As such, it's not surprising that Bella hires the most capable security team available. Although, she makes sure that her bodyguards are not too physical with the paparazzi.
One of her bodyguards, Simon Newton, was even noticed by her fans for being fashionable himself. I guess you also have to look good if you're going to guard one of the best models.
Beyoncé and Jay-Z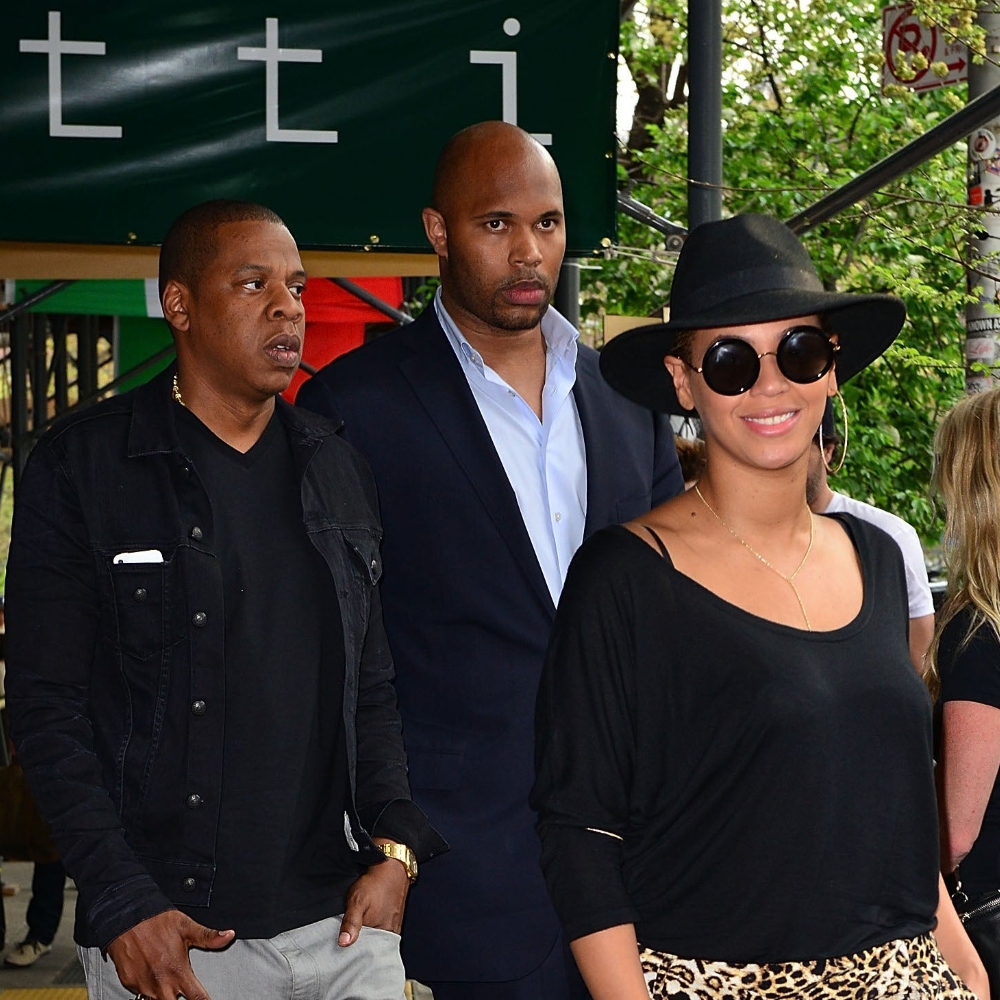 In 2014, there was an infamous moment when one of New York's most famous bad boy rappers, Jay-Z, was assaulted by a woman. Although that woman was his sister-in-law, he was lucky enough to have a bodyguard by his side to de-escalate the situation. That bodyguard is Julius DeBoer, and we should all give him credit for doing such a fine job. While that incident was well documented, there are other instances where the rapper and his wife, Beyonce, found themselves in peculiar situations and attacked by crazed fans. I guess this incident is expected considering the couple belongs to the most famous figures in the music industry today.
Unfortunately, these security risks can carry over to the couple's other family members. Reports say that their daughter, Blue Ivy Carter, is usually escorted by a motorcade of security every time she is dropped off at school.
Billie Eilish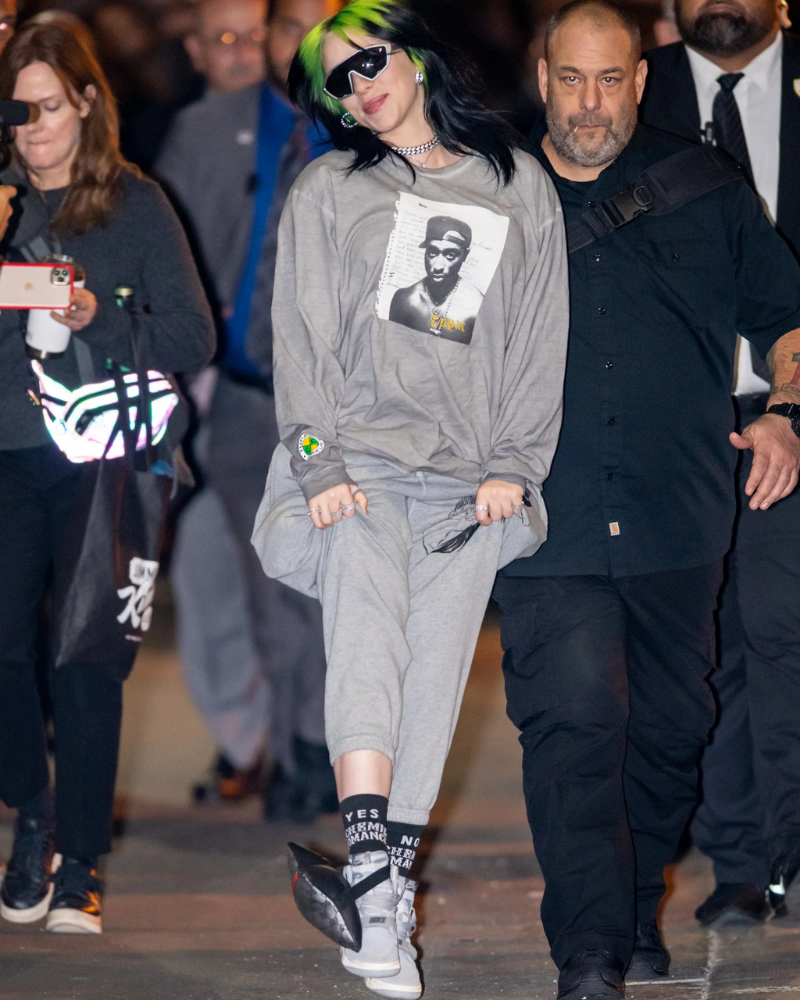 Becoming famous at a young age can be quite daunting. After all, it comes with life-changing circumstances that none of us can be prepared for. In the case of pop star Billie Eilish, she experienced a very traumatizing incident that she shared with Rolling Stone. There was an instance when her home address was leaked on the internet. Consequently, three obsessive people kept showing up at her home, and she no longer felt safe. Luckily for her, she had her bodyguard to protect her. To give her bodyguard credit, he even slept in the pop star's living room to keep her safe at all times.
Unfortunately, this wasn't the only incident that happened to Eilish. In 2020, reports say that another obsessed fan kept showing up at her house. The singer reported the fan to the authorities and filed a restraining order.
Blake Lively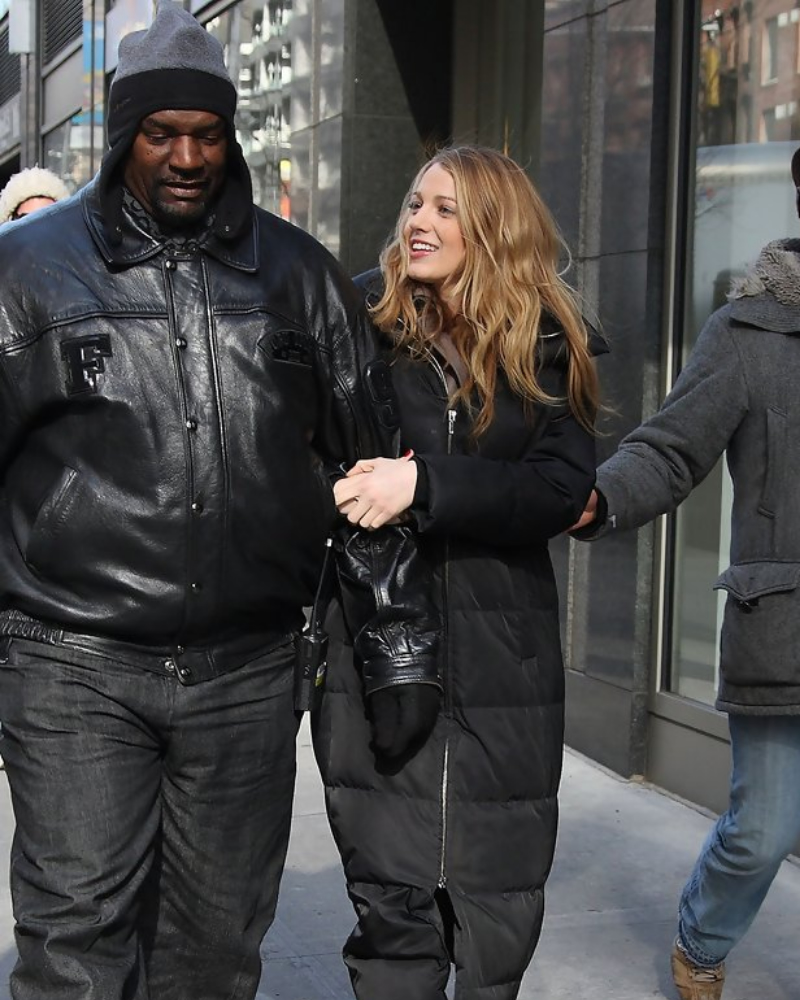 Nowadays, actress Blake Lively is surely enjoying her successful career. She is happily married to a fellow A-lister, Ryan Reynolds, and the two are one of the most popular couples in Hollywood. However, she did have quite the journey towards stardom. One of the most famous works that earned her much-deserved recognition is Gossip Girl, a series that aired from 2007 until 2012.
Lively is widely credited for her performance as Serena Van der Woodsen. During those years, the production required her to spend countless hours shooting on the streets of New York. Now anyone knows how busy New York can get. As such, the actress was typically seen hanging around her bodyguard in between takes. It's a good thing that she has a good relationship with her bodyguards. Although, her husband often jokes that she would make a good bodyguard herself.
Britney Spears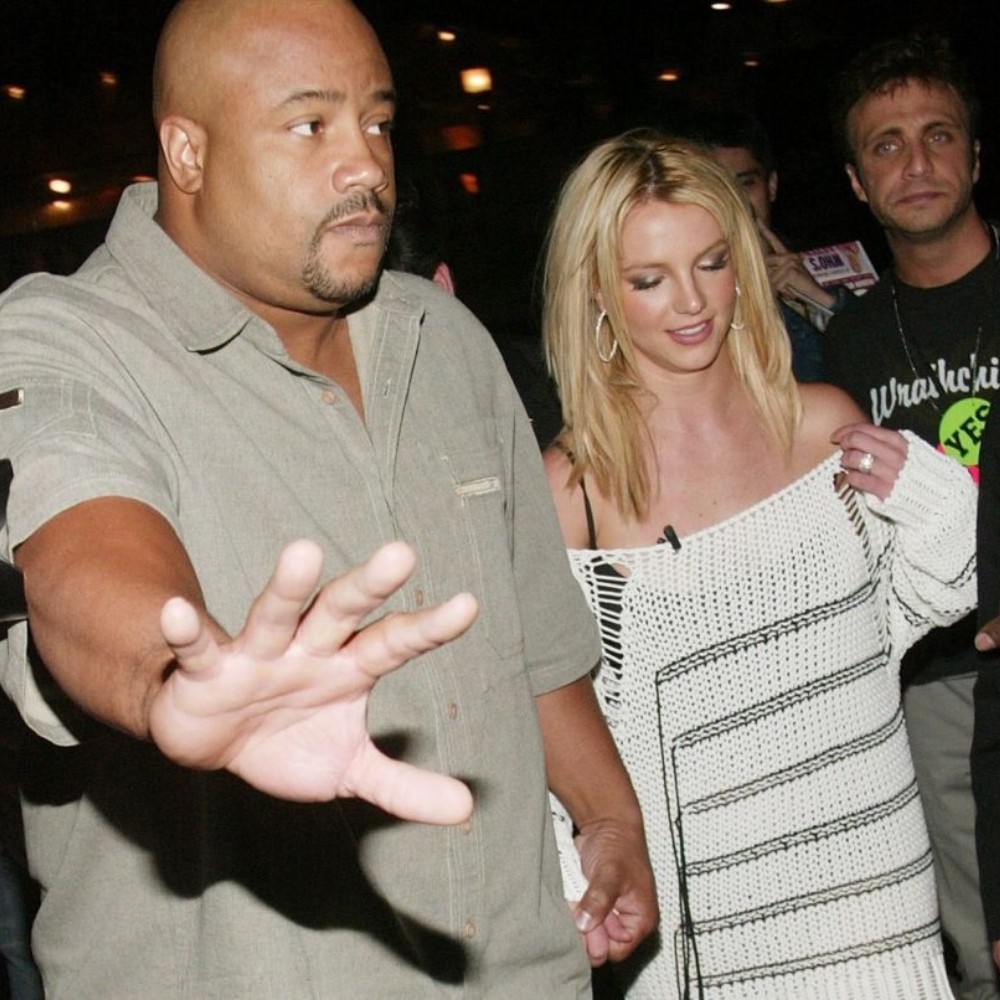 As we know, Britney Spears was one of the biggest pop stars during the '90s and 2000s. She sold millions of records worldwide and has toured all over the world. We know her from hits such as Hit Me Baby One More Time, Toxic, and I'm a Slave 4 U.  However, in recent years, it has come to light that she has been in an abusive relationship with her father and management team. It was a bombshell that made fans rush to her support as she testified about her distressed past.
Although Spears' father was the one most likely to have made the investments in hiring her security detail throughout the course of her career, they were quick to side with the pop star. One of her loyal bodyguards, by the name of Fernando Flores, confirmed her testimony about the abusive relationship.
Bruce Willis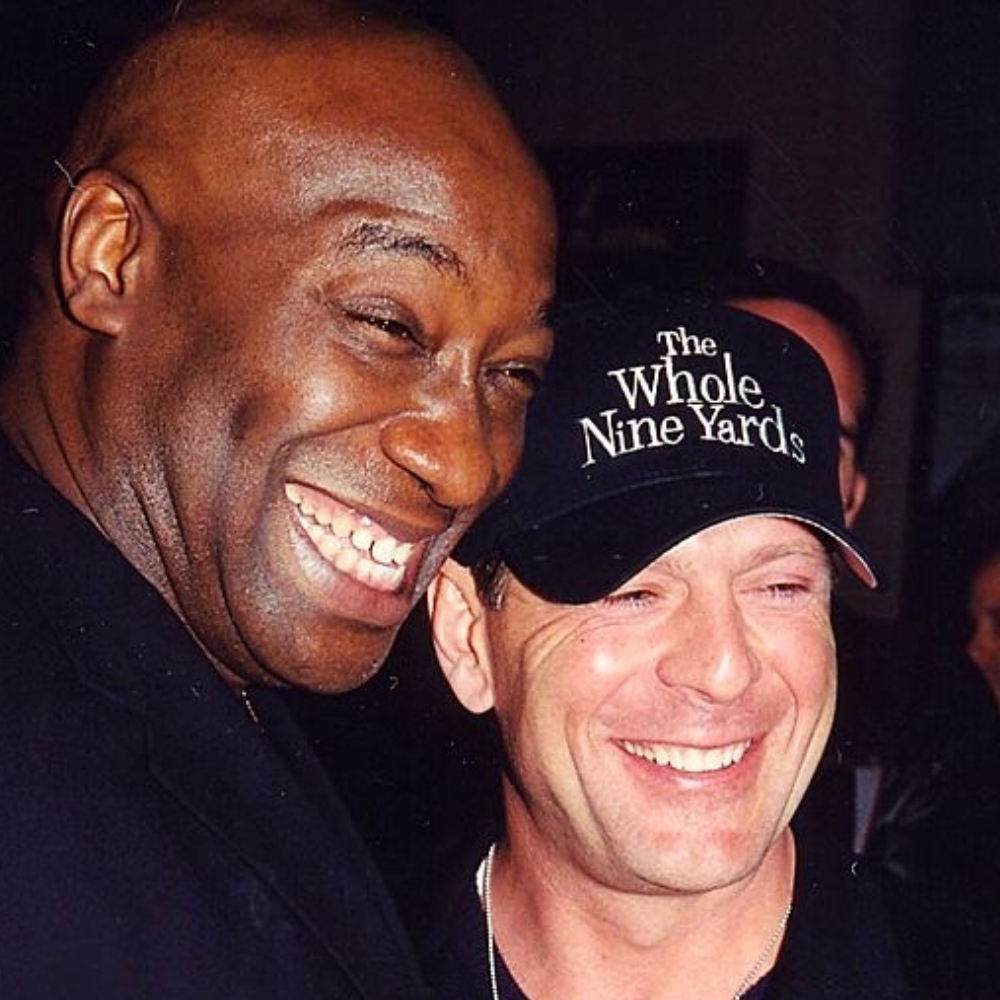 Bruce Willis is one of the most famous action stars in Hollywood. Being a veteran of the industry, it is not surprising that he had his fair share of bodyguards protecting him. To his credit, he is very humble and is known to develop friendships with his security detail. One former bodyguard of his is the late Michael Clarke Duncan. They became friends and even worked together in the film Armageddon. Willis even influenced Duncan into landing the role of John Coffey in the movie Green Mile.
Duncan was also known to have served as a bodyguard for stars such as Jamie Foxx, Will Smith, and Notorious B.I.G. When Biggie passed away, he wanted to venture into becoming an actor himself. As we know, Duncan would eventually be a successful actor, appearing in dozens of films such as Talladega Nights, Sin City, and Scorpion King.
Cara Delevingne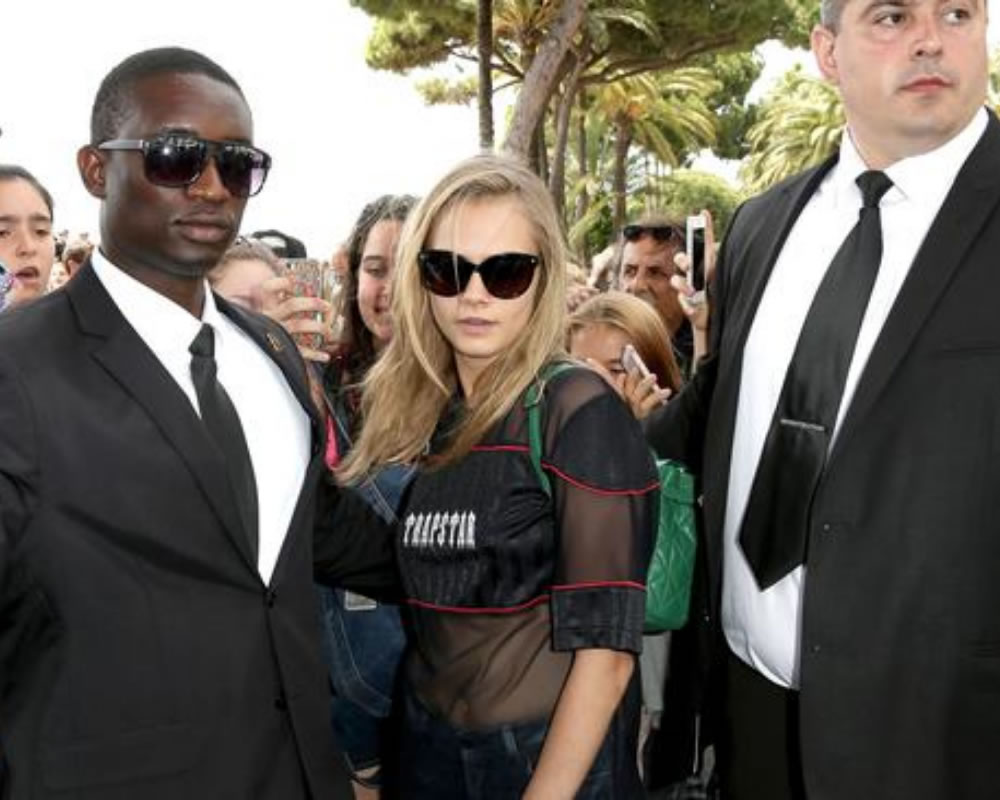 Cara Delevingne has surely risen to stardom over the recent decade. Not only is she one of the most sought-after models in fashion, but she is also credited for staring in several Hollywood blockbusters. As such, no one can really blame her frequenting the clubs and having night-outs with her friends. However, in one instance in 2013, the socialite was having a night out with her friend, Rihanna, at a London nightclub. They were suddenly attacked, but fortunately, she had her trusted bodyguard come to her rescue. Although she and her bodyguard sustained minor injuries, things could have gotten a lot worse.
Nowadays, the model is always seen with her bodyguard every time she goes out in public. You can never be safe always, especially when you are a public figure like her. Hopefully, such things won't happen again under the supervision of her security team.
Cardi B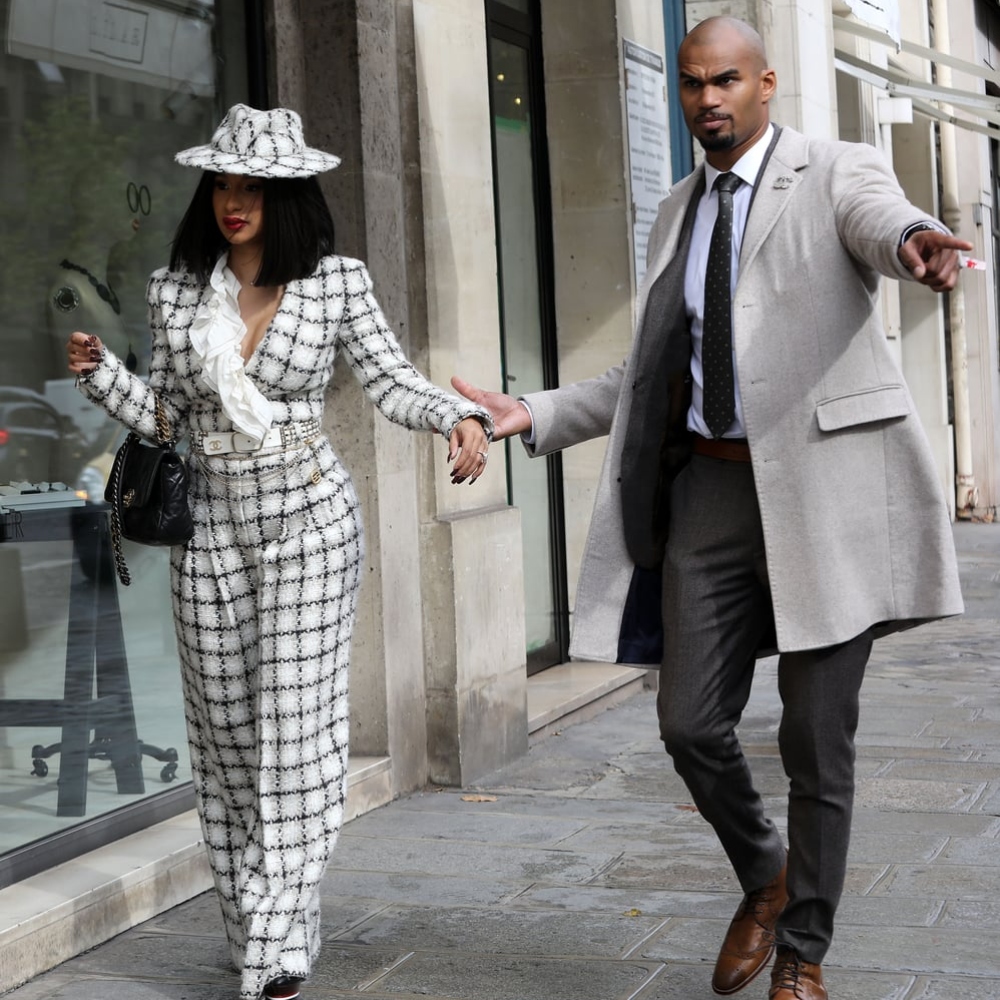 Cardi B is one of today's pop icons. She's a rapper, a creative director, a songwriter, and also a massive online influencer with millions of followers. Like any modern celebrity, she certainly credits much of her success to her music and social media presence. Although in one instance, she wasn't the main topic of discussion online. A picture of her, along with her attractive bodyguard, caught the attention of many. Dozens of articles sprouted regarding her handsome bodyguard named Price.
The suave-looking bodyguard definitely had his fair share of media attention to the point that he garnered his own social media following. Fans of Cardi B even joked that her boyfriend Offset should watch his back as Price might steal her away. Later on, people would learn that the bodyguard has a son, and he usually posts supportive content about Cardi B.
Cher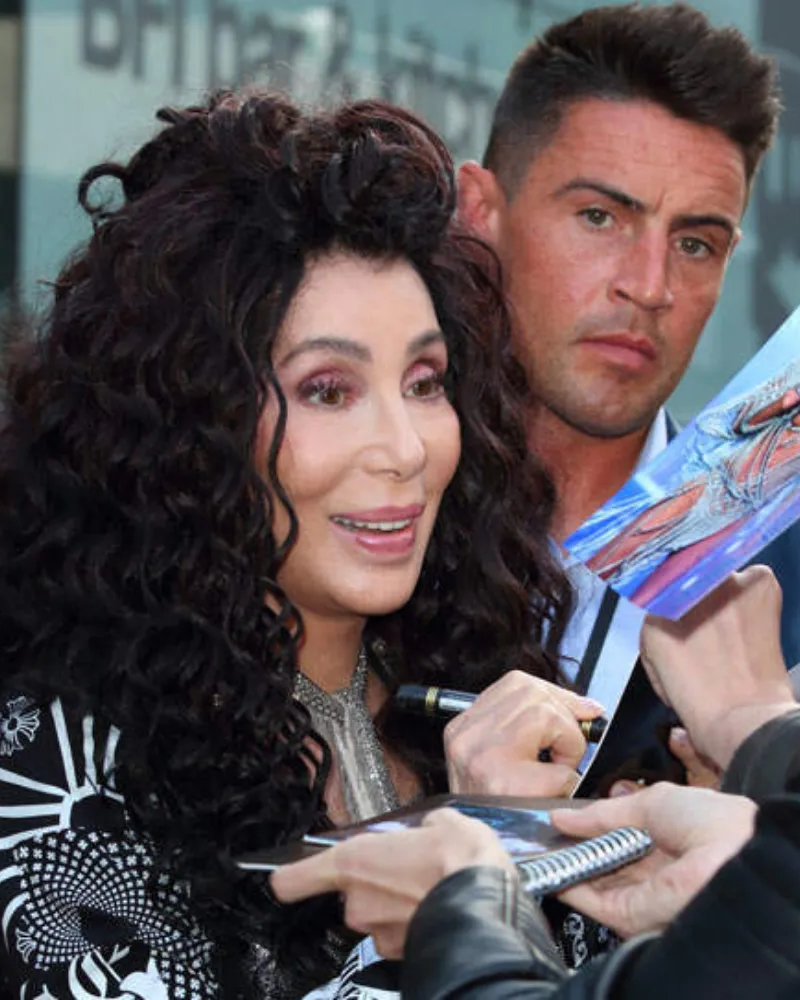 Cher is no doubt one of the music industry's icons. She has been around for decades and has dabbled with different genres throughout the course of her career. Being a veteran celebrity, she knows too well about the value of having a close bodyguard. Although, this wasn't always the case. The Goddess of Pop never felt the need to have a security team until she was physically assaulted one day. Luckily for her, her manager was close by and was able to fend off the assailant.
Ever since then, Cher has valued her investments of having a bodyguard around. For a long time, she had Michael Francis as her close personal bodyguard. She employed him after receiving multiple death threats. Eventually, as the two would spend countless days together, they developed a friendship. Francis even regards the pop star as a sister.
Cheryl Cole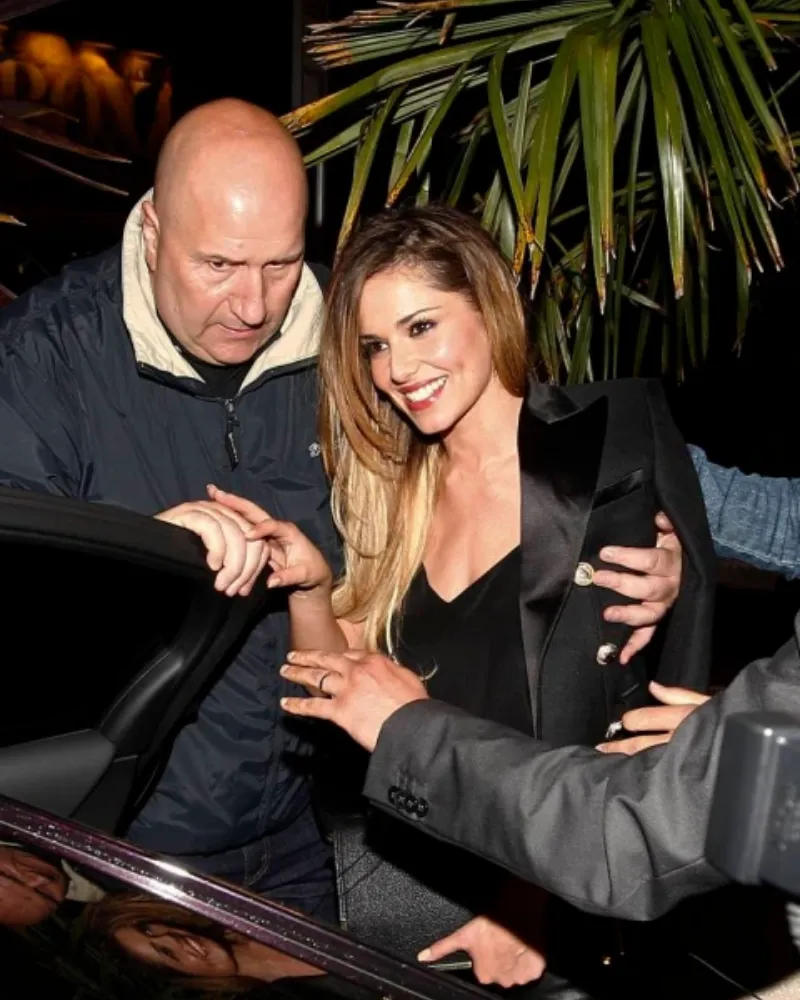 Cheryl Cole is a famous British singer. While her music career isn't as big in other countries, she is actually one of the biggest pop stars in the UK. She is widely credited for being a former member of the girl group Girls Aloud, who would soon become a judge of the talent show The X-Factor.
In many cases, celebrities put the utmost value on their security team. However, in one instance, the singer was subject to controversy for not paying her bodyguard, Craig Balkam. Whatever her reasons were, it was quite odd that she would skip out on paying one of the most valuable people under her employment. In recent years, the pop princess has employed Patrick O'Brien as her personal bodyguard. This time around, Cole might have compensated her security adequately, considering that she has furthered her career.
Christina Aguilera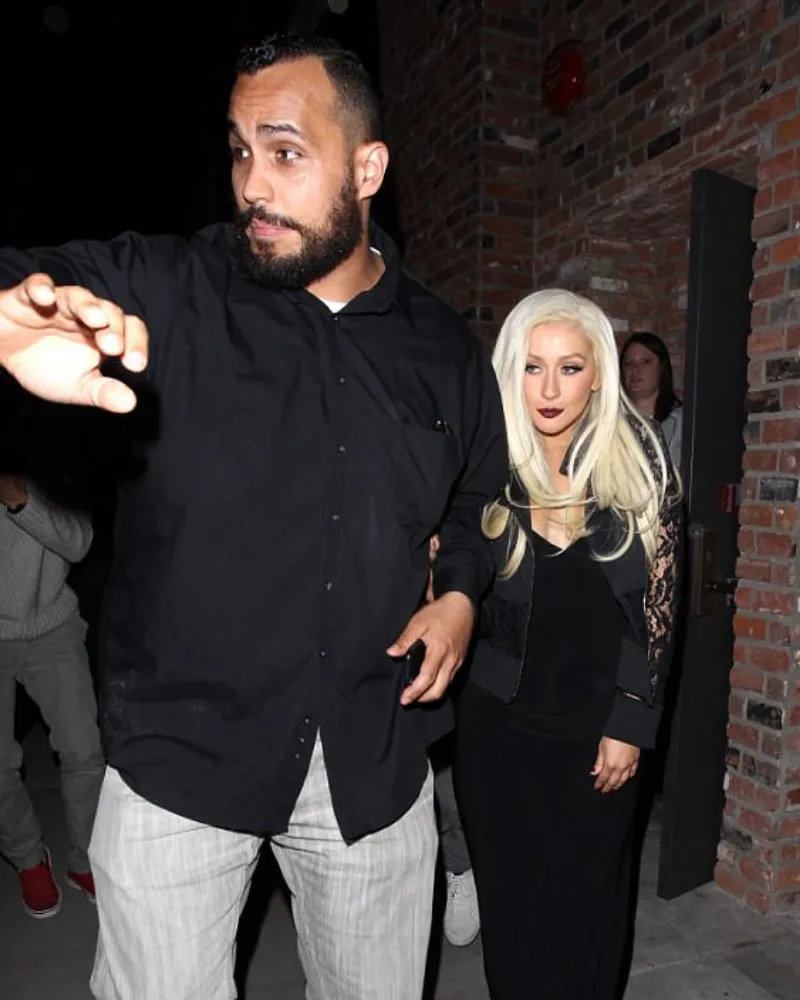 Who could have the beefiest security personnel? Well, we can argue that it is Christina Aguilera. The pop singer is usually accompanied by her two stocky bodyguards, who ensure that she is protected all the way. So while we can say that her bodyguards are huge, it becomes very evident that Aguilera is indeed a tiny woman. She stands a little over 5 feet tall, so when walking alongside these two giants, she looks rather small.
In 2003, one of her bodyguards got into an altercation with a paparazzo in Los Angeles. Of course, he was merely doing his job, ensuring his principal's safety. They probably had to retain a lawyer just in case so that if anything comes up, they are prepared to defend themselves legally. Nowadays, Aguilera and her bodyguards are keeping a low profile, which is quite a good move.
Daniel Radcliffe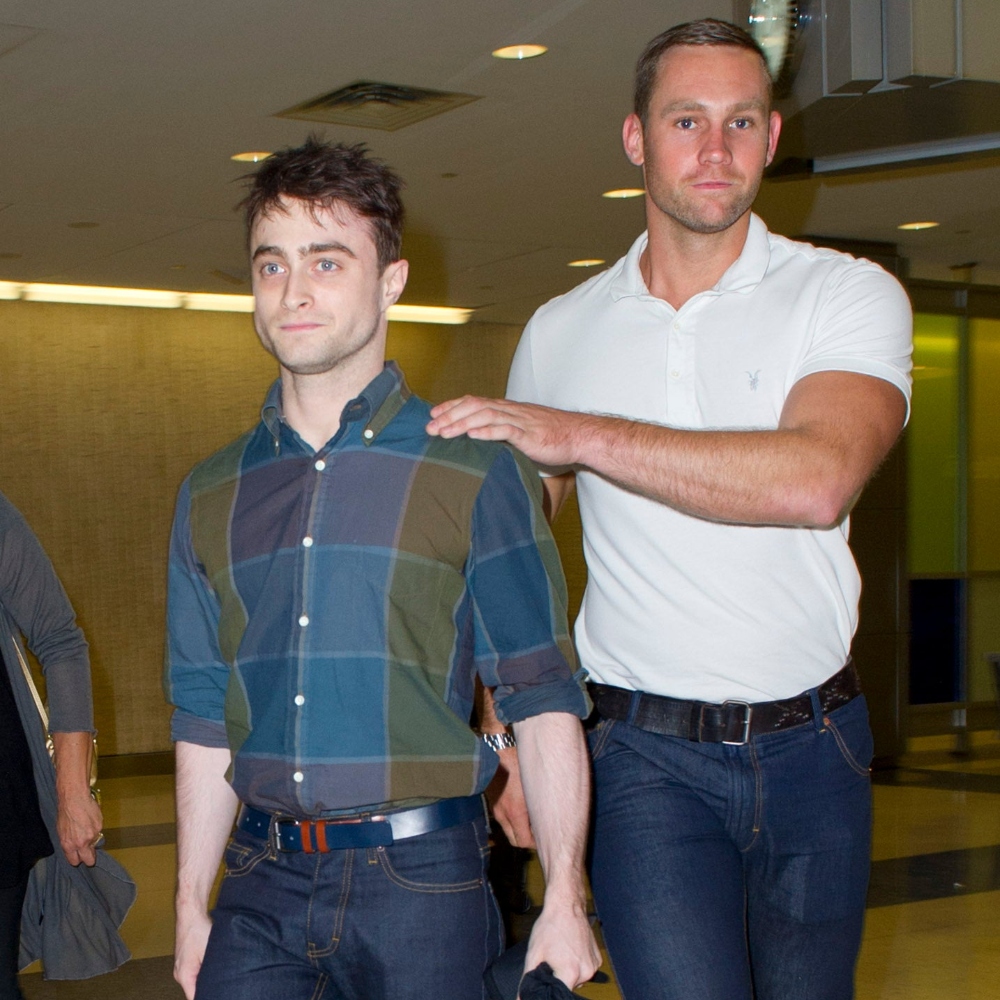 Why would the Harry Potter star require bodyguards? He could ward off dementors with a very complicated spell, Expecto Patronum, right? Well, when he is out and about in the Muggle world, Daniel Radcliffe prefers to be protected by security personnel. There's no doubt that he is among Tinseltown's most popular actors, and people would be very excited to approach him when he goes out. Fans have been known to scream when they see him.
One of his bodyguards, Sam, is always just an arm's length away from him. They are separated no more than a few degrees to ensure his safety. Every time they eat out or travel, Sam would always think of an exit strategy for their team. He has been described as a brother to the Now You See Me 2 actor. They could simply use an invisibility cloak, you know.
Demi Lovato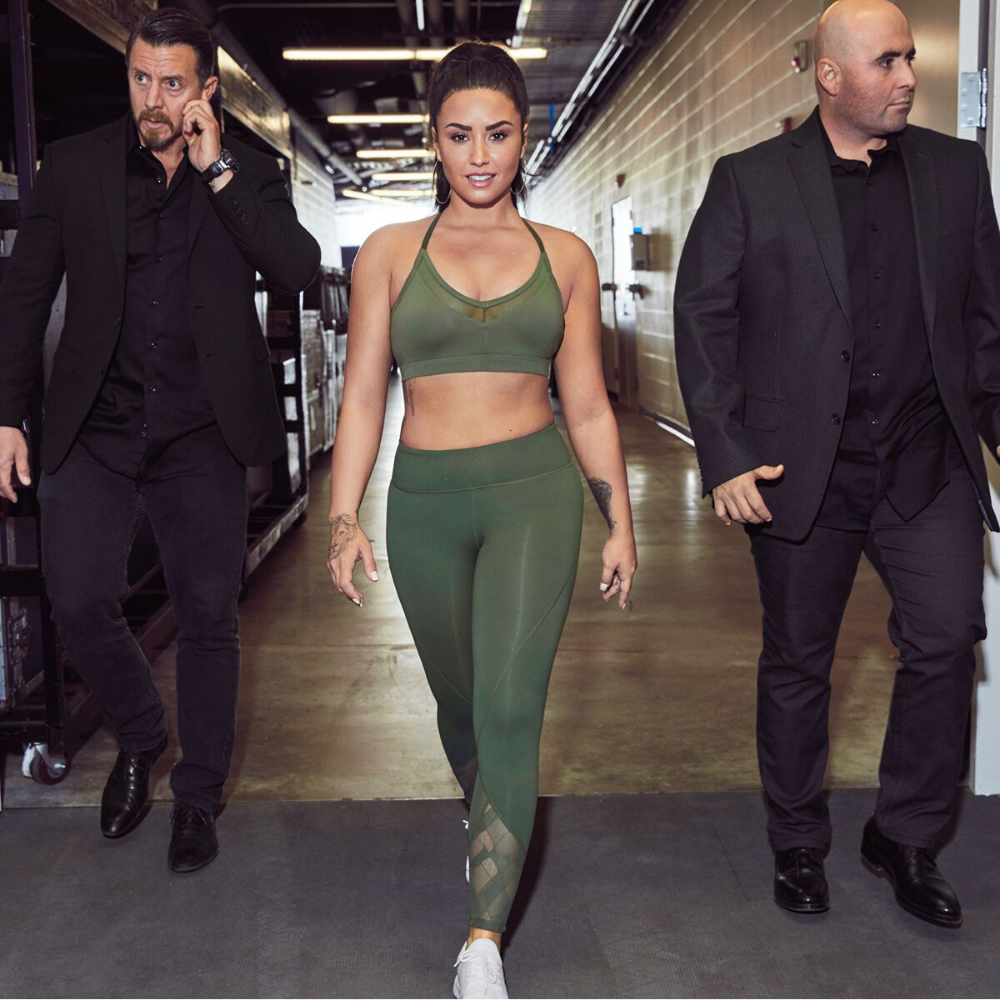 If you are the bodyguard of a well-known personality, you have to make investments in getting to know that person really well. That is what Max Lea did for Demi Lovato. He even became her hero when at one point, he had to help Lovato breathe because she had taken so much of a particular substance.
Sometimes, Lovato's idea of a prank can be quite extreme, and so one time, she hired a lady to go to Max's room. He was quite surprised at the visitor. When the singer shared this information on Twitter, people from the internet were quick to point out that the prank was hugely inappropriate. She had to apologize for the mistake and then deleted the tweet right after. For sure, she also conveyed her remorse to the one who has taken it his mission to protect her from all dangers.
Drake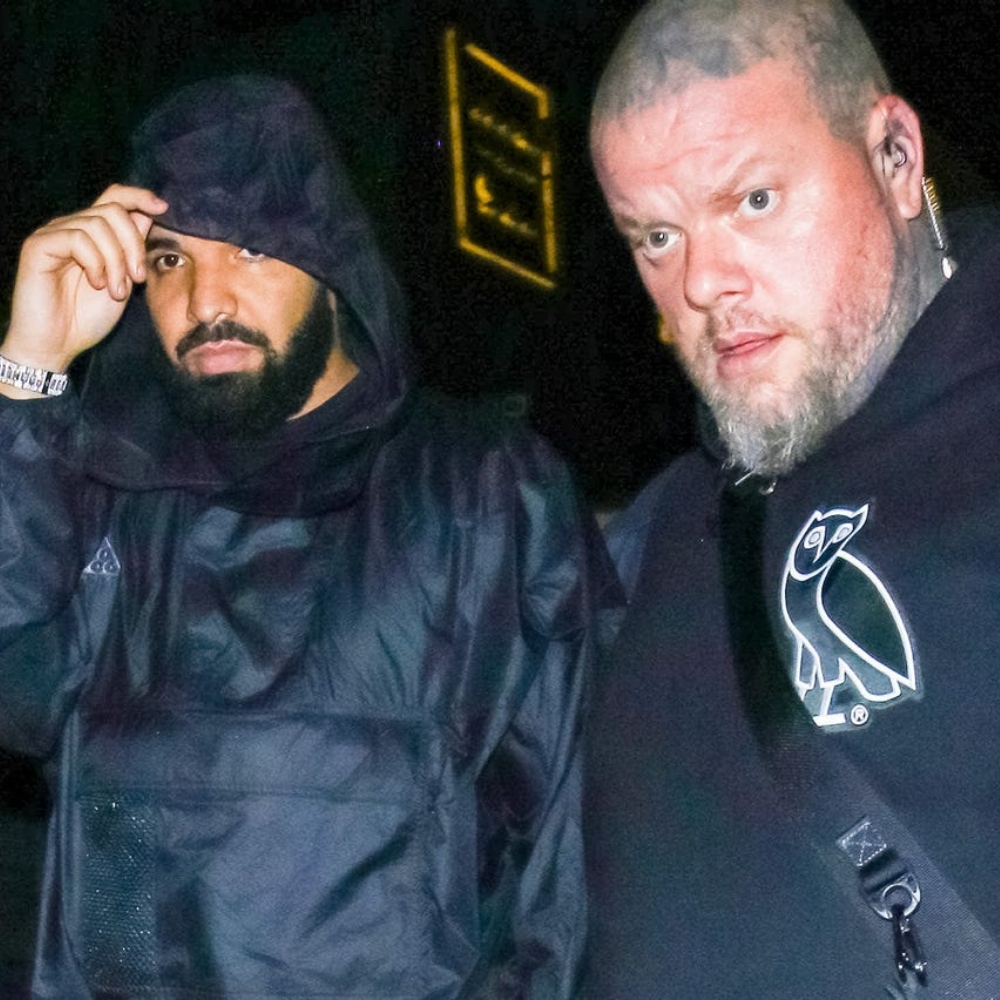 When in his residence, Drake is protected partially by his home security system. When he goes out to mingle with the crowd or just to enjoy being outside, he would usually bring his entourage of bodyguards around. This group is certainly not to be messed with. His security personnel has been known to really get physical when they sense any kind of threat to their principal. There was once a waiter who had to suffer at the hands of his bodyguards; even Chris Brown was not spared.
There was also an incident that happened in 2017 where the rapper's team had to force their way among drivers in Toronto just so their motorcade could pass. Canadians are known to be very accommodating people, and they rarely react, but this got them a bit slighted. We hope that Drake and his personnel apologized and took responsibility for the issues.
Ezra Miller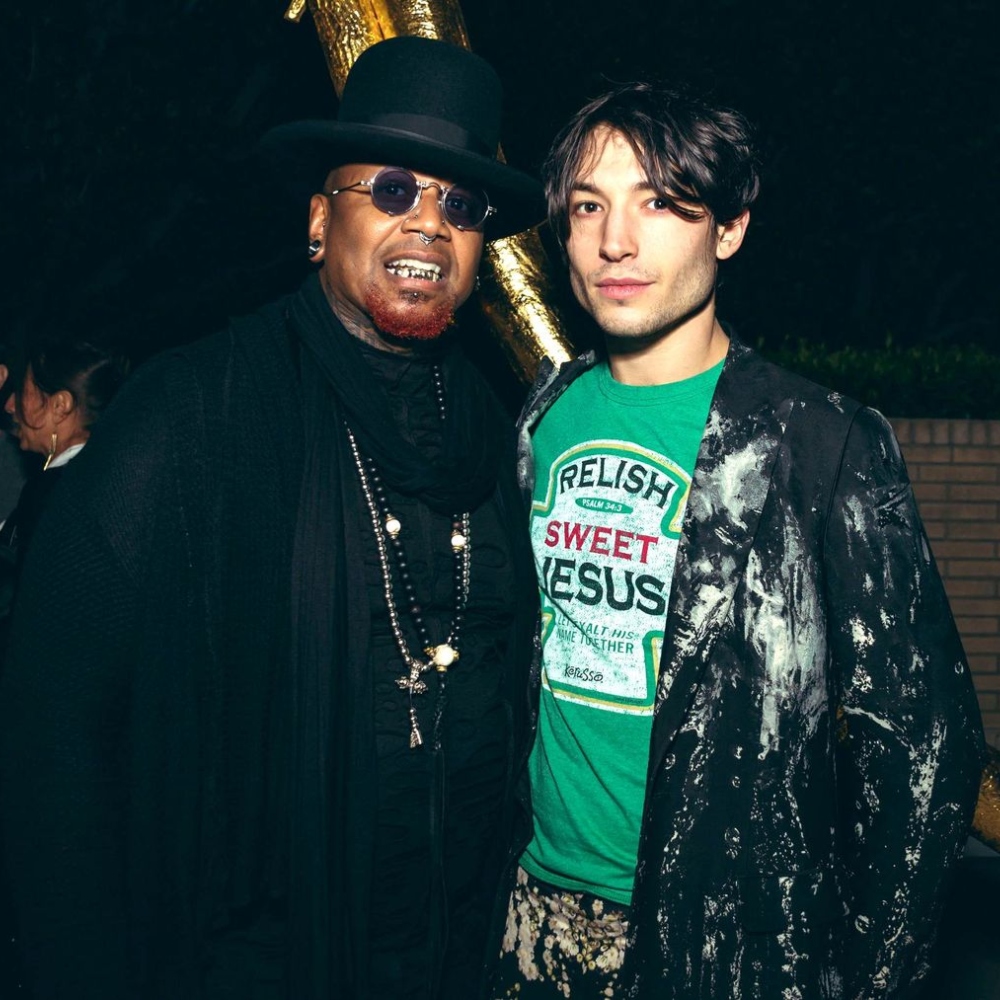 Known as Credence Barebone in the movie series Fantastic Beasts and Where to Find Them, Ezra Miller is someone who has been gaining prominence lately. Because of that, he saw the need to make investments in hiring a bodyguard. So now, Gu Rubee is in-charge of his security. What is interesting is that Rubee is a celebrity in his own right. He is known for dressing flamboyantly and never misses the chance to show off on camera.
Normally, we would associate bodyguards wearing black wardrobes and having very stern personalities with the characters in Men In Black. However, in reality, Rubee describes himself as a yogi, trainer, martial artist, spiritual advisor, and more! Make no assumptions, though, as he could easily pin anyone on the ground when Miller's safety is threatened. Those who want to follow Rubee would be happy to know he is on social media.
Fergie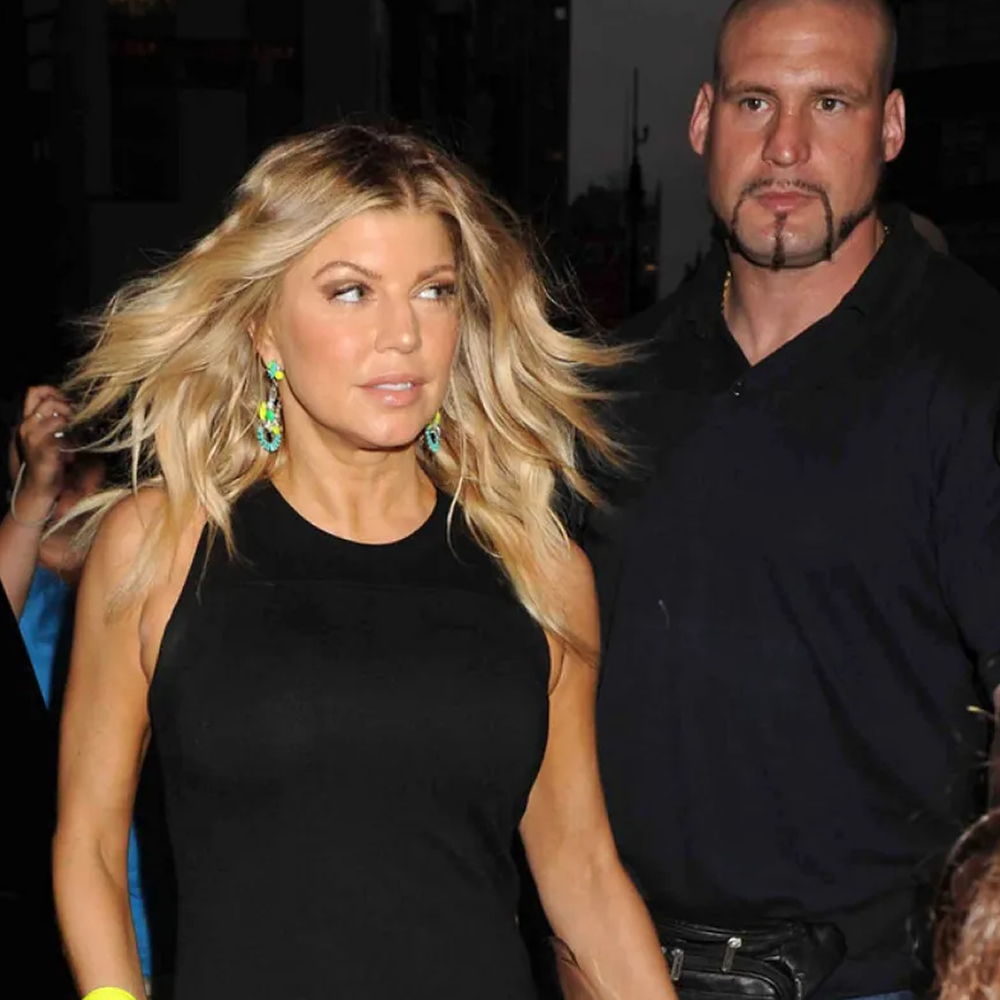 Black Eyed Peas singer Fergie is a controversial celebrity. She is not only a singer but also an actress who appeared in a number of movies like Poseidon and Nine. Because of this, every time she goes out, she would be accompanied by her security staff to ensure that no one poses any danger to her.
What is rather intriguing is that she hired Kim Kardashian's former bodyguard, Pascal Duvier, who got fired because of a lapse in security when Kardashian still employed him. So it is unclear why Fergie would want to hire someone with a big red flag. Well, whatever her reasons are, we can only assume that she feels protected whenever the massive, stern-looking Duvier is around her, especially now that her lawyers have finalized her separation from her ex-husband. It is now solely up to the bodyguard to protect Fergie whenever she travels.
Floyd Mayweather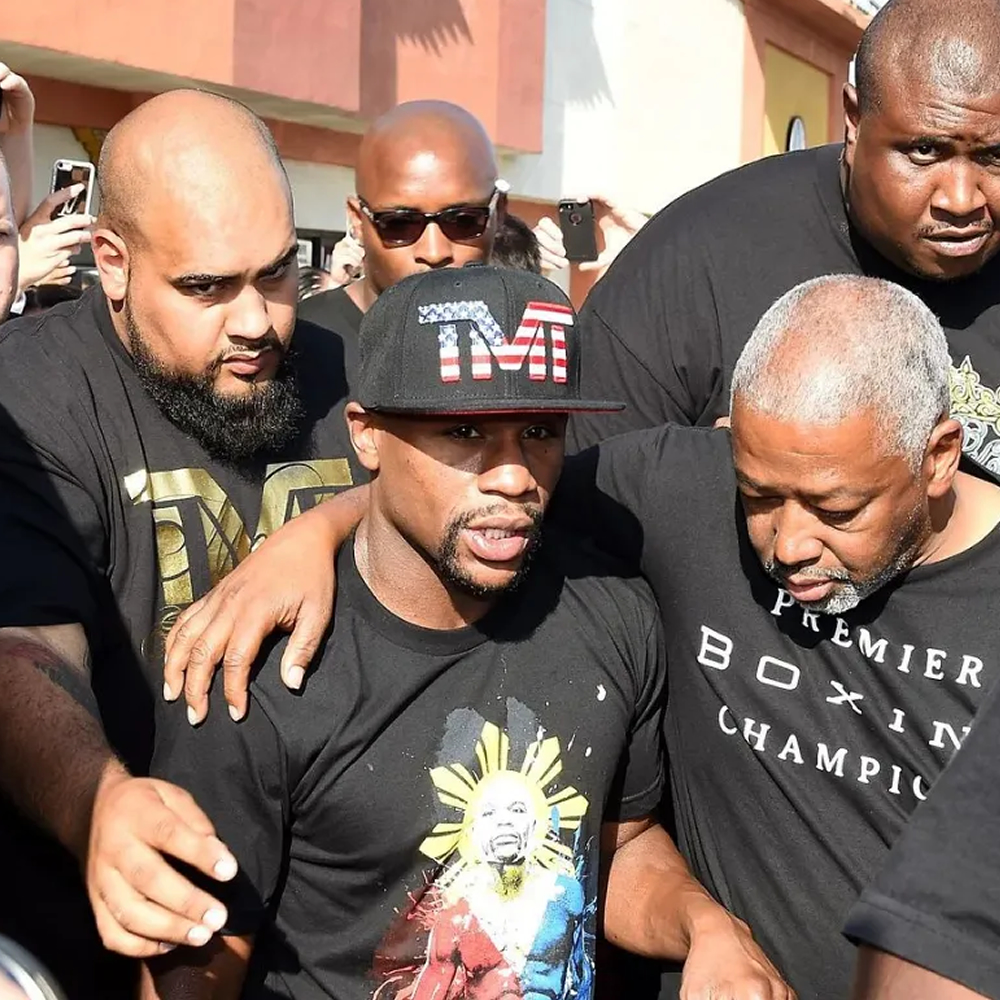 Would you ever dare to cross Floyd Mayweather? A few might, but perhaps the majority would rather not. He is a boxer, after all, and he surely knows how to fight. Because he has a lot of money, Mayweather has made investments in assembling his very own "Money Team" who is always around him. Even when he charters his own plane, the team would first inspect it to make sure nothing is amiss.
He named them as such because their job was to protect him and the cash he would usually bring around with him. They are quite prominent as they wear uniform "TMT" shirts. Four to eight members of The Money Team would normally accompany him when he is outside. Loyalty is something that he demands from them, and for sure, they are being paid generously for their service.
Gal Gadot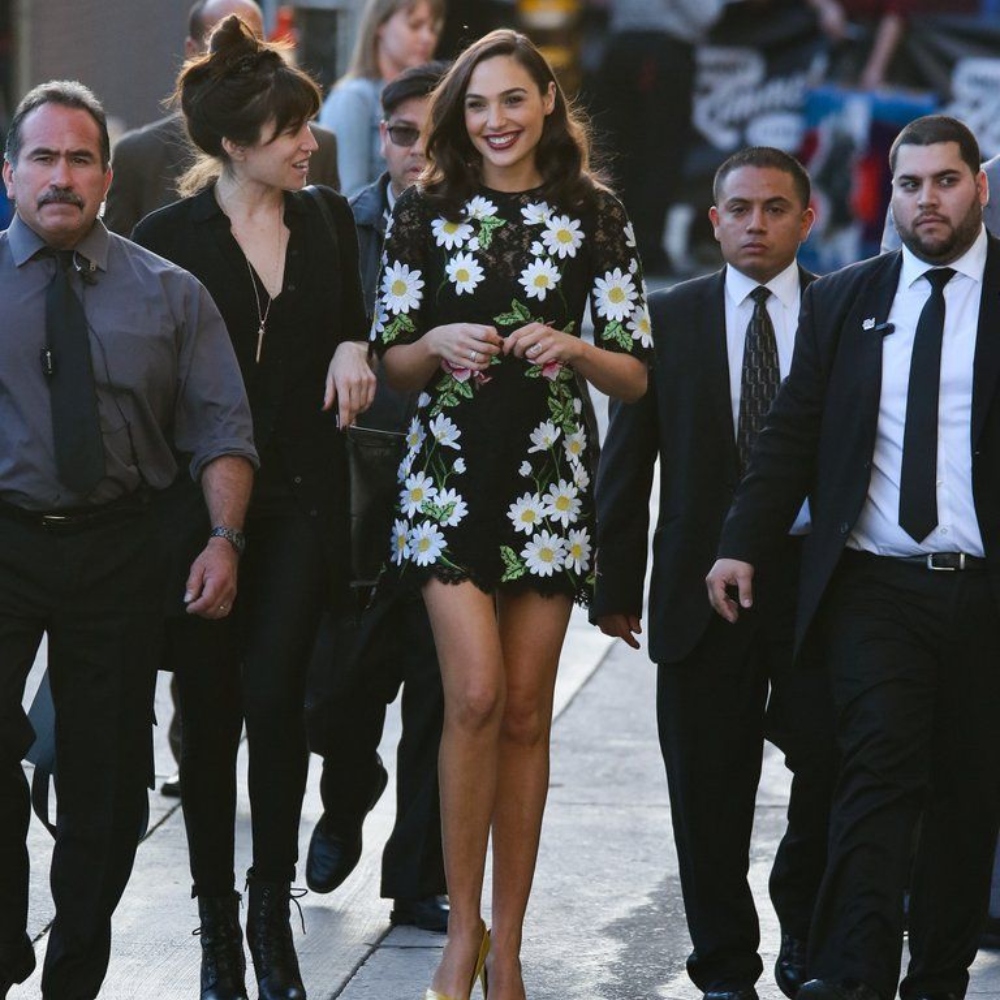 Who needs a bodyguard if you are trained in the military? Well, despite that being true, Gal Gadot has hired a team of security personnel to accompany her whenever she goes on high-stakes meetings or events. Mind you, the Wonder Woman actress is a military gymnastics and calisthenics instructor, so she is very fit and can very much protect herself if needed. She even bragged that she was responsible for making Israeli soldiers fit. Who would not want to go to class if your instructor is a beauty pageant winner, right?
Well, due to her towering height, photos that have emerged of her walking alongside her bodyguard appeared that she was the one protecting them! They might not be as tall as the actress, but of course, we give them due credit for ensuring that Gadot is safe, especially since she has a family she goes home to.
Gwen Stefani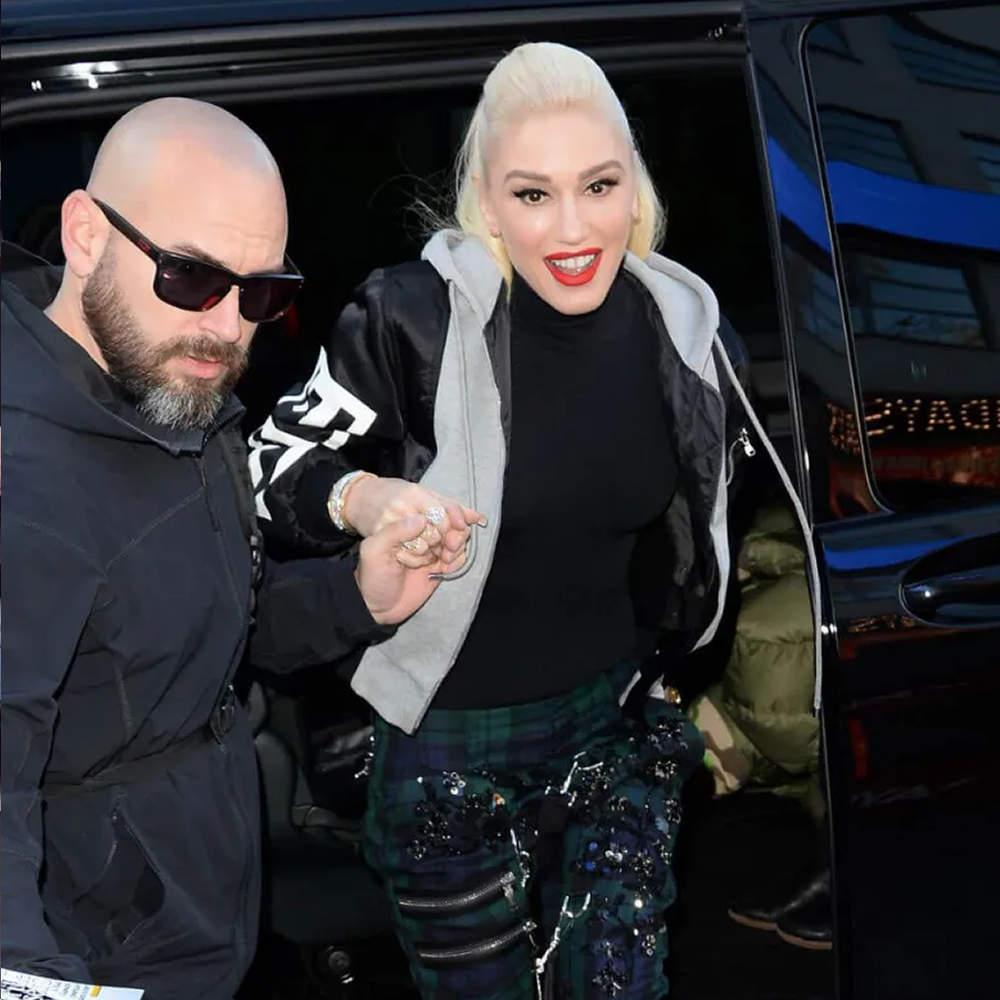 If someone is in charge of your security 24/7, there are really very few reasons why they should not be treated like family. Whenever she was out, Gwen Stefani was protected by Curtis Garret. Outside the confines of her home security system, Garrett had been her source of comfort and safety. The singer also considered him like family. Unfortunately, Stefani announced in 2021 that her beloved bodyguard and friend had passed away.
Messages of sympathy poured in from fans. Some even said that he was the best and they would never forget him. We can only assume that there would be a period of adjustment for the singer when she hires a new person to take over the job. We just hope that everything will go well. Seeing how Stefani is a good boss, she deserves only the best from those she works with.
Hailey Bieber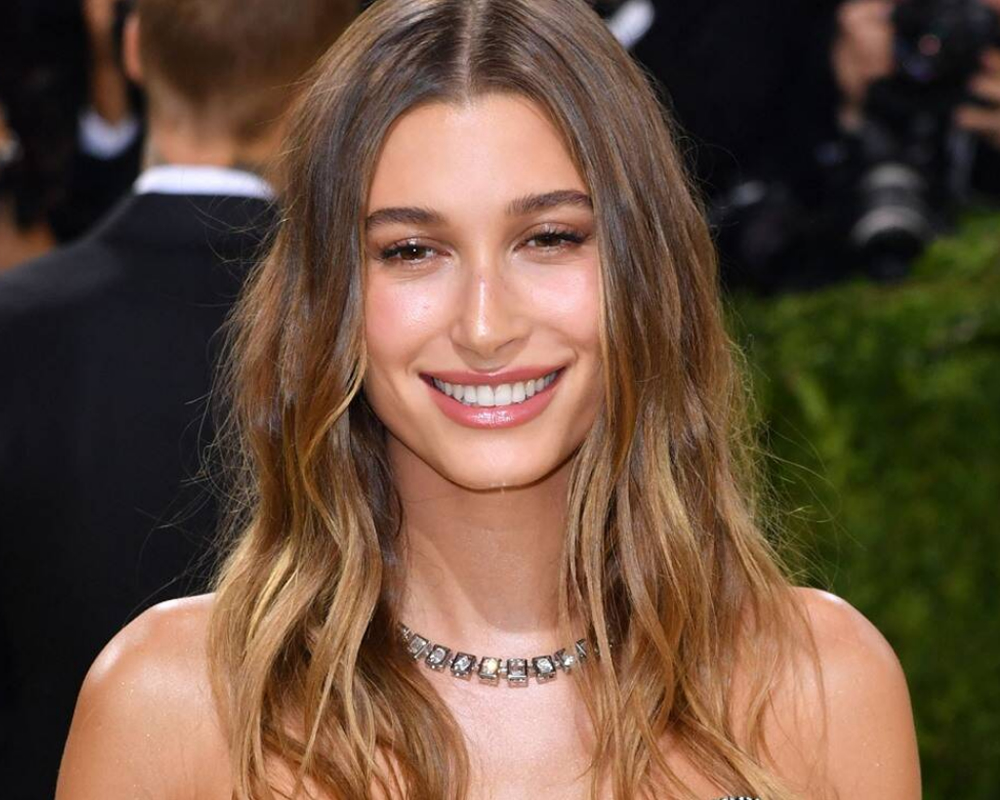 Media personality Hailey Baldwin Bieber is used to the limelight. Her father is Stephen Baldwin, so she grew up accustomed to the limelight and got all the attention in the world. So even at an early age, she already has a bodyguard who makes sure she is safe. When the socialite married singer Justin Bieber, the number of fans and haters who wanted to get near them instantly tripled.
That means the Biebers also needed to reinforce their security and make sure they were protected all the time. The degree of care they needed to have is really evident. Aggressive paparazzi would pop up now and then, violating their privacy. Reporters would ask them questions that are borderline rude, and so their security is tasked with making sure these two can be extracted at any time. We just hope that the couple is left alone whenever they want some privacy.
Halle Berry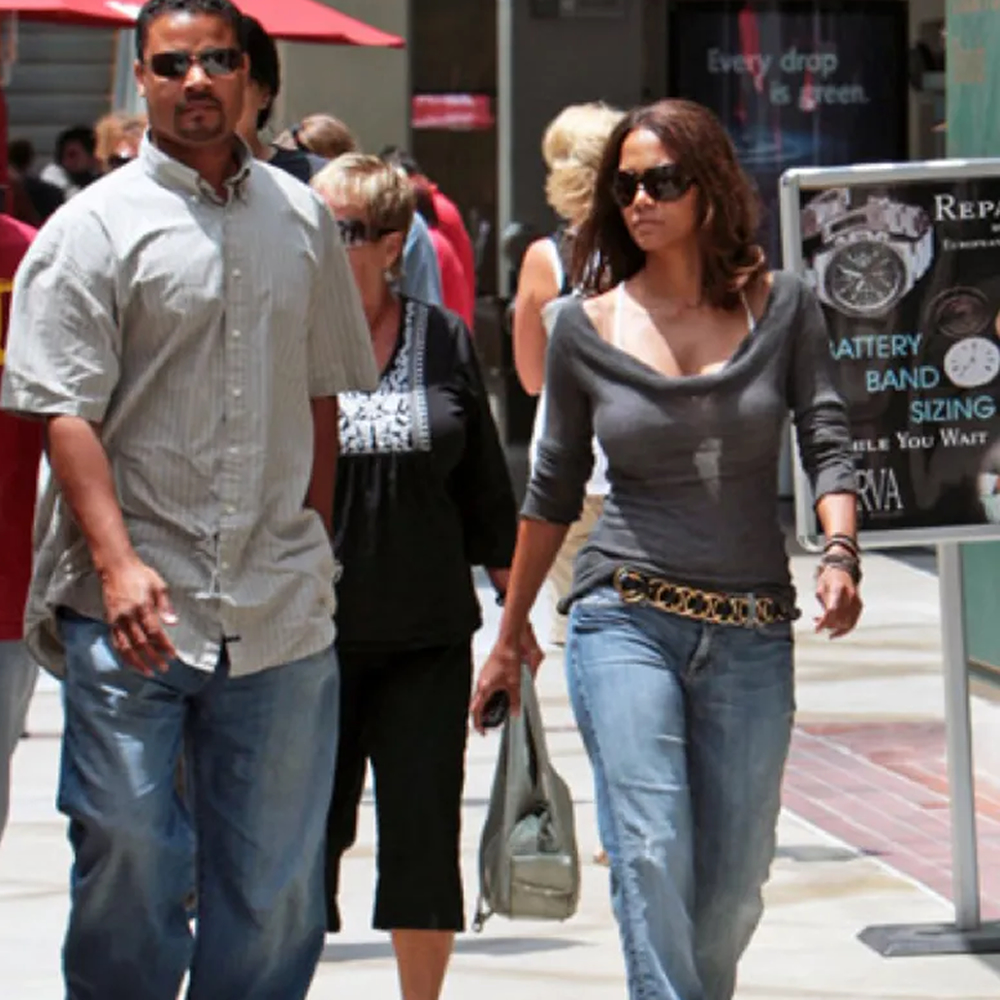 If a bolt of lightning hits you and electricity courses through your body, Storm probably is defending herself against you. More realistically, perhaps Halle Berry's bodyguard has tased you as you are a threat to the X-Men actress. That could be a rather extreme scenario, but it could happen in real life.
The actress is not actually known for having a large number of security staff. Normally she would only have one or two, but everything changed when she gave birth to Nahla. At this point, she has been getting some threats, and to ensure her safety, she hired professional security officers. One aggravating factor was when the former Bond girl's fiancé in 2012 got into an altercation with an ex. She was frightened and was worried about her own safety during that time. It made sense to get burly men to surround her all the time.
Harry Styles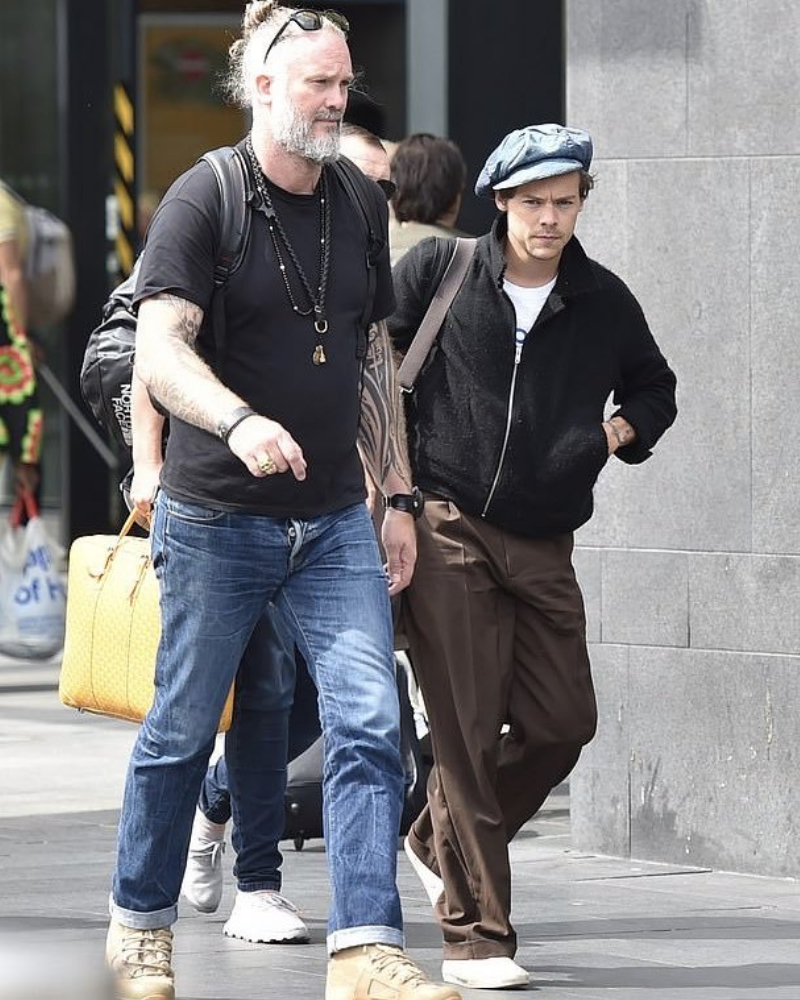 While screaming girls and fans are usually not a threat to Harry Styles, nosy paparazzi and reporters can be. We know that the singer was a member of One Direction and is one of the most loved singers in the world. Women fawn over him, and they would not hesitate to get selfies with him. They might even get extreme and run over anyone who could be in the path— this is where his security personnel would come in.
When he was filming for Dunkirk, Styles was given six more bodyguards. He was also watched 24/7. Owners of Warner Bros Pictures did not want him to get unwanted attention, and to make sure that this was the case, they insisted that they attend the premiere alongside the singer. Reports say that he got more security detail than big stars like Tom Cruise, so we give him due credit for that.
Heidi Klum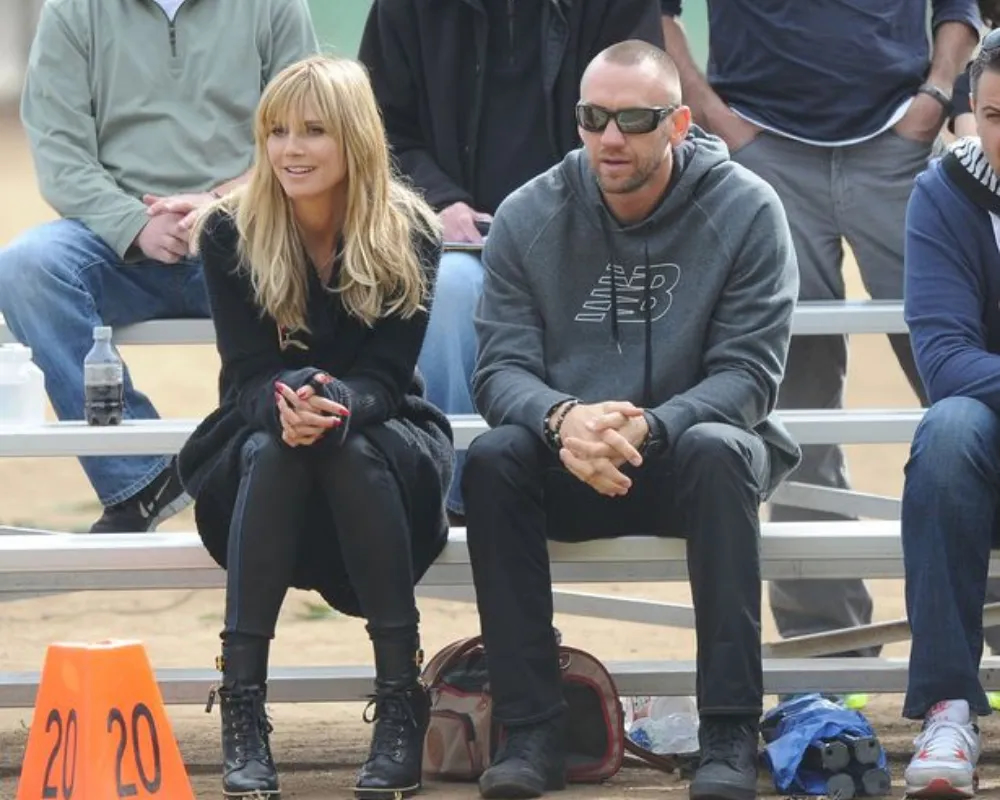 If Gwen Stefani considers his bodyguards as family, Heidi Klum took it to the next level. The supermodel began dating her South African security personnel, Martin Kirsten. We can say that there are indeed perks to being the bodyguard of a celebrity, and one of them is a chance to be their lover. These two had been working together for several years, but the romance did not really start until after Klum separated from her former boyfriend.
There are also reports that Klum dropped some of her investment money for the bodyguard, buying him a house and giving him funds as needed. Their relationship began in 2012, but they have now parted ways, both on a personal and professional level. We can only assume that Klum has looked for another bodyguard to protect her. During interviews, she would still recall Kirsten's immense support for her career.
Jason Momoa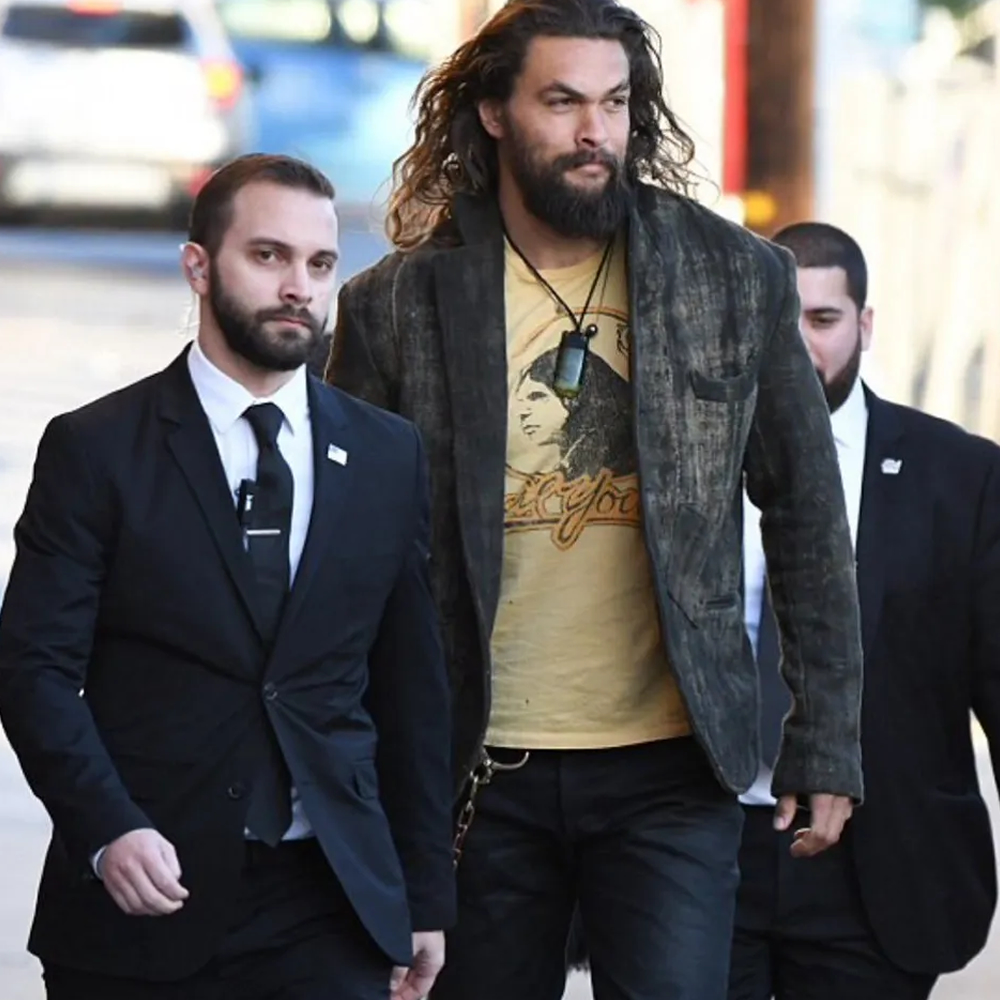 What's the point? That is perhaps the question running through your mind when you see Jason Momoa's name on this list. The man is so big he could easily defend himself from anyone trying to harm him, right? Well, he himself denies that he has a bodyguard. However, there are photos of him and a pair of security personnel who looked visibly shorter than the actor, so when he was asked about them, he said he had no bodyguards.
Well, perhaps he meant that he had not hired a personal bodyguard per se, but whenever he goes out, there are always men in dark clothes following him around to make sure that he is safe. They might look a bit less intimidating than the actor himself, but of course, credit goes to them for making every effort to offer protection to Aquaman.
Jennifer Aniston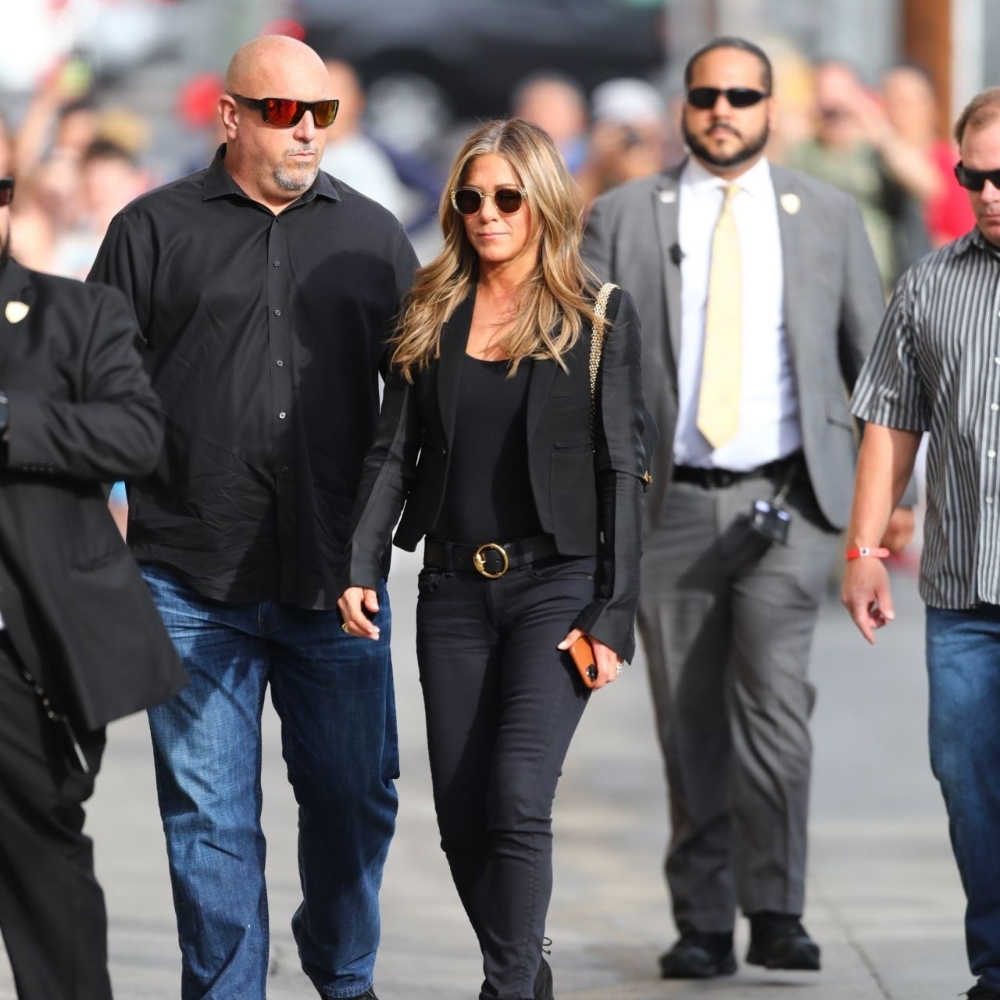 Famous celebrities with big net worth like Jennifer Aniston would always require the services of a bodyguard, and it's because they might be carrying valuables with them. Aside from that, Aniston is a very recognizable star owing to the success of the sitcom Friends. Despite the show ending a long time ago, fans would still come up to her and ask for an autograph or a picture.
For the purpose of ensuring her safety, Aniston has hired Sheldon. Not Cooper, but the same Sheldon that has given his services to Julia Roberts, Robert Pattinson, and Katie Holmes. We think hiring Sheldon is a good move because it means that he knows how to deal with rowdy fans and a huge crowd. Sheldon and his team are always on a high degree of alert when Aniston goes out and interacts with her fans.
Kanye West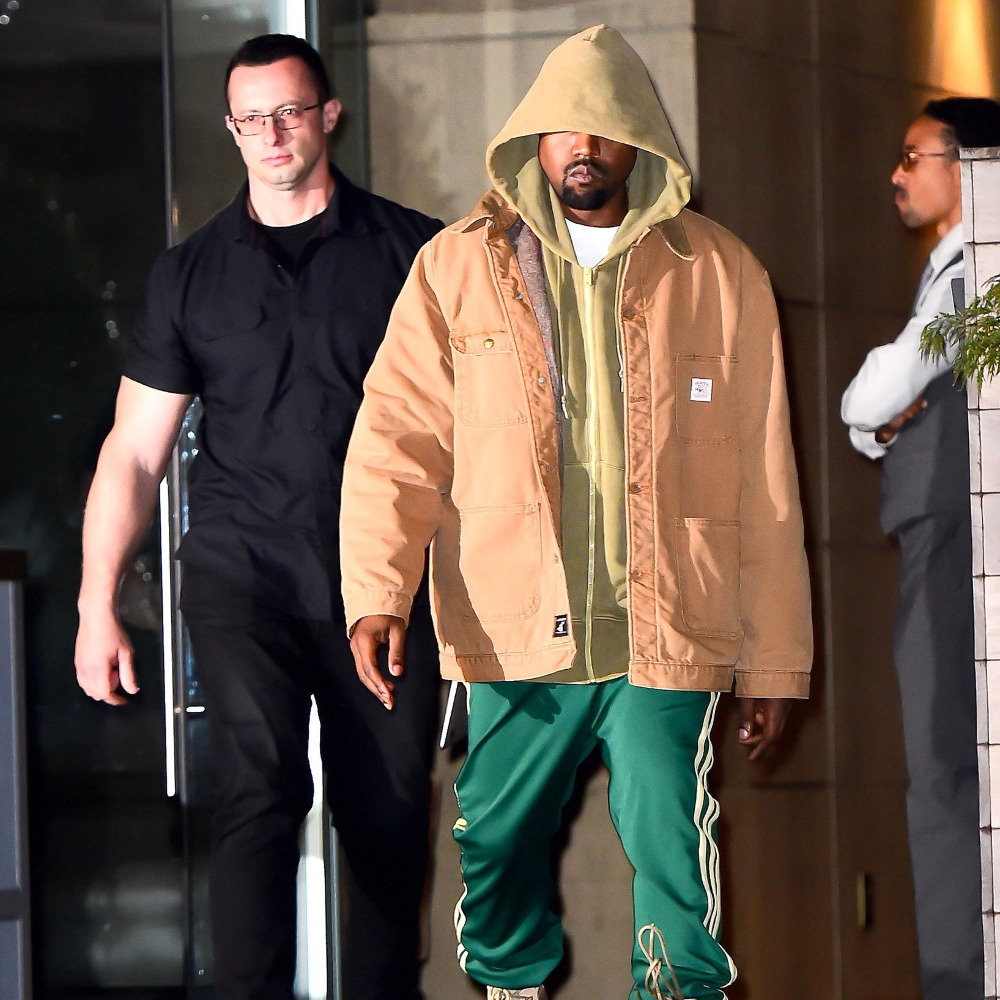 At a young age, Kanye West has already had quite an inclination for various kinds of art, especially music. In fact, when he was just five years old, he wrote a couple of poems. Well, from that point onward, his love for the art, not to mention talent, has improved. By the early 2000s, he began his career under the spotlight as a producer. Not long after, West finally became an artist and has since garnered a skyrocketing degree of recognition for his albums, including his 2004 debut The College Dropout and 2010's My Beautiful Dark Twisted Fantasy.
Besides his endeavors in the music industry, West has also developed a reputation for his other antics under the spotlight. Among the many people who have a couple of stories to tell about the Life of Pablo singer is his former bodyguard, Steve Stannulis. Suffice to say, Stannulis' time with the artist/producer was, in a way, a stint he won't forget.
Kim Kardashian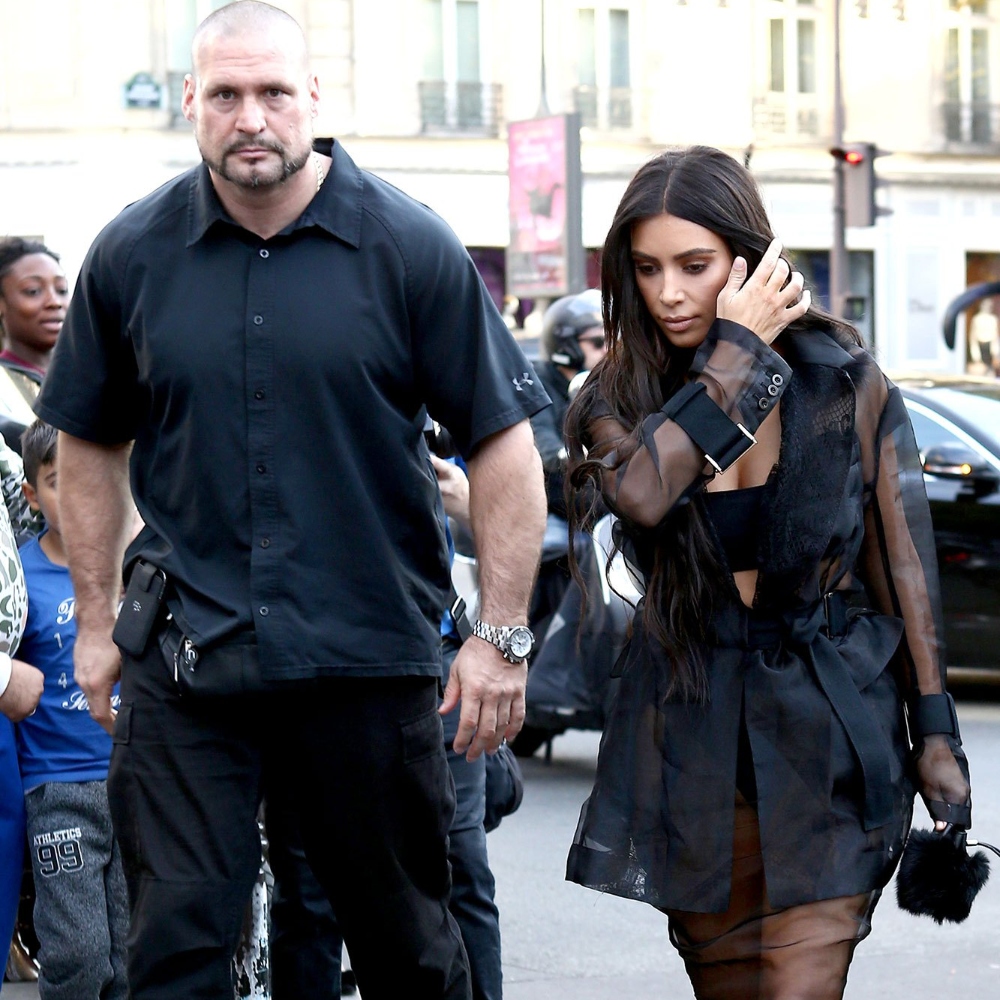 Many investments have undoubtedly been made in the entertainment industry. From songs to concerts to movies, another notable project lies in the reality TV genre. With that said, one such title worth noting is Keeping Up with the Kardashians, and among its stars is Kim Kardashian.
Along with her stint in the series, Kardashian has dabbled in other ventures, notably in the fashion scene. With all the fame she and her family have garnered through the years, it's no secret that they now also have quite a fortune. For that, having a bodyguard is most certainly a given. For a time, Pascal Duvier was one of the TV personality's trusted companions. Duvier could be spotted in more than a couple of paparazzi photos accompanying the celebrity businesswoman throughout his tenure, keeping Kardashian safe. Due to a fairly recent incident, however, Duvier finally decided it was time for him to quit.
Justin Bieber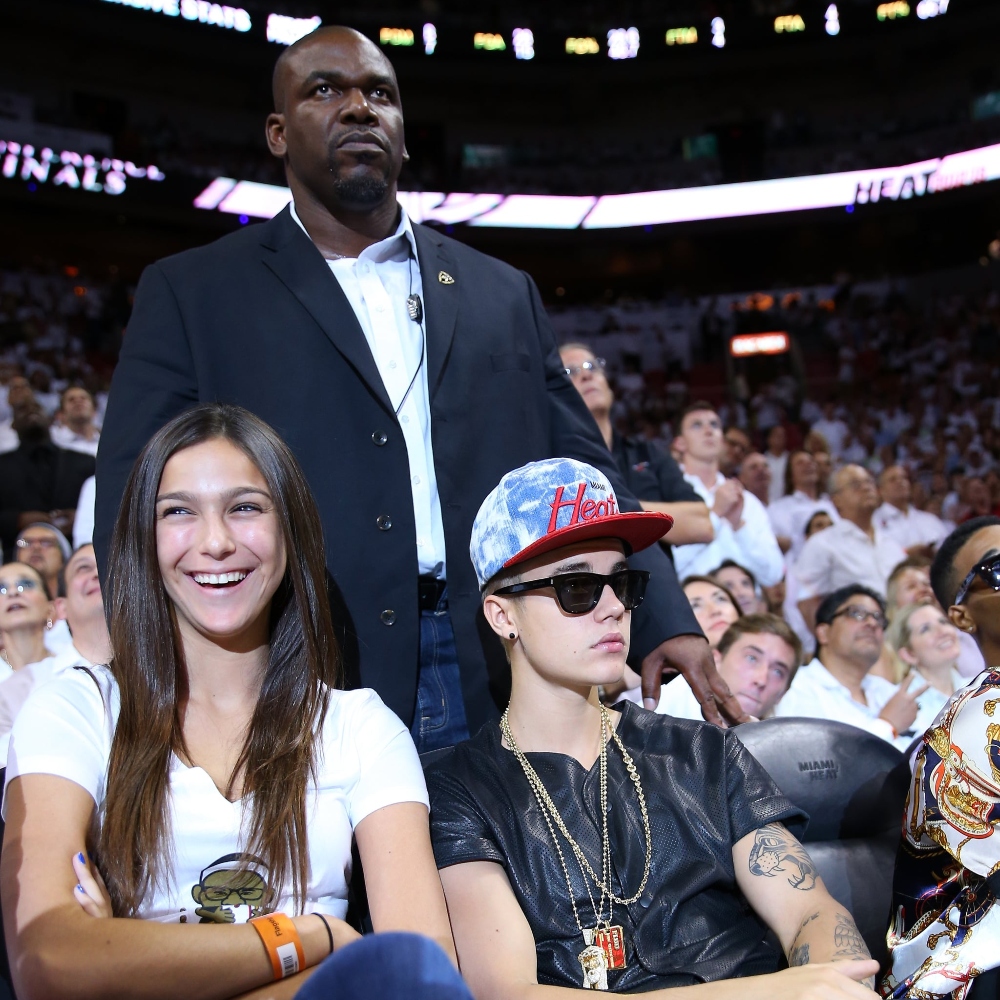 From buying items to taking online classes, the internet has undoubtedly become a hub for various activities. Of course, one such activity worth noting would be showcasing one's talents on streaming platforms like YouTube. Starting off with YouTube videos of himself playing the songs he loves, Justin Bieber has since become a well-known figure in the entertainment scene.
Since his debut studio album My World 2.0 brought him to the public's attention, other records he has released include hits such as Peaches, Love Yourself, and Ghost. For this journey to stardom, there's no denying that the singer has friends and loved ones there to support him. Among these people are his bodyguards. Along with keeping him going, Bieber's bodyguards also ensured his safety– and they took that job with utmost importance. Besides the usual keeping-him-secure task in public, they made it a habit to see him sleep soundly every night.
Kylie Jenner

Besides Kim Kardashian, another member of the Kardashian-Jenner family that has garnered a high degree of recognition under the spotlight is Kylie Jenner. Besides appearing on TV shows and modeling gigs, Jenner has also become a successful businesswoman.
From her various ventures in the fashion business and her philanthropic efforts, Jenner has now become a well-known name in the industry. Besides her, however, another person close to the Keeping Up with the Kardashians star would be none other than her bodyguard, Tim Chung. Suffice to say, he has also become quite a favorite among Jenner's fans. He also works as a bodyguard for Jenner's two siblings, Kim and Kourtney. Along with his charisma, Chung also has a couple of tricks underneath his sleeve. Besides working as a cop, Chung is also fond of playing basketball. Plus, like Jenner, he has dabbled in a couple of modeling gigs here and there.
Katy Perry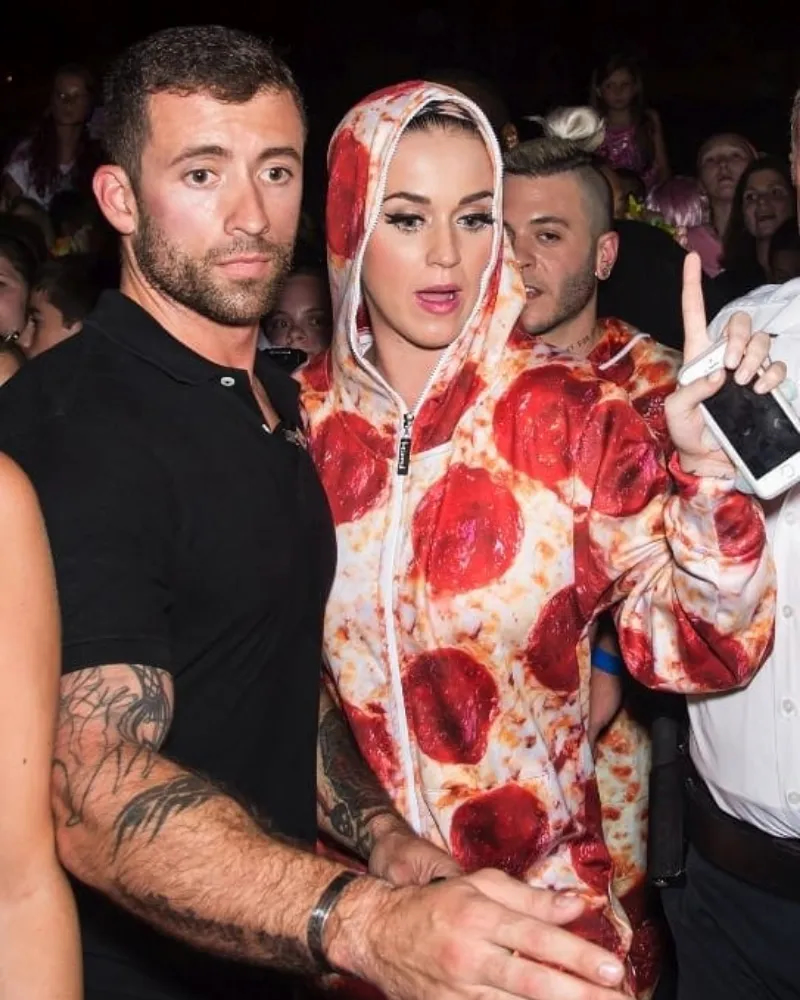 Music played an integral part in Katy Perry's childhood. During that period, she often borrowed discs from her friends. Among those records, though, the track that increased her love for music was a song by Alanis Morissette. Since then, Perry has cited Morissette as an influential figure in her songwriting approach.
Today, Perry has become one of the best-selling artists in the music industry. Besides gracing the airwaves and concerts with her hit tracks, the Teenage Dream singer has also dabbled in the movie scene, landing voice-acting roles in projects like The Smurfs. When she isn't working in the studio, Perry could sometimes be found walking around town. Of course, she isn't usually alone and is kept safe with the aid of her bodyguard. Thanks to all the photos of the bodyguard that surfaced online, many fans agree that he has some degree of resemblance to Wolverine actor Hugh Jackman.
Jennifer Lopez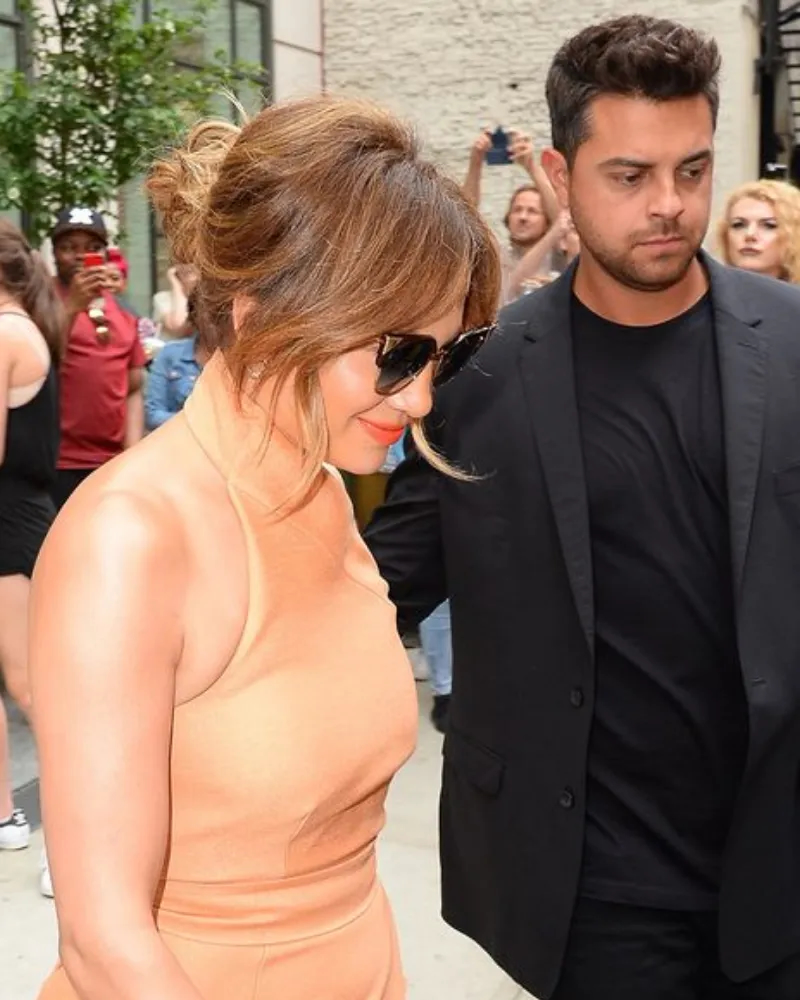 Performing was already something Jennifer Lopez was good at during her childhood. Lopez often danced, acted, and sang with her siblings during family events. While it may not seem much back then, it's safe to say those moments ultimately became her first few steps toward her eventual career. With her first professional stint as a dancer on In Living Color, Lopez has since become a well-known singer and actress, most notable for making songs like On the Floor and If You Had My Love.
More often than not, celebrities do just about everything they can to keep themselves safe, like filing for an insurance policy. Of course, the Shades of Blue actress/singer is no stranger to this. That's why she always has a bodyguard around. While he often dresses up like any other person, it's no secret that he makes it a point to ensure Lopez's safety, especially in public and around the paparazzi.
Karl Lagerfeld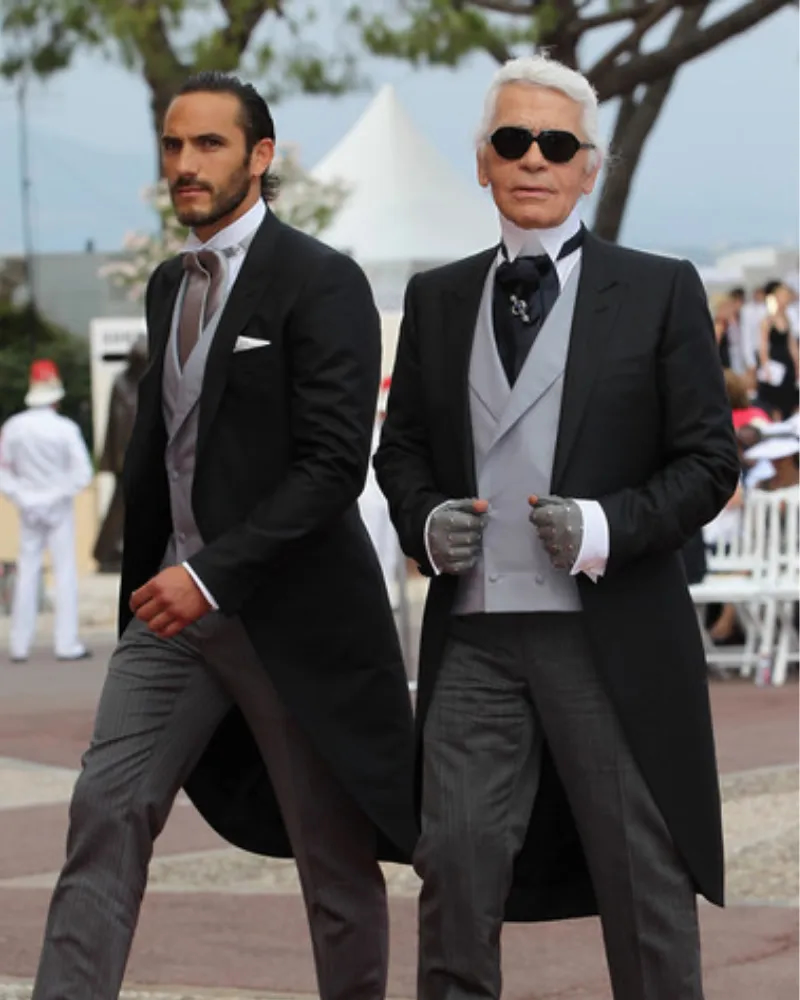 Karl Lagerfeld undoubtedly has a big name in the fashion scene. Beginning his career as an apprentice for a fashion designer, Lagerfeld eventually rose his way to stardom. Along with bringing the Chanel brand back to fame, he has garnered recognition for his endeavors as an artist and photographer.
It's no secret that Lagerfeld has inspired people along the way. Well, one such person just so happened to be his former bodyguard Sébastien Jondeau. With his earlier job working for a moving company, Jondeau first met Lagerfeld when he helped the late fashion icon move some furniture. A few years later, along with being his bodyguard, Jondeau was like a son to Lagerfeld. Today, he is also a contributor to the Chanel brand and an ambassador of Lagerfeld's very own fashion company. He has also written a book showcasing a more behind-the-scenes look into the late fashion designer's life, titled Ça va, cher Karl?
Kylie Minogue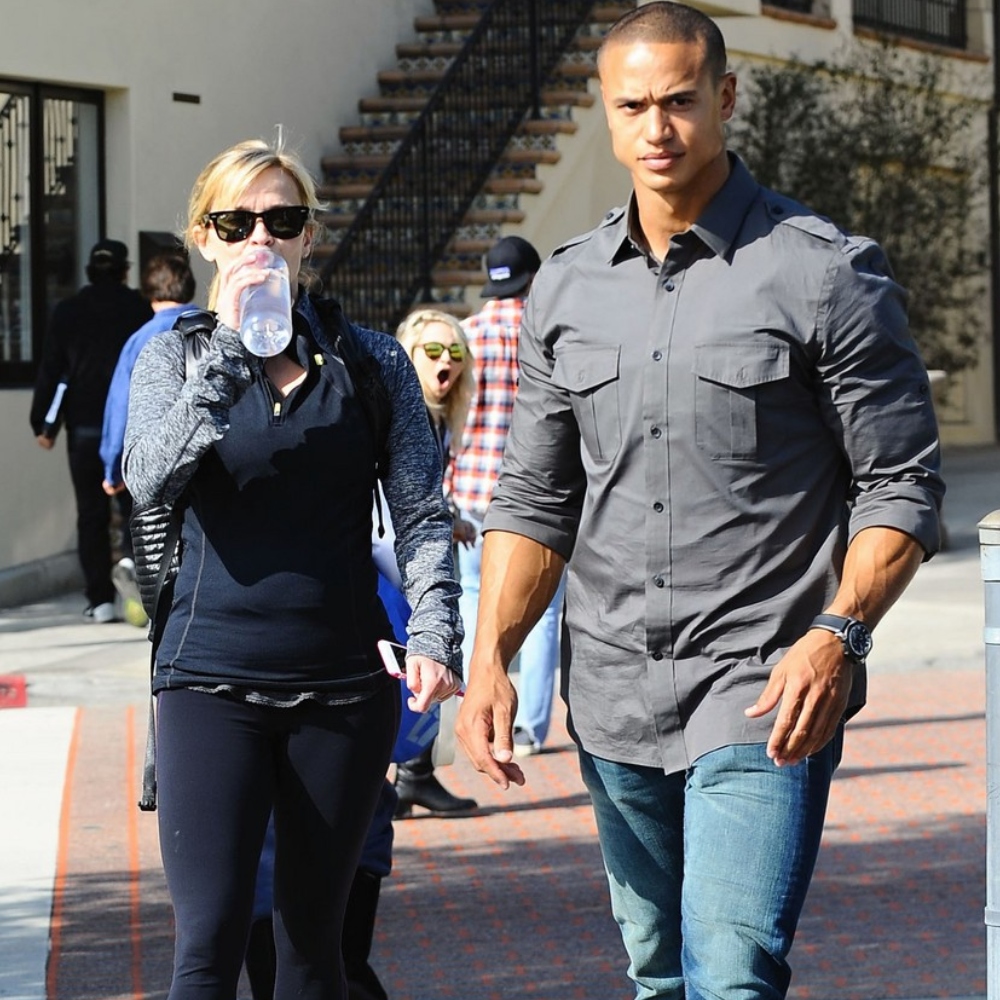 Before even knowing things like college degrees, Kylie Minogue was already well on her way into the entertainment industry. Starting at ten years old, she landed roles in Skyways and The Sullivans. While an acting career may have been a notable choice, that didn't stop her from making her way into the music scene.
Suffice to say, the move was worth it. Today, Minogue has become a big name in the music industry, even earning herself the title of Princess of Pop. With three Brit Awards to her name, Minogue has also tried her hand at acting, starring in films like Jack & Diane. For a celebrity of her caliber, there's no denying that the singer/actress has a bodyguard with her almost all the time. Well, with the fellow towering over her, it's safe to say being with the bodyguard will always give the singer a strong sense of security.
Katie Holmes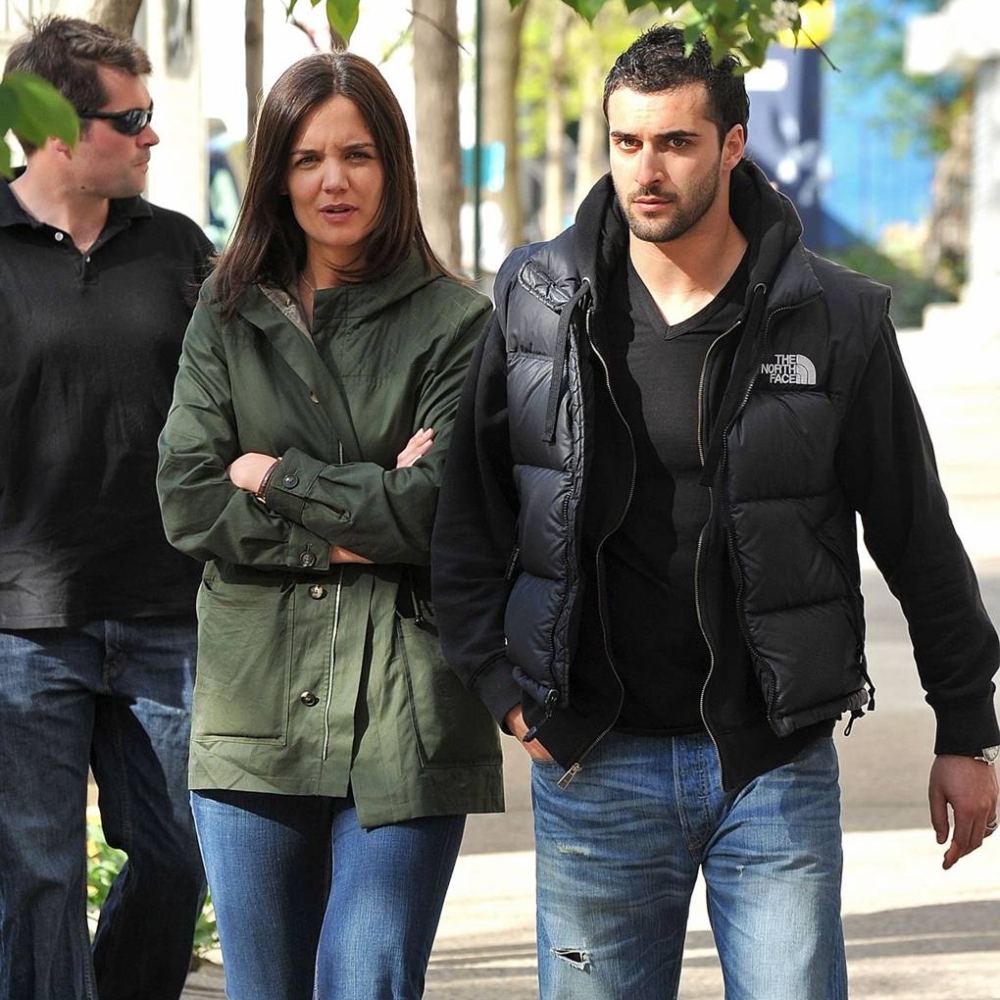 Like many of her colleagues, Katie Holmes got her first experience in acting performing on her school's musicals. Along with dabbling in modeling, later on, Holmes got her first official acting gig in 1997, appearing alongside Sigourney Weaver and Kevin Kline in The Ice Storm. Since then, she has starred in other films such as Wonder Boys, Logan Lucky, and Touched with Fire.
Besides acting, Holmes has also made investments as a filmmaker, notably as a producer and director. More recently, the Batman Begins actress was found working on her new directorial effort, titled Rare Objects. Along with sights of her talking with the crew, Holmes was also spotted roaming around the area with her bodyguard close by. Of course, he's there to ensure the actress/filmmaker is safe. Besides that, though, he's also there to help carry some of Holme's things.
Madonna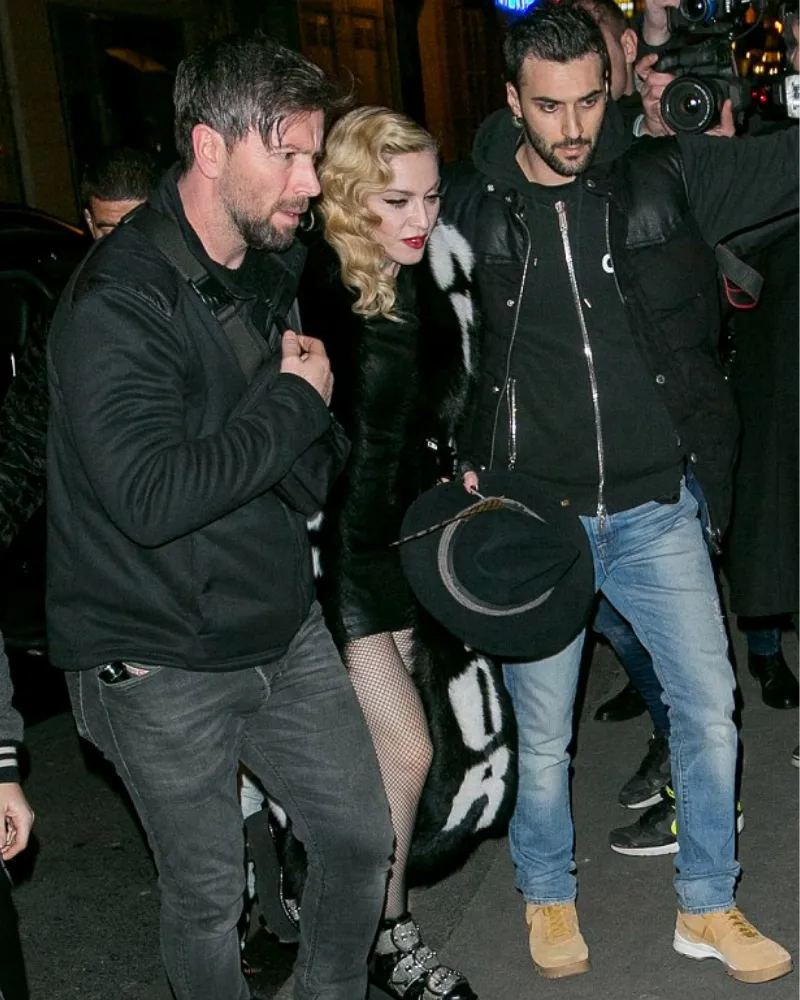 We have people we look up to, for sure. They play an influential part in our journey to achieving our goals. With that said, one such star that takes credit for being the idol of many aspiring singers is none other than Madonna. Through the years, she has graced the airwaves with hit records such as La Isla Bonita. Plus, she has also found her way into plenty of movies, including 1996's Evita, which earned her a Golden Globe for Best Actress.
For some time, Madonna had Stevan Miller as one of her bodyguards. After parting ways with the world-famous singer-songwriter and actress, Miller has dabbled in other endeavors through the years. Among these, though, the one venture that has spawned quite a buzz would be his tenure as a boxer. While still fairly new in the sport, Miller has already shown quite a knack for it.
Lady Gaga
Now, if we're talking about stars that Madonna influenced, there's no denying one of those people would be the now-iconic Lady Gaga. For her start in the music industry, Lady Gaga first worked as a songwriter before finally releasing her first album, The Fame. From that point onward, her popularity only rose to even greater heights.
Besides releasing one hit record after another, the singer has also made quite a name for herself in the acting scene, garnering an even higher degree of recognition for her work in A Star Is Born. Of course, promoting these projects has brought her to more than a couple of red carpet events. Accompanying her through these occasions was her bodyguard Peter Van der Veen. Besides keeping her safe, Van der Veen also has a couple of tricks under his sleeve: he once provided the backing vocals to one of the singer's records.
Kendrick Lamar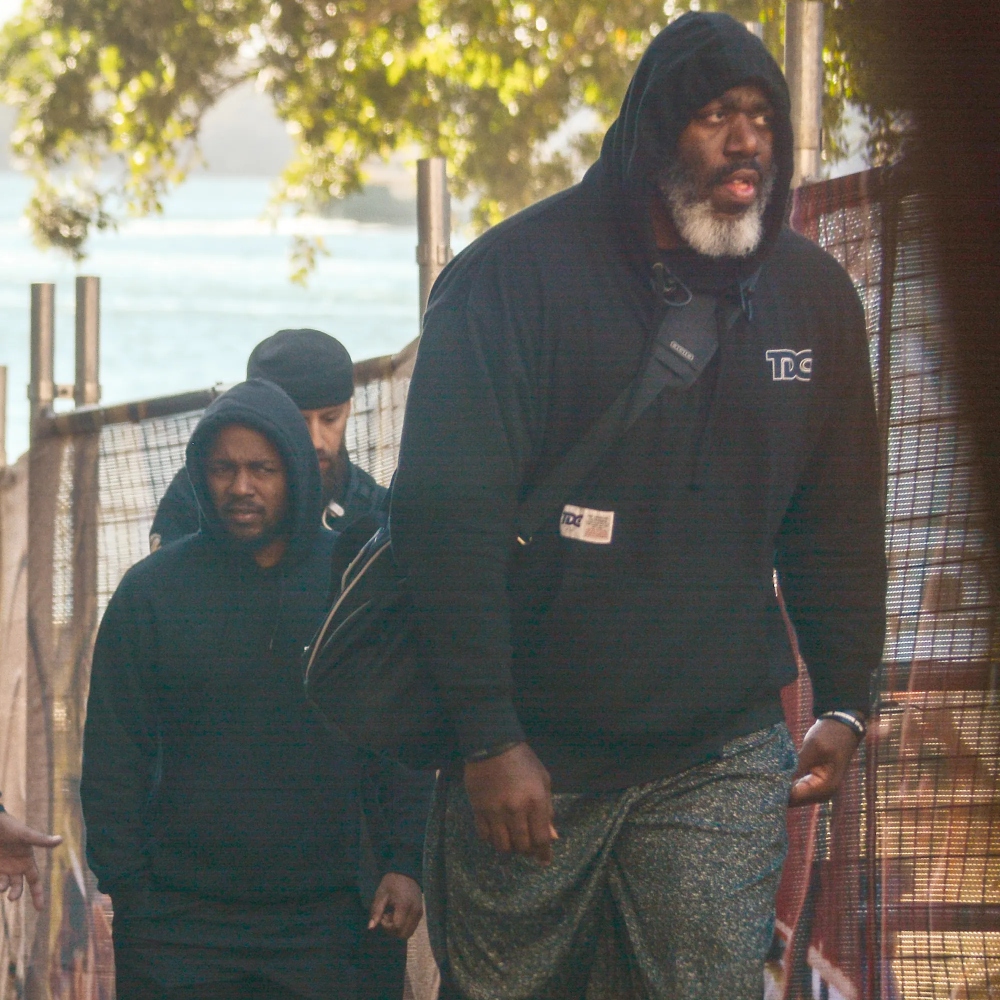 The rap genre is undoubtedly filled with figures who have since left a mark on the music industry. One such star that has slowly made his way among the most popular rappers in the scene is Kendrick Lamar. Even before finding his place under the spotlight, Lamar already had his foot steady on the metaphorical gas pedal. He did his first full-length project when he was sixteen years old. Suffice to say, that first mixtape garnered him plenty of recognition in the local music scene.
Lamar slowly grew into a worldwide sensation, beginning his rise to fame among the local rappers and producers. Among his many records, most people know him best for his Billboard chart-topping track Humble. Despite his fame soaring, though, that isn't enough to keep us from noticing how tall his bodyguard is. Well, his towering physique makes him a suitable guard for just about anyone.
Kristen Stewart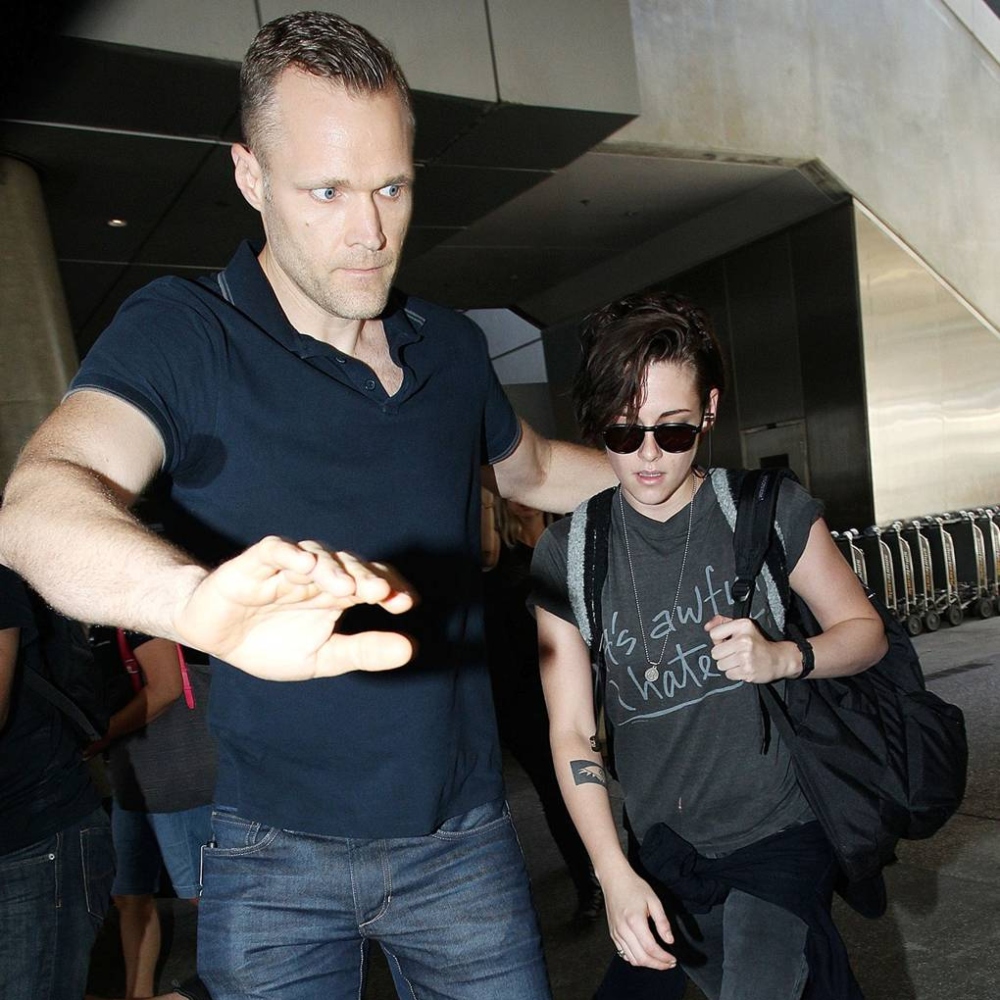 While plenty of films is not based on any source material, studios have also spent portions of investment money producing big-screen adaptations of popular books. One such series of novels would undoubtedly be the Twilight books. Although public reception may vary, there's no denying the films introduced fans to now-famous stars, including Bella Swan's actress Kristen Stewart.
Achieving her first shot to fame as a twelve-year-old, starring in 2002's Panic Room, Stewart has since showcased more of her acting chops in projects such as Spencer. Despite her celebrity status, Stewart prefers to live a low profile. Even so, that hasn't stopped the paparazzi from snapping photos of her in public, usually accompanied by her bodyguard. Now known to her fans under the initials JB, the bodyguard has also become a star in his own right. Like Stewart, though, he likes to keep his personal life away from the spotlight.
Jennifer Lawrence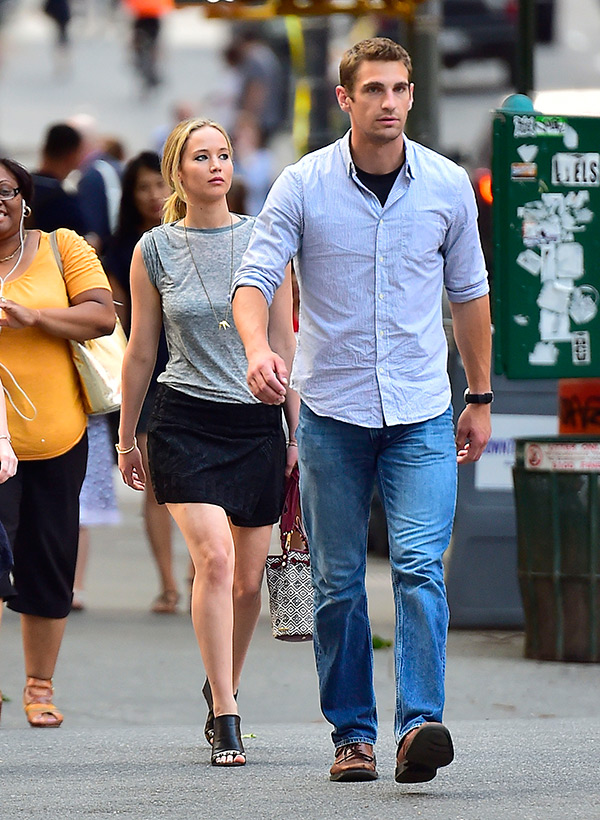 At this point, we've already seen more than a couple of bodyguards who have achieved celebrity status. From Kylie Jenner's Tim Chung and Kristen Stewart's JB, another man who fits into this list is Greg Lenz. Besides his bodyguard duties, Lenz is a happily married family man who has quite a soft spot for dogs. Everyone loves a strong fellow with an even stronger heart.
Now, who does he guard, you ask? Well, that star in question is the Hunger Games actress Jennifer Lawrence. With Lenz's dedication to keeping the actress safe, there's no denying that Lawrence greatly appreciates his efforts. After all, she has garnered quite a reputation as a star who isn't fond of public interactions. Despite the fact, Lawrence still has a loyal fan base thanks to her acting credit in films such as Silver Lining's Playbook, a couple of X-Men movies, and Don't Look Up.
Johnny Depp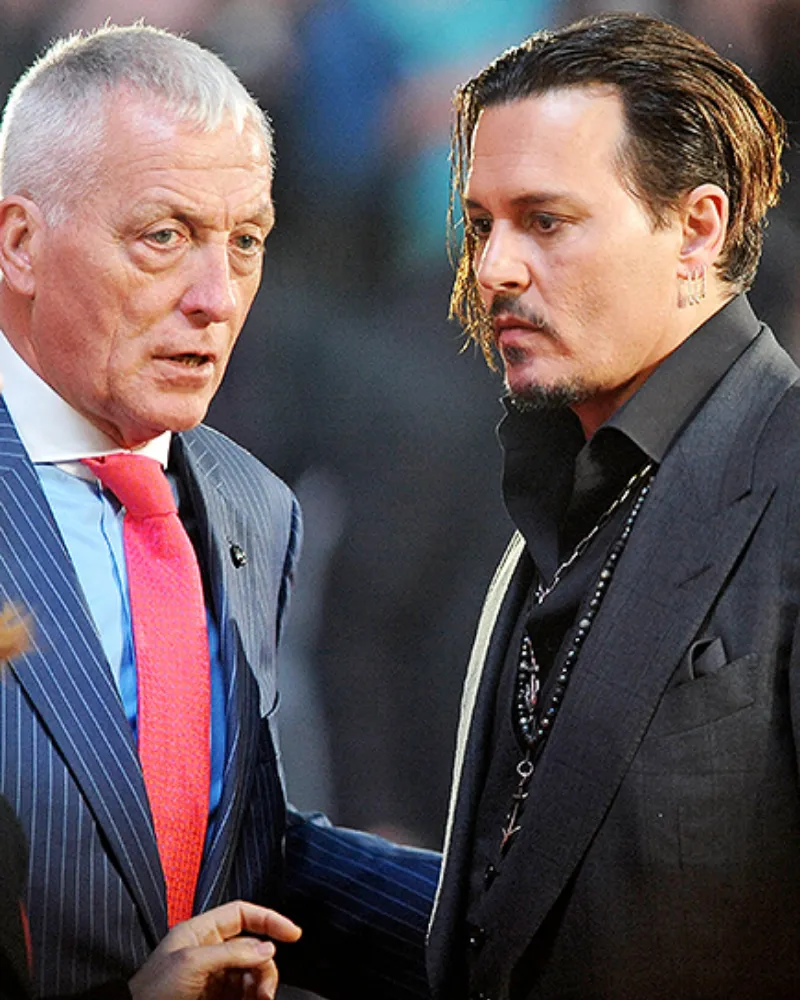 There's no denying that Johnny Depp has become one of Hollywood's most recognized actors. Beginning his career with a role in the classic horror film A Nightmare on Elm Street, Depp has since gained recognition for portraying interesting and eccentric characters. With that said, some of his notable performances are in movies such as Edward Scissorhands and the Pirates of the Caribbean films.
Besides acting, Depp has also made investments in other endeavors, including his very own production company Infinitum Nihil and all-star rock band Hollywood Vampires. Despite his success through the years, the actor is no stranger to encountering hurdles and hubbubs. Even so, rest assured he isn't alone and always has people to support him. In fact, besides his family and friends, his bodyguard is also there to cover his back. With people like them, it's safe to say the Minamata actor is far from calling it quits.
Megan Fox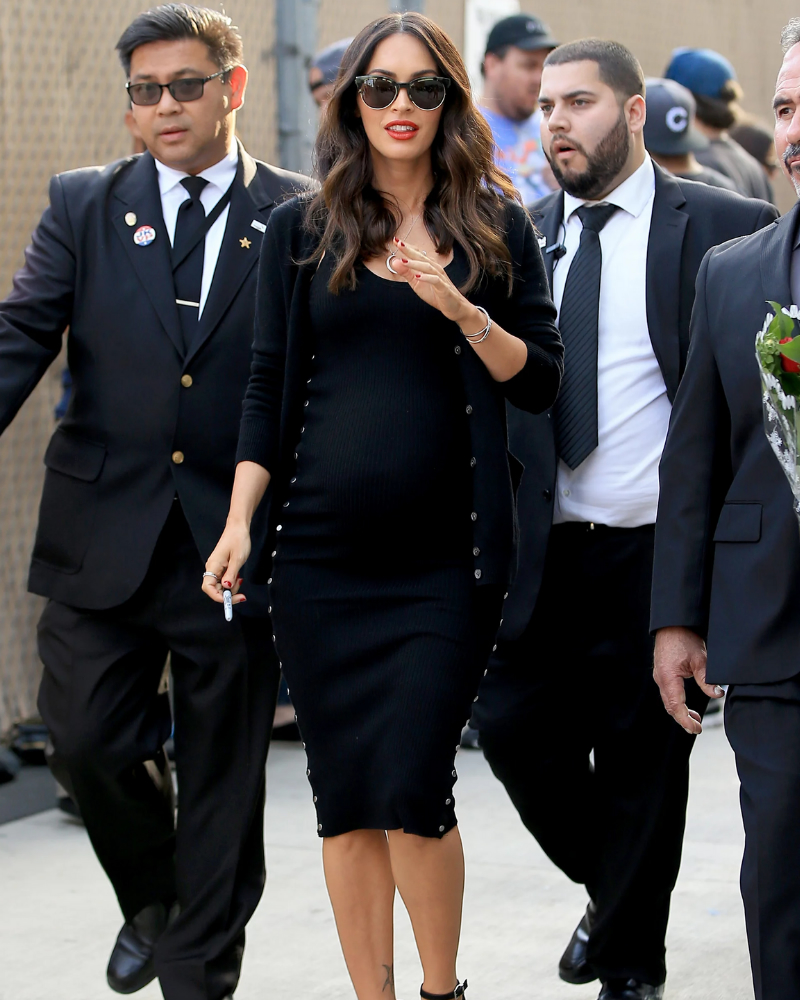 With the immense success that followed after her appearance in the box-office hit Transformers: Revenge of the Fallen, actress Megan Fox had achieved superstar status and gained a significant number of fans. As one of the most sought-out divas in the movie industry, Fox needed to consider one important investment: professional bodyguards. In 2021, a feud started between her boyfriend, rapper Machine Gun Kelly, and Irish UFC contender Conor McGregor. The security personnel surely served their purpose when the actress was caught in the middle of the conflict. Her bodyguards were just at the right place at the right time.
Fox started her career as a teenage model and debuted in acting at 15 years when she portrayed Brianna in the film Holiday in the Sun. For her part in the Transformers franchise, the actress won multiple Teen Choice Awards.
Megan Thee Stallion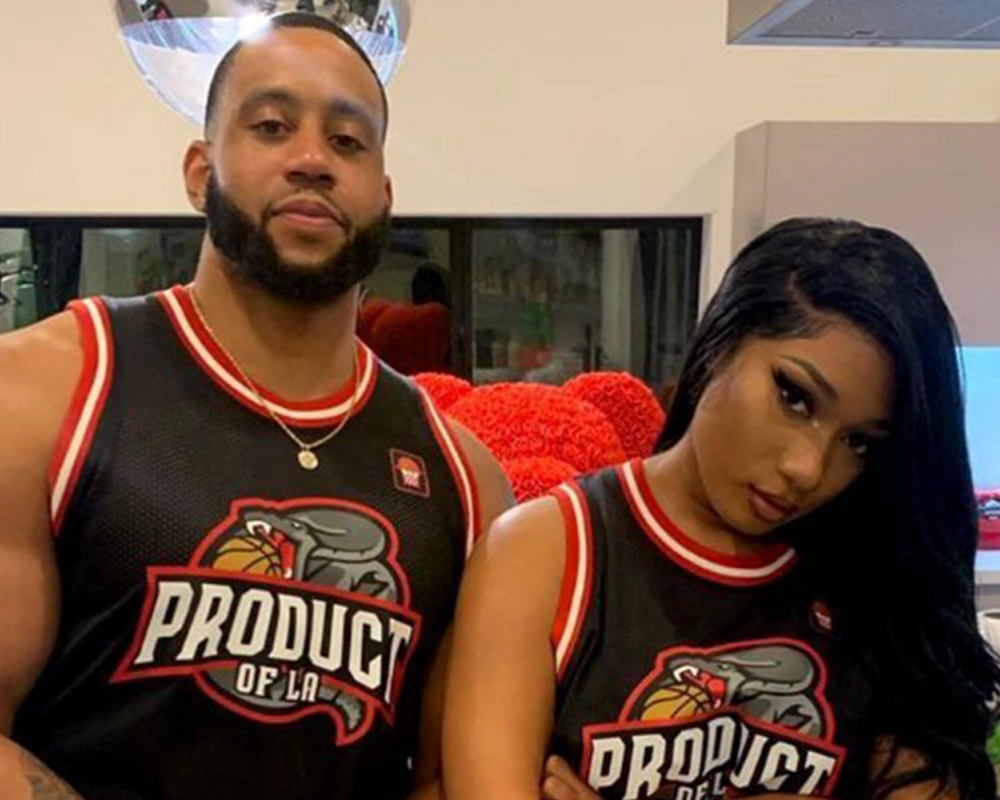 It's perhaps a misnomer for a celebrity's staff to overtake their own fame; this is the case for popular rapper Megan Thee Stallion. After a shooting incident involving the rapper, her bodyguard got the media's attention. Fans ravaged social media and were speculating on the bodyguard's inaction: why didn't he help the rapper? Where was he during the shooting? The bodyguard eventually spoke up and reassured the fans that he would be more vigilant in his job. Standing at a towering 6'4" with the physique of a football player, Stallion's bodyguard might just do the job (if he is more careful the next time around).
Born as Megan Pete, Megan Thee Stallion became the pioneer female rapper who signed under 300 Entertainment. She came into the limelight through her social media during her attempt to acquire a college degree. She released her debut album Fever back in 2019.
Miley Cyrus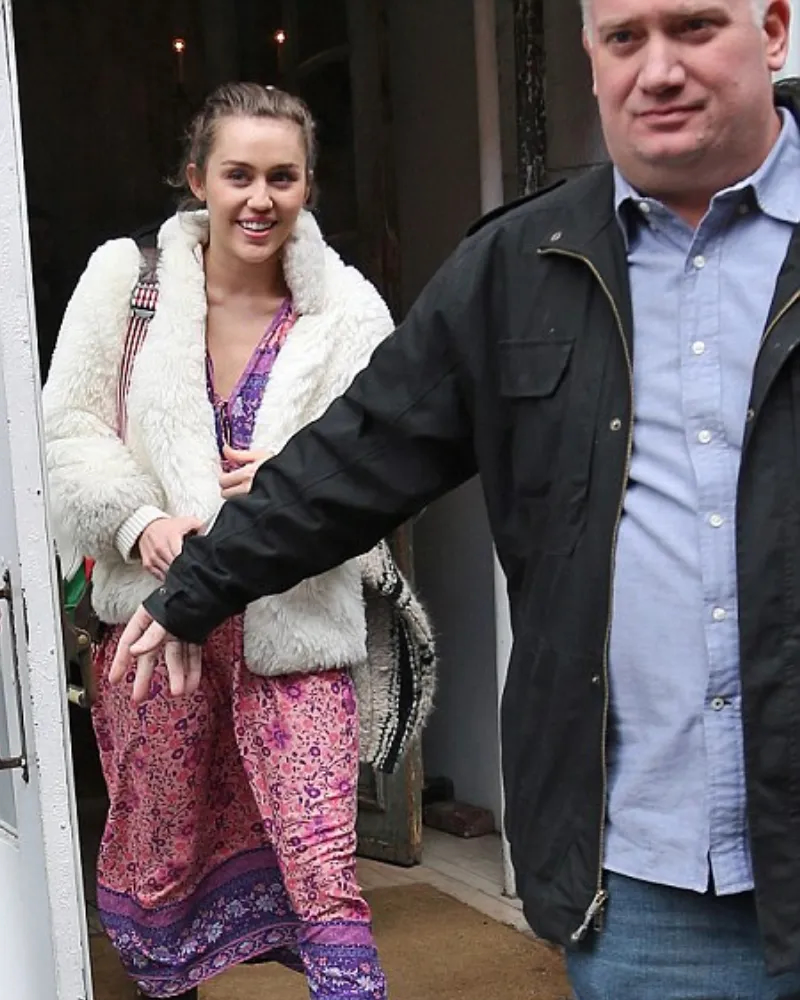 Among the most recognized child stars, Miley Cyrus is someone who has been accustomed to what fame can bring to her life ever since she was young. It isn't surprising as well when a fan will disrespect one's personal space and sneak for an unwarranted kiss, which is exactly what happened to the Hannah Montana star. After that experience, Cyrus has likely hired more personal bodyguards to prevent the same incidents from happening.
Cyrus, aside from being the daughter of famous country star Billy Ray Cyrus, achieved stardom status for her appearance in Disney Channel's Hannah Montana. She suddenly found herself among the wealthiest teenage stars for her credits in the said show. She debuted in the industry for appearing in the series Doc. Subsequently, after taking the lead role in Hannah Montana, she starred in the film The Last Song.
Nicole Kidman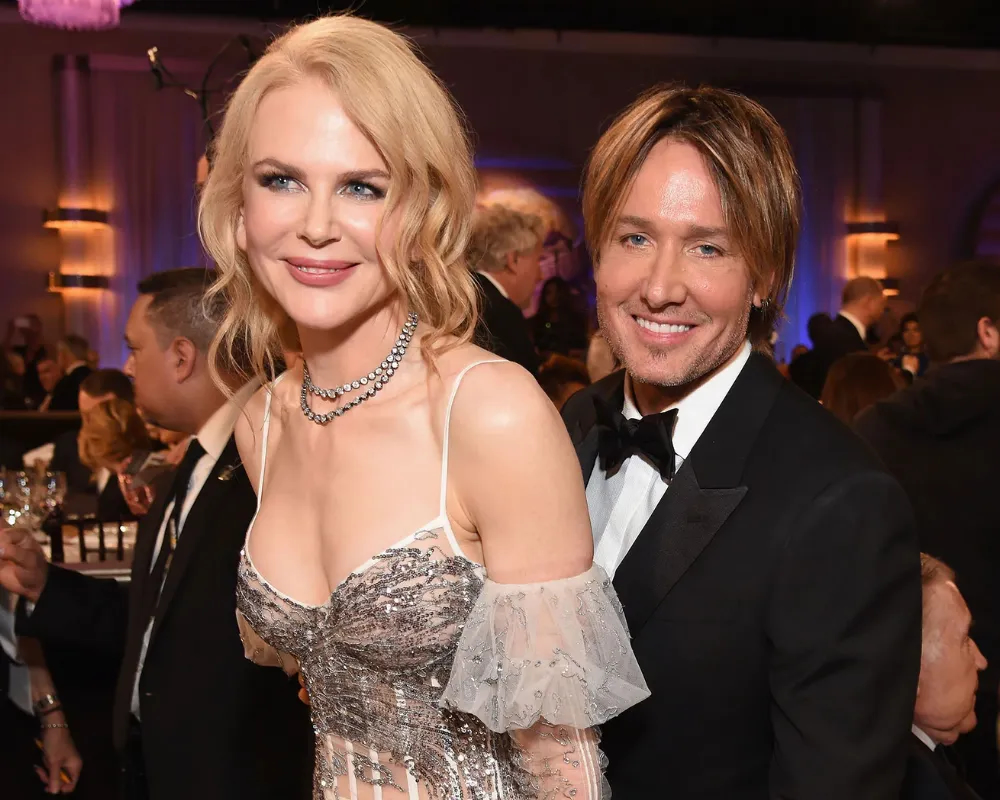 As someone who has gained maximum exposure in almost all forms of media, it has become part of a celebrity's job description to fend off aggressive paparazzi. These people will sometimes go beyond the limit and stage the most offensive situations just to get that money shot. For Nicole Kidman, this art of deceiving paparazzi has been engraved in her everyday life since she became a movie star. After untoward encounters with these people armed with cameras, Kidman chose to make an investment in hiring professional bodyguards. She is often spotted with her security entourage in numerous red carpet appearances.
Nicole Kidman is probably one of the most decorated Hollywood actresses. Before she became famous internationally, she used to dominate the movie scene back in her hometown, Australia. Eventually, her talent couldn't be masked and continued to radiate in America, debuting in the film Days of Thunder.
Oprah Winfrey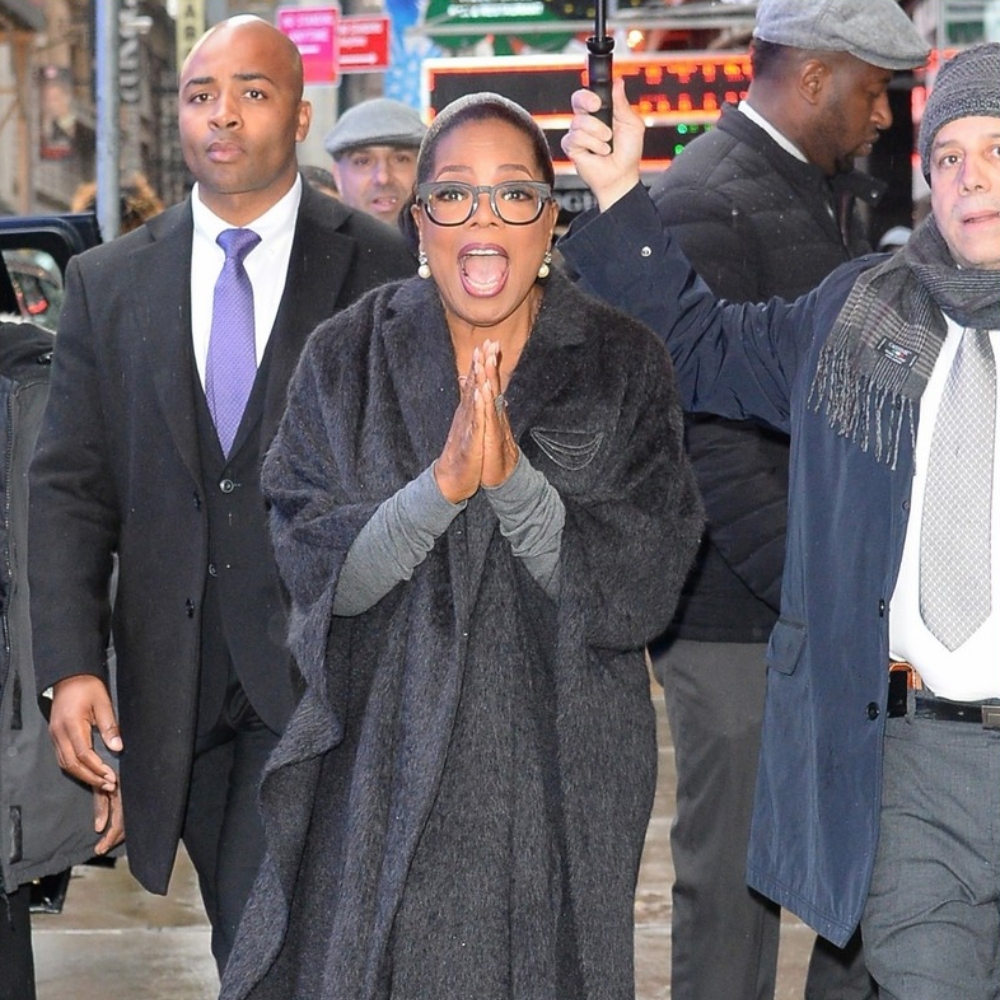 Oprah Winfrey has endured and persisted a ton of setbacks to be recognized as one of the richest African Americans in her generation. As someone who has amassed a massive amount of wealth, it is fitting to make investments in hiring personal bodyguards. Oprah is often seen with her security personnel, who are known to have a handsome salary. One of her personal bodyguards has even been blessed with a career in acting: Michael Jai White. He has mastered over eight different styles of fighting and was even the first African American to take the role of a major comic book superhero in the 1997 movie Spawn.
Winfrey is among the staple faces in American television. She is the star of her own talk show, Oprah, which has received all-time high ratings since it started airing. She is considered one of the most affluent women in the industry.
Paris Hilton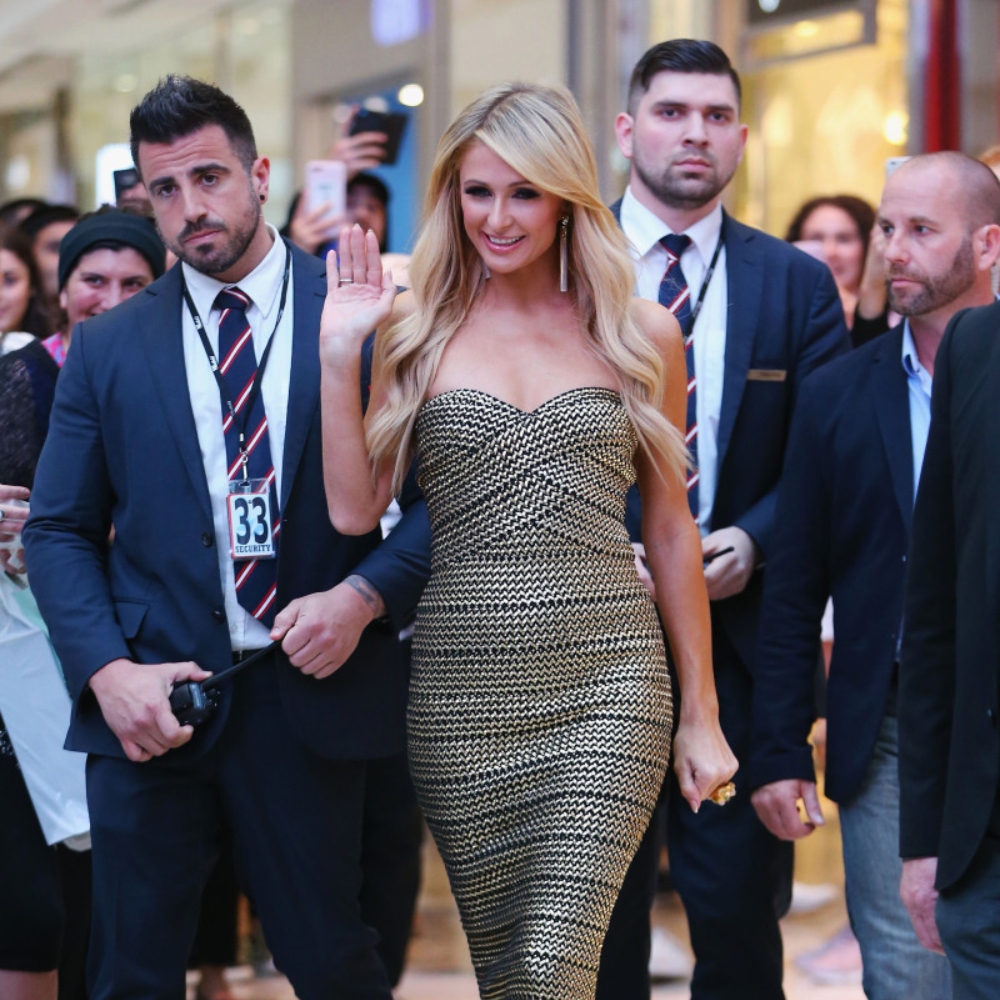 Paris Hilton has been a part of the wealthiest elite in America. Despite having numerous investments and an insane amount of wealth, the socialite has always masked herself as someone who is out of touch. It is also known that she is quite fond of hiring attractive bodyguards. When actor Chris Zylka proposed to her, she automatically had personal bodyguards at her disposal 24/7 just to watch over her dazzling 22-carat ring, which costs millions of dollars. Unfortunately, the engagement didn't outlast the ring.
As someone who was literally handed with a silver spoon, Paris Hilton's millions came from her being the heir of the Hilton Group of Hotels. Apart from that, she also earns through acting, modeling, and writing. As an actress, Hilton has appeared in films such as House of Wax, The Bling Ring, Zoolander, and Wonderland, among others.
Rihanna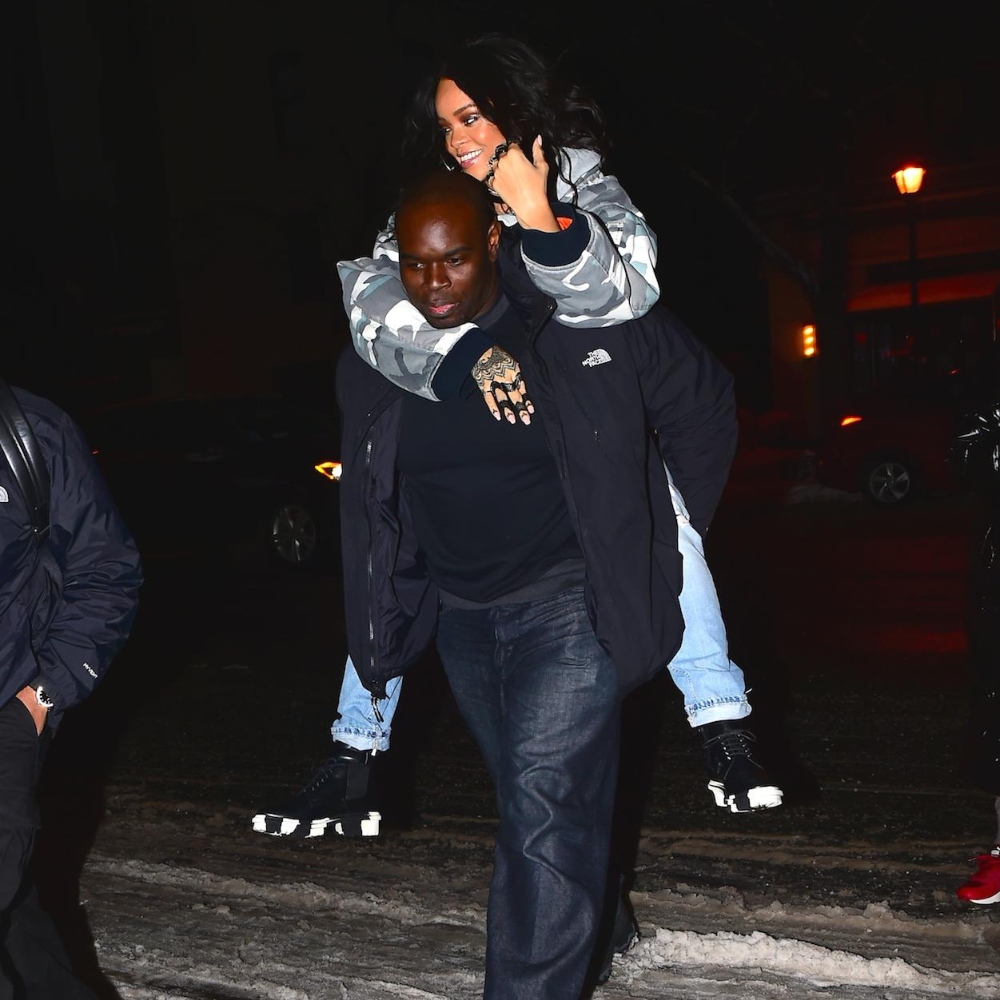 Rihanna is among the celebrities who takes the time to get to know her bodyguards personally; she is often photographed piggyback riding her bodyguards or seated atop their shoulders. They especially come in handy when Riri is in a concert and needs an extra lift. Her bodyguards also go out of their way to protect their boss. At one time, one of the singer's guards punched an annoying paparazzi out of nowhere for blocking their vehicle.
Born as Robyn Rihanna Fenty, Rihanna is the reason why we have top hits such as Pon de Replay, SOS, Umbrella, and Take a Bow. She has achieved huge success despite being young by selling over 40 million records and over 100 million tracks around the world. Outside of her music career, Rihanna uses her investments for humanitarian causes such as the Believe Foundation, which focuses solely on terminally-ill children.
Robert Pattinson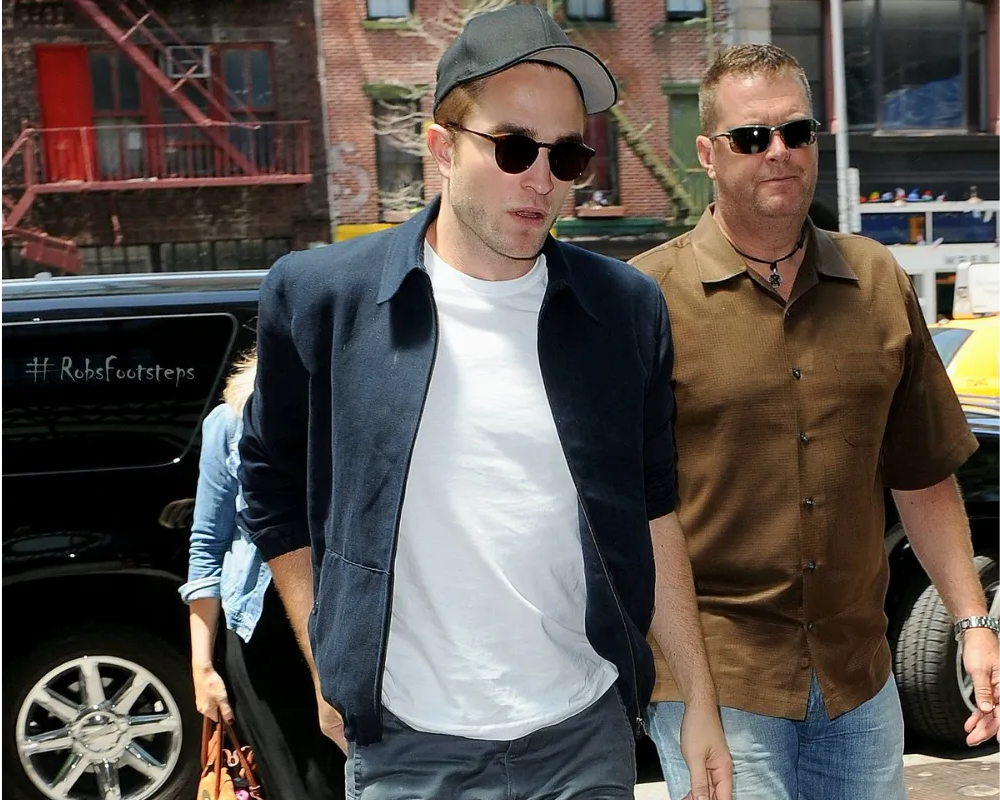 Apart from the fact that he has played the cunning, powerful, and immortal vampire in the box-office hit in the Twilight franchise, Robert Pattinson, at the end of the day, is just as vulnerable as us. It's quite an eye-sore seeing him surrounded by bodyguards, but he is often surrounded by security personnel ever since his rise to fame playing Edward Cullen in the aforementioned trilogy.
Before he was hailed as the vampire every Twilight fangirl dreamed of, Robert Pattinson's credits include playing Cedric Diggory in Harry Potter films. Pattinson's career as an actor took off when he was 15 years old, and a lot of improvement has taken place. The actor has several recognitions under his belt, which includes the Scream awards, Time magazine's 100 Most Influential People of the World, and Forbes' Most Powerful Celebrities in the World.
Scarlett Johansson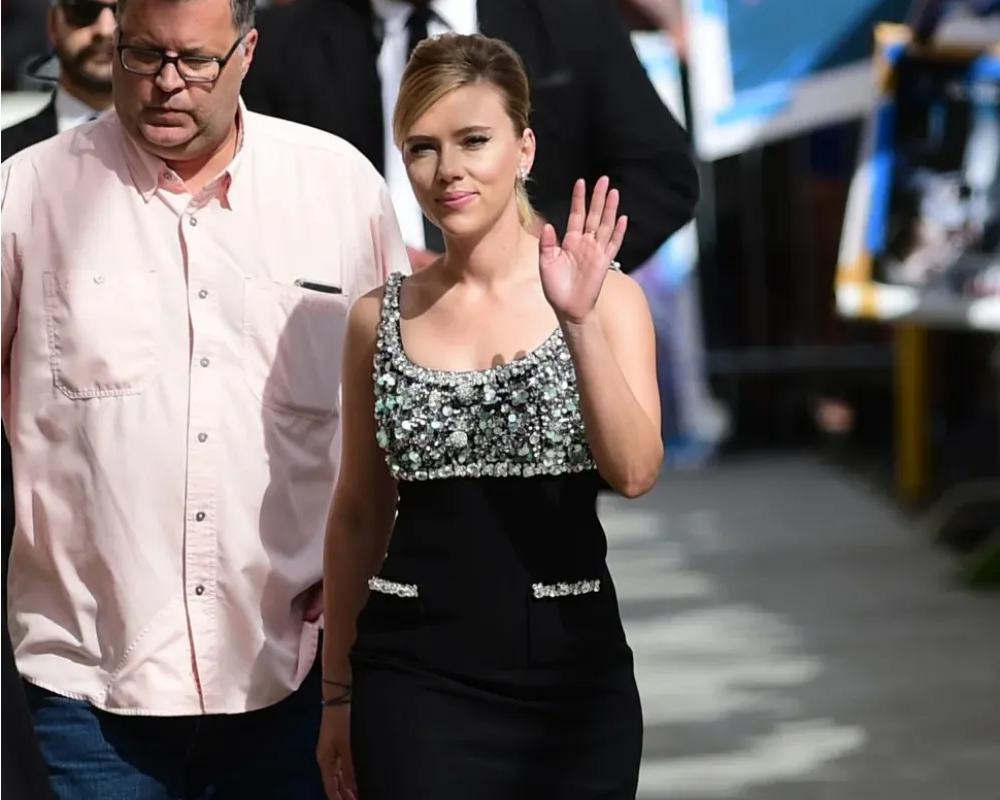 Even after playing one of the most powerful females in the Marvel Cinematic Universe on the big screen, it is a fact that actress Scarlett Johansson still needs the company of her trusted professional bodyguards, especially when she's out in public. The Black Widow actress often leaves her home accompanied by her entourage of personal bodyguards.
With her slim figure and angelic features, actress Scarlett Johansson has climbed the 12th spot of the Men's Health compilation of 100 Hottest Women of All Time. She has also been hailed by Esquire as the Sexiest Woman Alive. With over four Golden Globe nods, Johansson's display of versatility in taking up different roles sets her apart from the actresses of her era. Her credits are in critically-acclaimed films such as Lost in Translation, The Avenger, Hitchcock, Girl with a Pearl Earring, and He's Just Not That into You.
Selena Gomez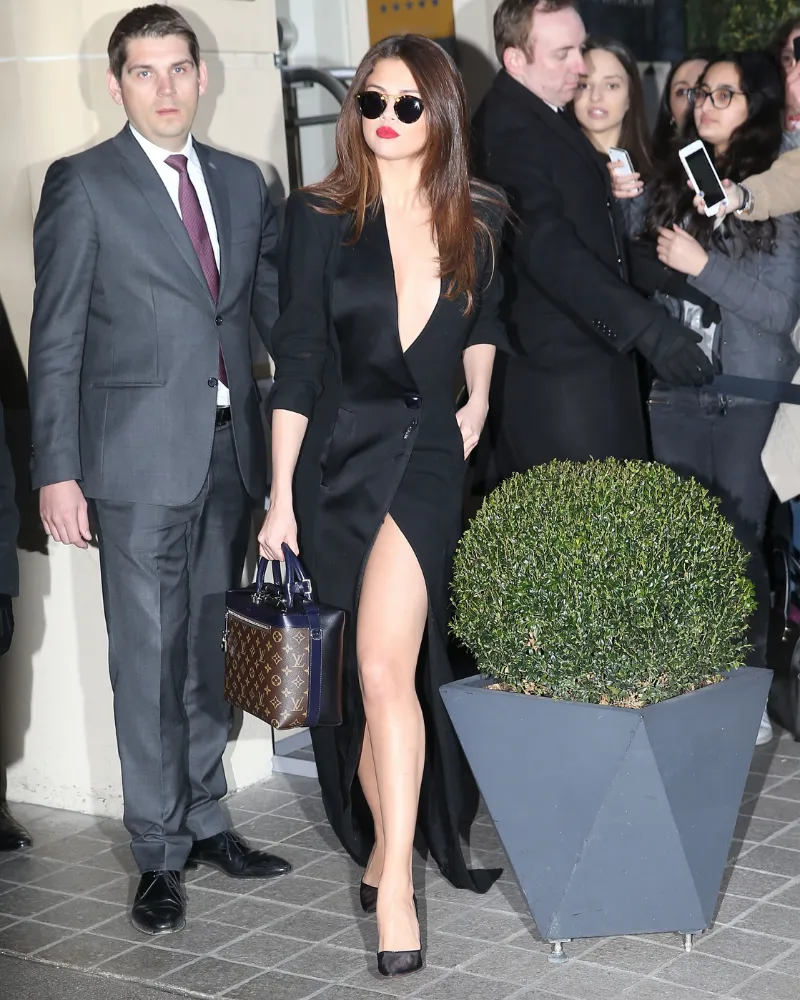 Of all A-list celebrities, Selena Gomez has always been keen on hiring a bodyguard since then. After numerous encounters with danger, including home invasion and being stalked, the Wizards of Waverly Place star had always prioritized her safety above anything else. The actress has multiple photos taken that include her bodyguards. Whether she is running an errand or catching a flight at the airport, a bodyguard is always on the scene, ready to protect her.
Gomez's career as an actress bloomed when she received credits for minor roles in Disney productions. On reaching 22, the actress had already accumulated over 58 awards for her skills as a singer and an actress. Aside from her exceptional skills, she also uses her platform to address social injustices. From malnourished children in impoverished nations to the protection of wild animals, Gomez is serious in her pursuit to change the state of the world.
Shakira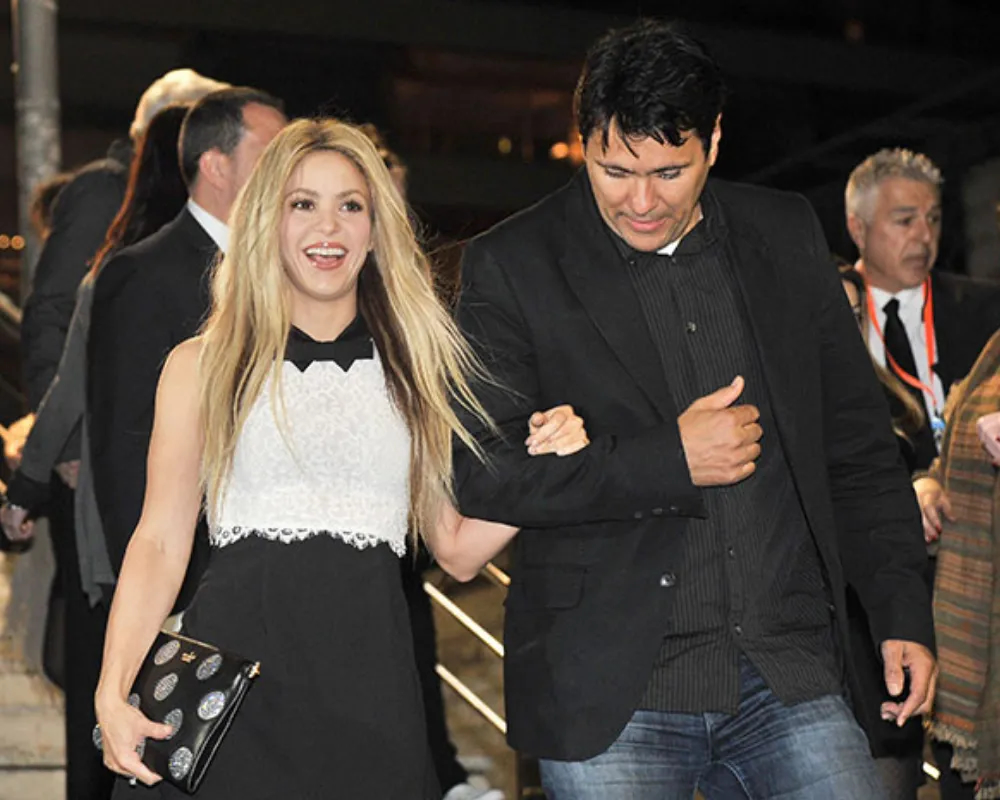 The singer-dancer Shakira is likely one of the celebrities who are well-protected. Aside from the personal bodyguards she hired, an individual in her security personnel stands out: her half-brother, Tonino Mebarak. There is perhaps no greater amount of vigilance that a person can provide than that of a brother. Despite having his own life in Miami, Florida, Mebarak never fails to make time for Shakira. Apart from being a good brother, he is also best at keeping the paparazzi and fans at a safe distance.
Shakira takes credit for giving us the hit Hips Don't Lie, which is accompanied by her exceptional belly dance moves. She started her entertainment career at quite a young age; at 14 years old, Shakira had already released her debut album entitled Magia. Subsequently, she released another album entitled Piez Descalzos, which topped charts in eight different countries.
Taylor Swift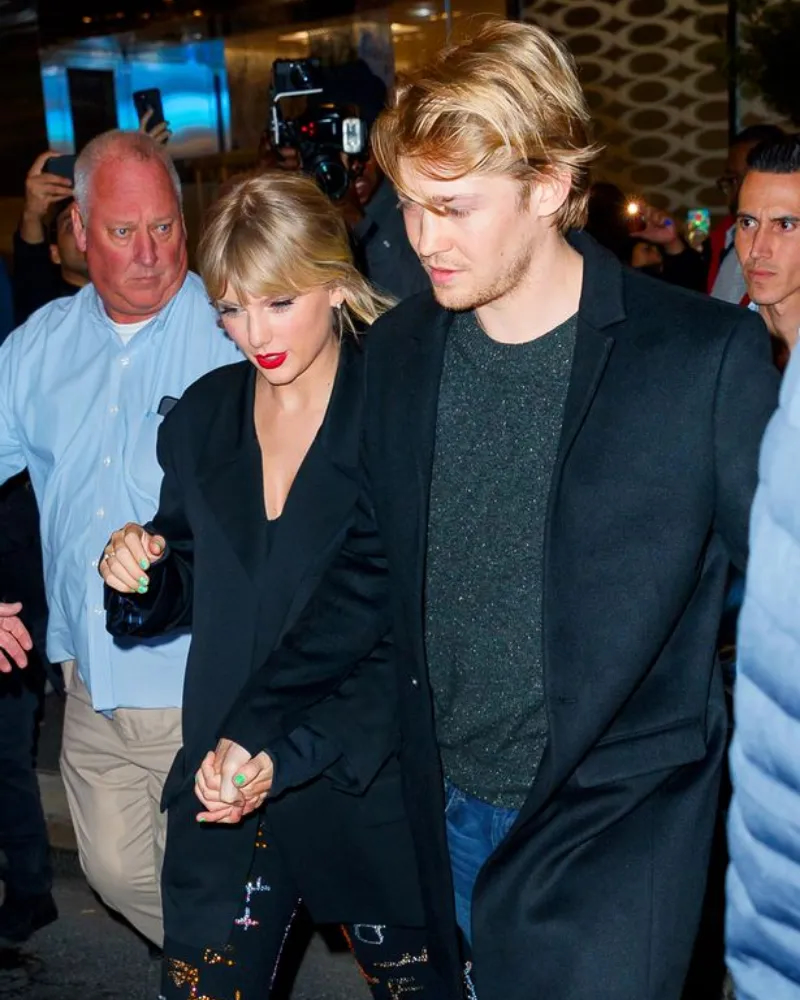 Not a lot of people know of Taylor Swift's sketchy encounters with creepy stalkers in the past. She had even disclosed that she has an emergency kit at her disposal when she can sense something unfortunate looming. After being exposed to these mishaps, Swift made investments in her security entourage, one of whom is a former police officer. It was even confirmed that her bodyguards were the same ones who took responsibility for ensuring the safety of Prince Harry and his wife Meghan Markle en route to New York.
A recipient of multiple Grammy awards, singer-songwriter, and one of the most sought-out performers of her era, Taylor Swift is idolized by most teenagers and adults alike. She revolutionized country music into a genre that would be loved by the majority. Swift seems to be breaking records every time she unveils a new album.
The Beckham Family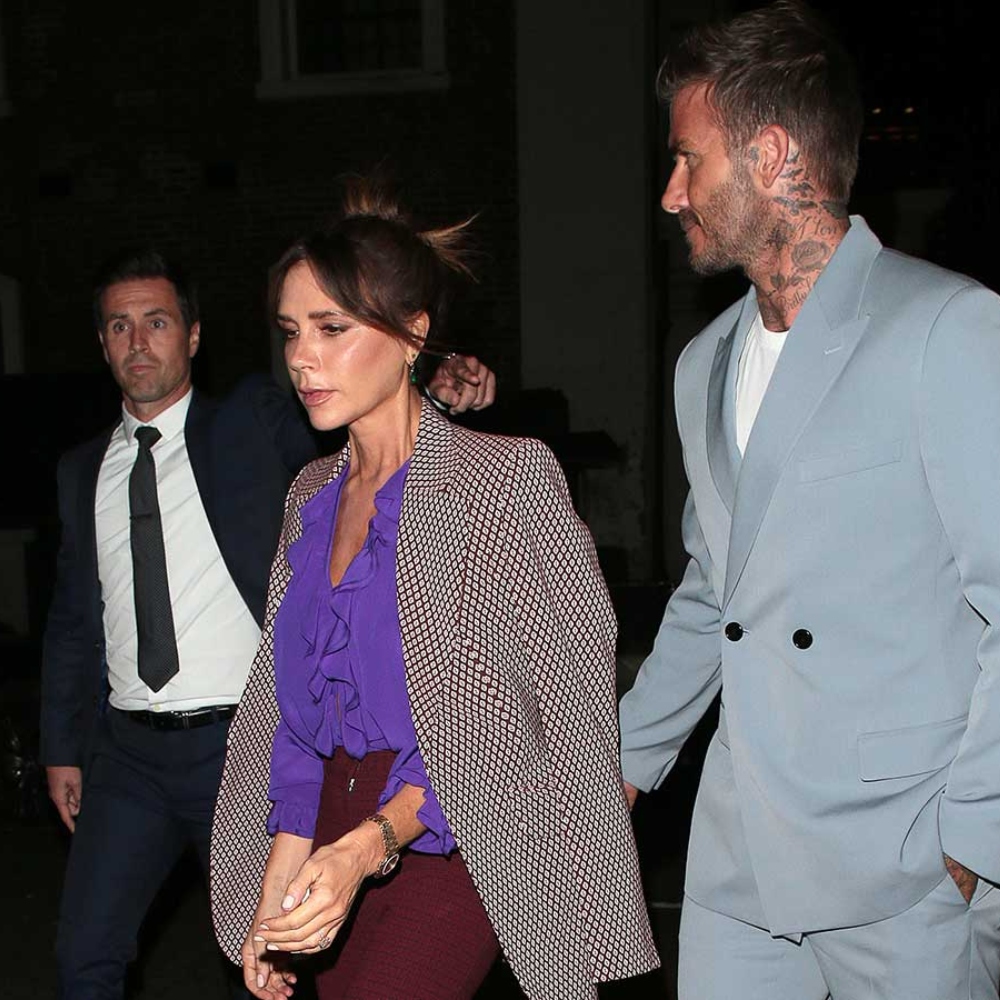 Coming from a family who was rooted in simplicity, David Beckham has once proclaimed his desire to be able to walk the streets with his family. However, the idea seems absurd because of the attention that their gorgeous-looking family would be receiving. On the contrary, Beckham fetches his kids from school driving a bulletproof Rolls Royce with a convoy of two cars armed with security guards—now that's the price one pays for fame. One of Beckham's trusted bodyguards is Bobby Rich. He is literally the Beckhams' tail. Rich is known to have represented Great Britain in judo. In addition, he has attained a black belt in Brazilian jiu-jitsu. He is perhaps a great investment for their security.
The Beckhams are gonna need Bobby Rich more than ever in one of the most important events in their life: their son Brooklyn's wedding.
Tom Cruise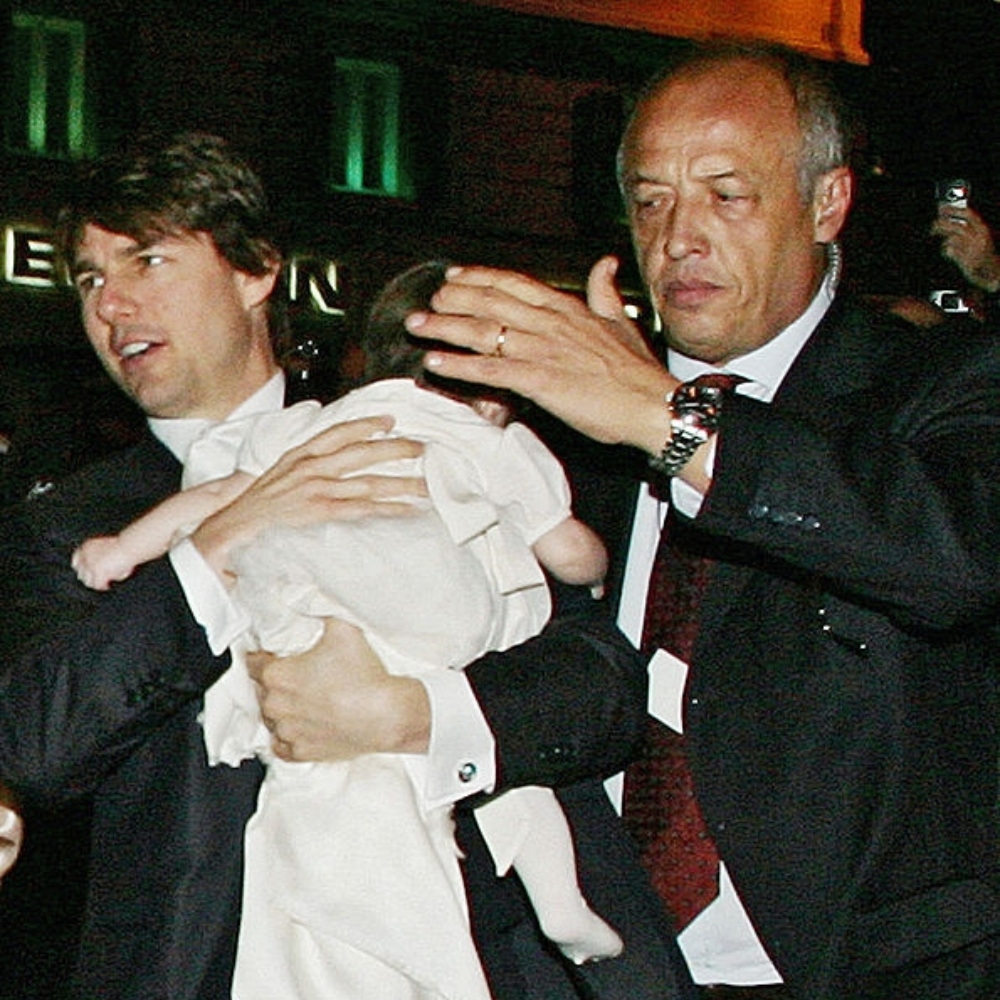 When Tom Cruise was still not separated from actress Katie Holmes, it wouldn't come as a surprise if he needed an extra set of bodyguards to keep Holmes and their daughter free from harm. Unfortunately, after they split, the actress selected her own security personnel because of the fear of Cruise's connections. Her father even intervened and fired every personnel who had a connection with the action star.
Tom Cruise's name started gaining traction when he starred as Ethan Hunt in the highly popular film franchise Mission Impossible. For his exceptional performance, Cruise is hailed as one of the most sought-out action stars and had even been recognized as the highest-paid actor in 2012. Before he became a permanent face in action movies, Cruise debuted in the film Endless Love with minor credits. Outside of acting, he founded the Hollywood Education and Literacy Project.
Tom Hardy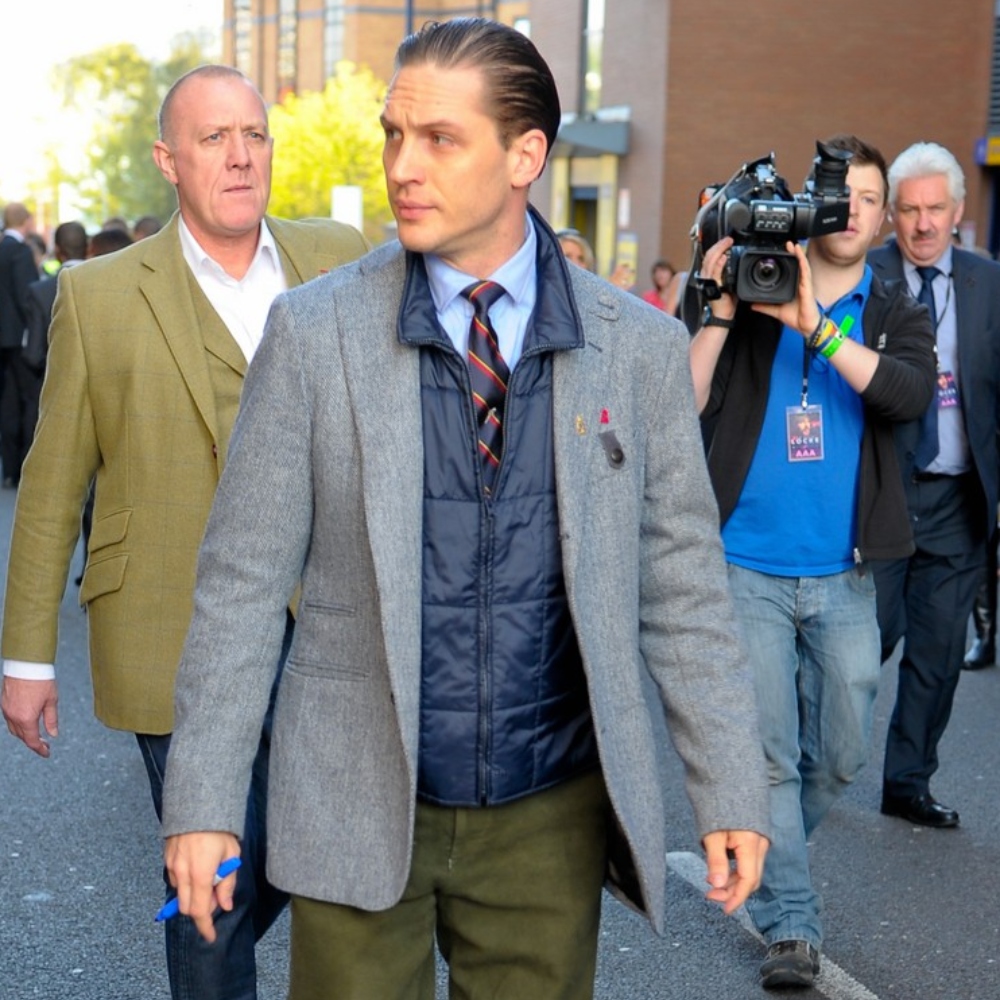 Celebrities, regardless of their size or stature, certainly do need bodyguards. It becomes apparent that when you have reached a certain degree of fame, getting a bodyguard would be a top priority. A-list actor Tom Hardy is inseparable from his personal bodyguard, Big John. The latter has been known to carry a conspicuous knife and high-intensity flashlights to stun potential attackers. With him involved, Tom Hardy is likely to be in safe hands.
Tom Hardy has established his career from his roles in big films such as Mad Max: Fury Road, Inception, and The Revenant. Before becoming an actor, Hardy had quite a troubled past. However, it was acting that saved him from future troubles. He debuted on television in the series Band of Brothers and as a cast of Black Hawk Down. Since then, Hardy's life had never been the same.