Kings And Queens Of Social Media: 10 Most Followed Celebrities On Twitter
To some degree, we can't stand not interacting with other people; otherwise we get a sense of isolation. Fortunately, thanks to the innovations made in technology, that hasn't been much of a problem ever since.
Beginning with writing letters and sending them to the nearby post office, more communication mediums have since been offered to us. One such platform we now use almost every day would be social media. Besides talking with friends and family, but it also gives us a chance to meet other people from around the world. Well, with an audience scope as vast as that, it's no surprise many celebrities have since found their way to several social media sites, one of which is Twitter. Now then, let's take a look at ten of the blue bird's most-followed celebrities, shall we?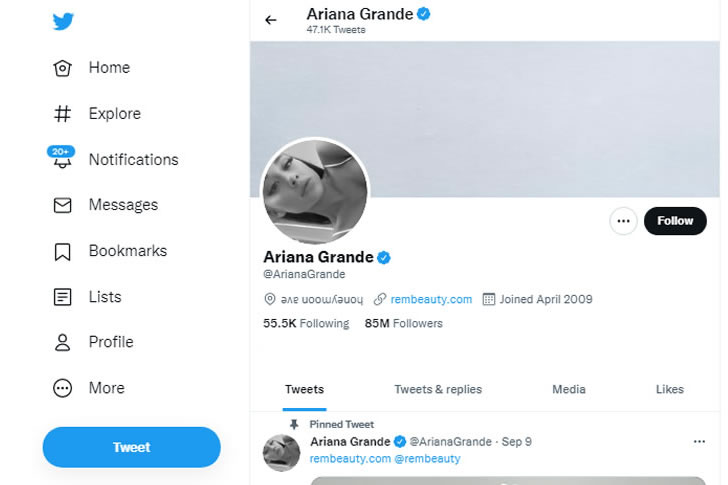 Ariana Grande
Beginning the list is Ariana Grande. Starting her journey at just 15 years old with a stage gig for 2008's Broadway musical 13, Grande got her first big shot to fame two years later with an acting credit in the Victorious TV series. Nowadays, though, it's no secret that she's become most known for her songs and impressive vocal range, showcasing her skills on records such as The Way, Thank U, Next, and Problem. On Twitter, the singer now has 85 million followers.
Justin Timberlake
Another who started at a young age, one of Justin Timberlake's earlier gigs was as a child actor for The All-New Mickey Mouse Club. A few years later, Timberlake garnered an even higher degree of popularity when he became a member of the boy band NSYNC. Since then, he has also made a name for himself as a solo artist, and his Twitter page currently has 63.3 million followers.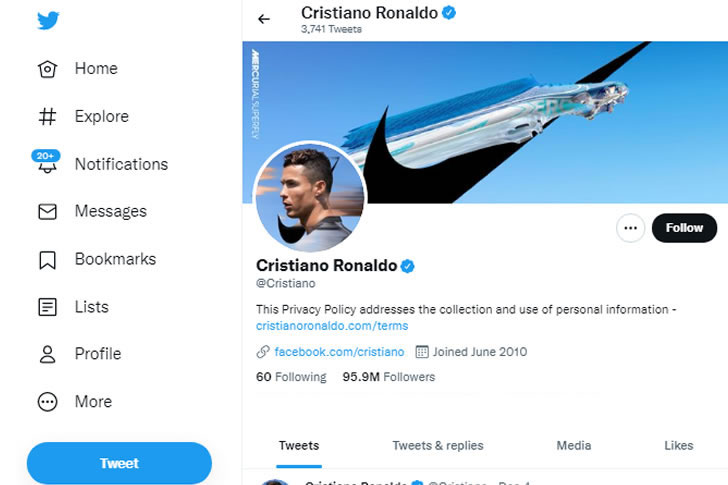 Cristiano Ronaldo
Meanwhile, in the world of football, Cristiano Ronaldo takes credit for being one of the most well-known and regarded players around. Along with the awards he has won, including five Ballon d'Or awards, Ronaldo has also developed quite a presence on social media: his Twitter has about 95.9 million followers.
Ellen DeGeneres
Starting out as an actress, Ellen DeGeneres got her first shot to fame with a lead role in the sitcom Ellen. Nowadays, though, it's safe to say she's most known for her many investments under the spotlight, not to mention her work as a host for The Ellen DeGeneres Show. She now has 77.7 million followers on her Twitter.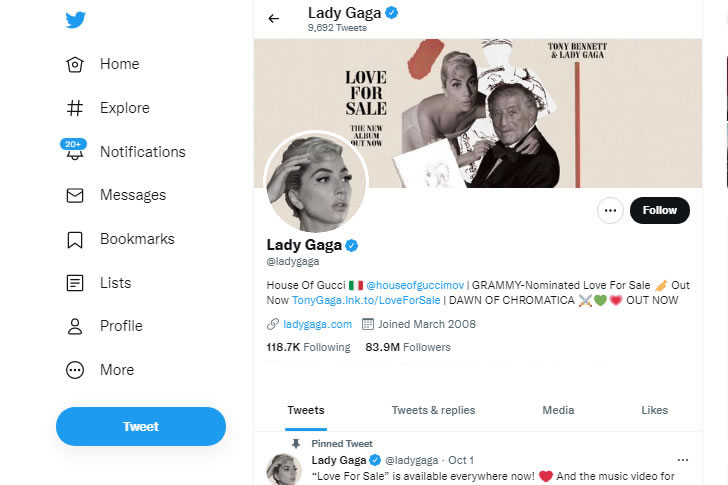 Lady Gaga
From her eye-catching fashion sense to her widely-beloved songs, it's no doubt Lady Gaga is one of the industry's most well-known figures around. Plus, perhaps it's safe to say that popularity will soar to even higher degrees thanks to her most recent acting gig in 2021's House of Gucci. With that said, her Twitter page now has 83.9 million followers.
Taylor Swift
Before even thinking of things like student loans, Taylor Swift already had great fascination for the arts, notably music. Well, thanks to that, plus some determination, she has since become a hit sensation in the music industry. With her most recent outings, 2021's Fearless (Taylor's Version) and Red (Taylor's Version), garnering widespread praise and recognition, it's no wonder her Twitter account now has up to 89.4 million followers.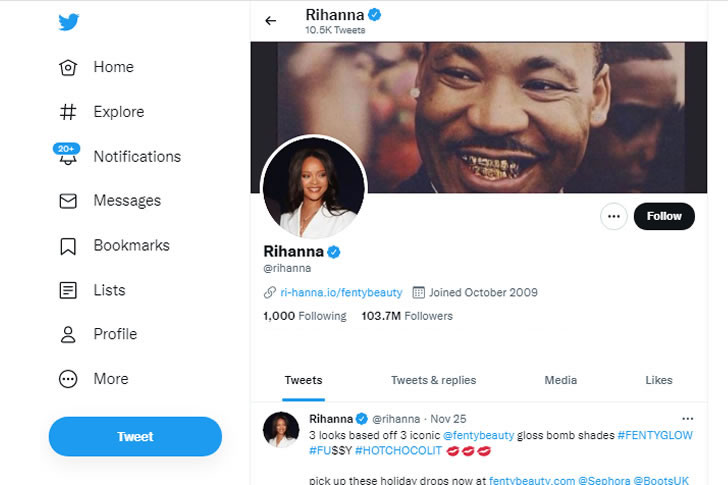 Rihanna
Like one of her hit songs, Rihanna sure loves to work, work, work, work, work. When it comes to her career, the Umbrella singer likes to keep her foot steady on the gas pedal, and because of that, she now owns a cosmetics brand called Fenty, among her business ventures. Like other stars, Rihanna promotes her projects on social media platforms like Twitter – her account now has 103.7 million followers.
Justin Bieber
Before his life under the spotlight, Justin Bieber already had an impressive degree of fame on YouTube, where his mother posted a couple of covers of his favorite songs. Well, who would've thought he'd eventually be sharing the limelight with them? Today, the singer has released hit songs such as Sorry, Love Yourself, and Ghost. With all that fame, it's no wonder his Twitter is now at 114.1 million.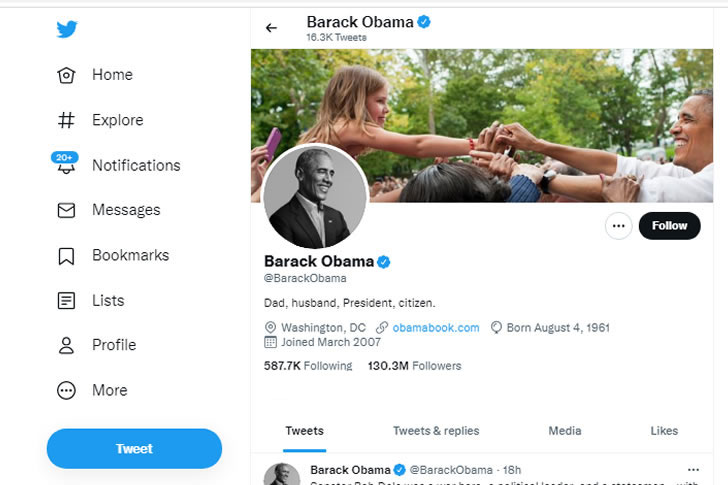 Barack Obama
While he may no longer be the President of the United States, Barack Obama still makes it a habit to use his investment money on charity programs and events. After all, making others happy is one of the most incredible things we could ever do. With that said, he likes to keep his supporters up to date by posting on his social media pages, with his Twitter account now having around 130.3 million followers.
Katy Perry
With hit records such as Hot n Cold, Teenage Dream, Part of Me, and Firework, it's no secret that Katy Perry takes credit for being one of the most popular artists in the industry today. Along with the fame, the singer has also won plenty of awards, including five Billboard Music Awards. Now, if you ever want to keep up to date with her whereabouts, Perry keeps her fans on track with her Twitter page, which now has 108.7 million followers.
Photo Credits:
Cover: Brett Jordan/Pexels
P1: Ariana Grande/Twitter
P2: Cristiano Ronaldo/Twitter
P3: Lady Gaga/Twitter
P4: Rihanna/Twitter
P5: Barack Obama/Twitter