Big Names On The 'Gram: Instagram's Most Followed Accounts
Numerous achievements have been made in the world of technology. From smartphones to self-driving cars, another notable feat would be developing what we now know today as the internet. Thanks to it, just about anything we need is just a click away. Apart from ordering food, shopping for clothes, and taking online classes, many of us undoubtedly use the internet to browse our social media accounts. There, we could talk with friends, meet new people, and share all kinds of stuff for others to see. With that said, one such platform that has garnered millions of users since its inception would be Instagram.
Well, for this article, we'll be taking a look at ten of Instagram's most-followed accounts. The page that takes credit for most followers is Instagram's very own page, where they promote all kinds of content creators that use their platform. Now then, without further ado, let's get to it.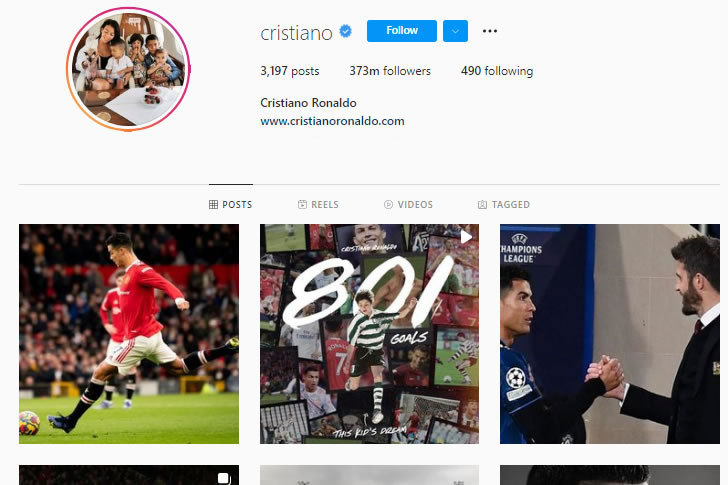 Cristiano Ronaldo
Starting off this list, we have Cristiano Ronaldo. Often regarded as one of soccer's greatest players, he also earned plenty of rewards to his name, including five Ballon d'Or awards. Of course, one can't hide the high degree of fame he has garnered through the years: just look at his Instagram, which now has 373 million followers.
Ariana Grande
While she may be famous for her hit records, such as Problem, Thank U, Next, 7 Rings, and Break Free, Ariana Grande has also tried her hand at acting. Making her debut at 15 years old with a role in the Broadway musical 13, Grande is also set to appear in two upcoming films, Don't Look Up and Wicked. For all her investments under the spotlight, the singer is now one of the most popular artists around, with her Instagram page accumulating up to 280 million followers.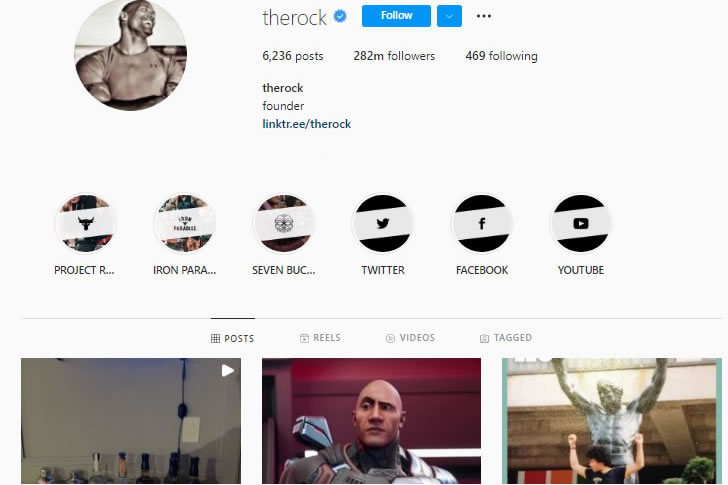 Dwayne Johnson
It would be tough to find someone who hasn't heard of Dwayne "The Rock" Johnson. The man is practically everywhere at this point. Besides his numerous film credits and other business endeavors, the actor is also quite active on Instagram, which now has 282 million followers, keeping his fans up to date with posts uploaded almost on a daily basis.
Selena Gomez
Disney has introduced us to numerous stars over the years. One such name worth noting would be Selena Gomez. Now known for her many hit songs, including her number-one record Lose You to Love Me, she has also tried her hand at acting, having starred in A Rainy Day in New York and Wizards of Waverly Place, among other projects. Of course, this also means she has a high degree of recognition online, with her Instagram account having up to 277 million followers.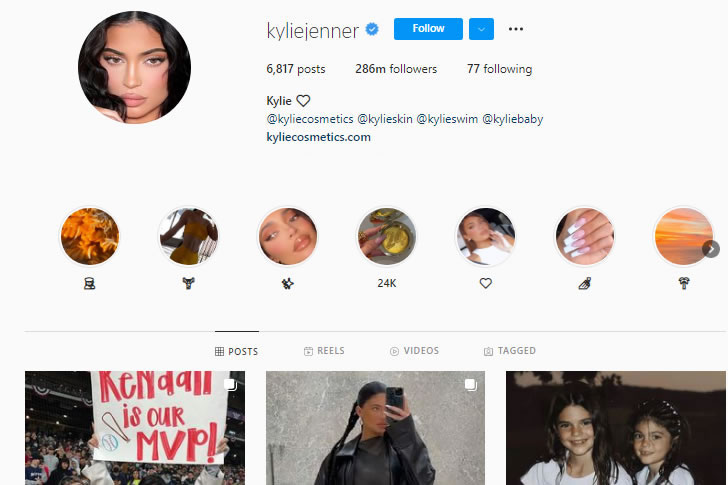 Kylie Jenner
One of the most famous families under the spotlight would undoubtedly be the Jenner-Kardashians. Kylie Jenner has since made quite a name for herself in the world of showbiz, thanks to her investments in various projects. Moreover, she is also regarded as one of the most influential figures on social media today. With that in mind, it comes as no surprise that her Instagram page has up to 286 million followers.
Kim Kardashian
Now, if we're talking about the Jenner-Kardashians, it would be a disservice not to mention Kim Kardashian. Having received her first big shot to fame alongside her family in the reality series, Keeping Up with the Kardashians, she has since dabbled in other endeavors under the spotlight, including acting. Besides these, she's now also studying to become a lawyer. As busy as she may be nowadays, that hasn't stopped her from maintaining a presence on social media. Her Instagram now has 267 million followers.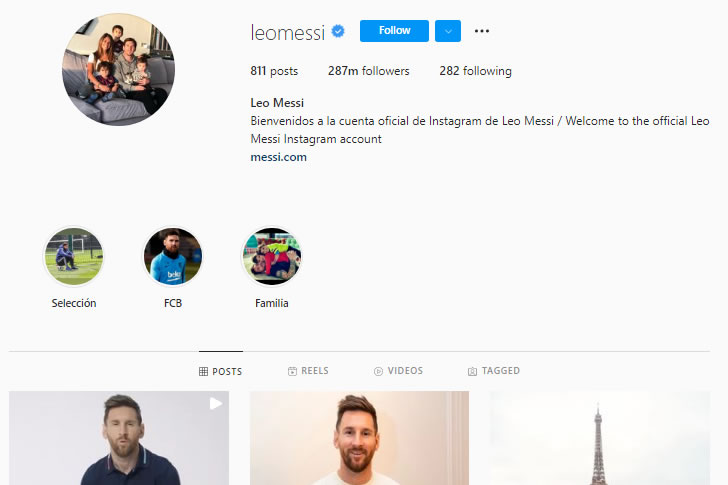 Leo Messi
Like the previously mentioned Cristiano Ronaldo, Leo Messi has garnered a high degree of both praise and recognition in the soccer world. Plus, like Ronaldo, he's considered one of the greatest players the sport has ever witnessed. With that said, Messi is also quite active on social media, especially on Instagram, with his page now having 287 million followers.
Beyoncé
At this point, there's no doubt that Beyoncé takes credit for being one of the most famous stars working under the spotlight today. From releasing one hit record after another to starring in movies, this singer/songwriter/actress pulls no punches when it comes to her career. A portion of that popularity would also be thanks to her posts on Instagram. Her page now has 222 million followers.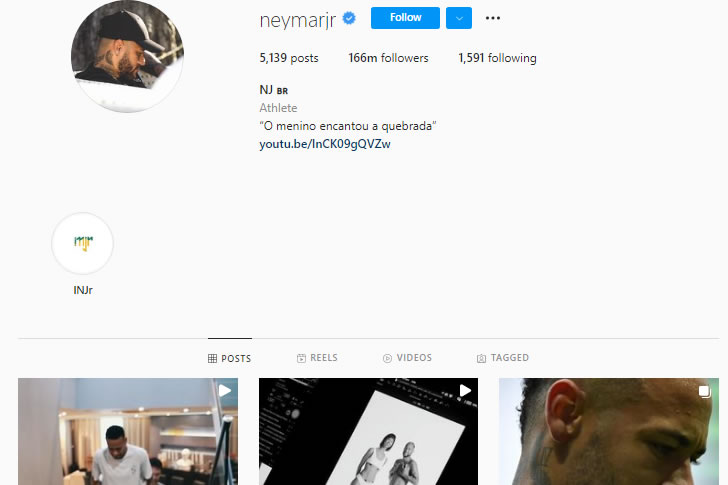 Neymar
Another soccer player has found his way to the list. Beginning his career in the big leagues at just 17 years old, Neymar has since become one of the sport's most regarded players. Even when he isn't on the field, this athlete still keeps it steady on the gas pedal, and he isn't afraid of showing it to his fans. One such way he does this is through his Instagram account, which now has 166 million followers.
National Geographic
Whenever we're in the mood to watch documentaries or shows revolving around geography, history, culture, and science, many of us would tune in to National Geographic's TV channel. Along with their monthly magazines, NAT GEO has also made quite an investment in its Instagram page, sharing posts to its 195 million followers.
Photo Credits:
Cover: Pixabay/Pexels
P1: Cristiano Ronaldo/IG
P2: The Rock/IG
P3: kyliejenner/IG
P4: leomessi/IG
P5: neymarjr/IG